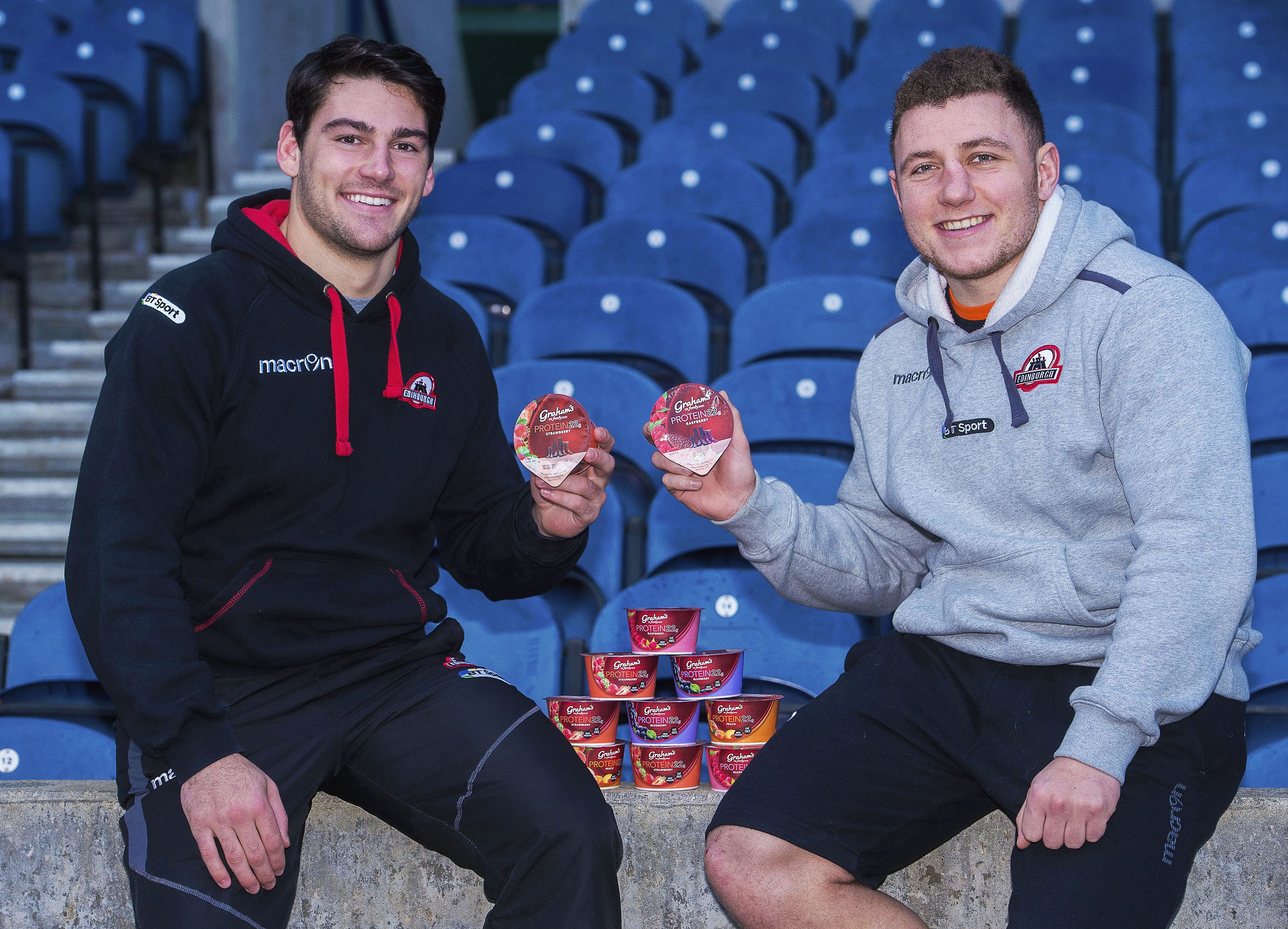 By now you've probably heard about Protein 22. It can be found in the yogurt aisle (but find out why it's even better than high protein yogurt) and each pot is packed with 22g of protein – a nutrient essential for muscle repair and maintenance. Because of protein's importance for muscle health, we thought we'd let some of Scotland's top sporting professionals give it a try and tell you more about it themselves. That's why, following our 1872 Cup activity with the club, we paid a visit to Edinburgh Rugby to get you the lowdown from the scrum down.
Did Edinburgh Rugby get a kick out of giving Protein 22 a try?
Edinburgh and Scotland stars Sam Hidalgo-Clyne and Duncan Weir were on-hand and ready (as ever) to try. Sam was taken with the "great taste" of Protein 22 and he also couldn't help getting a little bit creative. Though Protein 22 comes in handy snack-sized pots and is easy to enjoy on its own, he pointed out that it would also be great "mixed with fruit or granola".
That's the benefit of Protein 22; it's an ideal way to consume more protein but it's also a really enjoyable snack. That blend of attributes certainly impressed Edinburgh Rugby's Head of Strength & Conditioning, Ashley Jones:
"Great taste, wonderful texture, excellent macronutrient balance and it's portable and easy to consume post-training. It ticks all my boxes for the athlete in hard training."
How important is protein when you're training?
Diet is certainly more than just an afterthought for professional sportspeople like the Edinburgh Rugby players. Ashley makes sure that the team's protein intake is planned out and that plan followed. The players are encouraged to aim for 2g of protein, per kilogram of body weight, per day. That means that a player weighing 100kg would be aiming to consume 200g of protein per day.
How and when the players consume that protein is also important. Ashley told us that the players should consume protein "ideally in meals spaced no more than 3 hours apart and consuming 20 – 30 grams of protein in each". The reason for this is that it ensures their protein requirements are spaced throughout the day, something essential for top-class professional sportspeople.  As Ashley explained:
"Protein is an essential building block of size and strength, players routinely lift 10 to 15 tonnes in each weight training session so they need protein for growth and repair."
Is protein just for professional sportspeople?
We wanted to bring you some protein insights from professionals who train at the highest level but that doesn't mean that you have to be a sporting pro to benefit from Protein 22. Protein is an essential nutrient for all of us, so finding a tasty and convenient way to consume it is helpful whether your aim is to feel fuller for longer or to build muscle.
Find out more about Protein 22 and how it can support your protein intake.