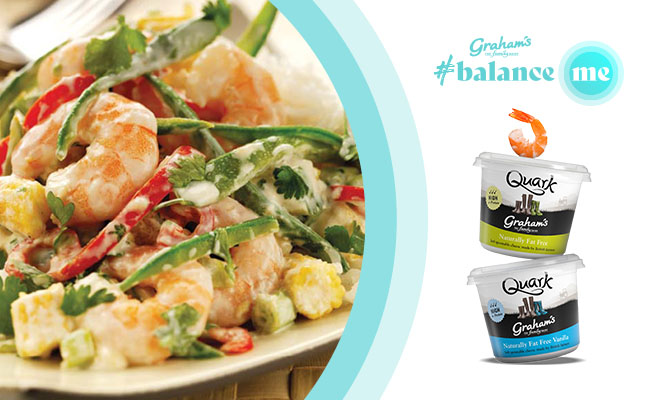 Protein is crucial to help build, repair and maintain healthy muscles – so it makes sense to say that if you're a regular at the gym or just dipping your toe into the world of exercise, you need it to maintain that balance. Interestingly, protein can also help keep us feeling fuller for longer. Something we find very helpful when we're trying to avoid following the example of our Golden Girls by indulging in some 'grazing'! Yup, it's a great building block for muscle and leading a balanced lifestyle.
Quark Basil and Tomato Stuffed Chicken Recipe by Jean Graham
The dream is to find a dish that's healthy, delicious and simple to prepare. This recipe accomplishes all of that. Basil, tomato and pancetta combine to give a lovely Mediterranean flavour to this combination, while the chicken itself and our Graham's Quark ensure a protein boost too.
Be quick to try this Quark Basil and Tomato Stuffed Chickenrecipe by Jean Graham
Roasted Red Pepper, Feta and Spinach Quiche Recipe by Wholeheartedly Healthy
Laura Agar Wilson runs the Wholeheartedly Healthy website, which is packed full of recipes, articles and ideas to help you enjoy a healthy lifestyle. We partnered with her to see how she'd use our Graham's Quark, which is naturally high in protein and low in fat.
She came up with this tempting but guilt-free quiche recipe. The combination of eggs, quark and feta mean it packs a powerful protein punch.
Find a niche for this Roasted Red Pepper, Feta and Spinach Quiche recipe by Wholeheartedly Healthy.
Thai Style Prawns with Quark Recipe by Graham's The Family Dairy
Prawns are a great source of lean protein so we couldn't resist coming up with a recipe that included them. As well as being seafood fans, we all enjoy a little spice in our food and this dish certainly includes that. Eating healthily certainly doesn't have to mean eating bland food, not when this recipe makes use of garlic, chilli, ginger and coriander. It's a combination that puts the zing into amazing!
Add some spice to dinnertime with this Thai Style Prawns with Quark recipe.
Fish in a Parcel Recipe by Three Sisters Bake
Our love affair with seafood doesn't stop at shellfish either, we're huge fans of this simple but sumptuous salmon recipe from Three Sisters Bake. The inclusion of coconut milk and lime mean that it continues some of the Southeast Asian theme of our Thai Style Prawns recipe above, but the inspiration for this dish actually came from a visit to California. 
Either way, it's a dish that will make the sun come out for your taste buds.
Unwrap this Fish in a Parcel Recipeby Three Sisters Bake.
All of these recipes feature on our website, but they're just a small selection of the delights to be found in our recipes section so why not have a browse? We're sure you'll find