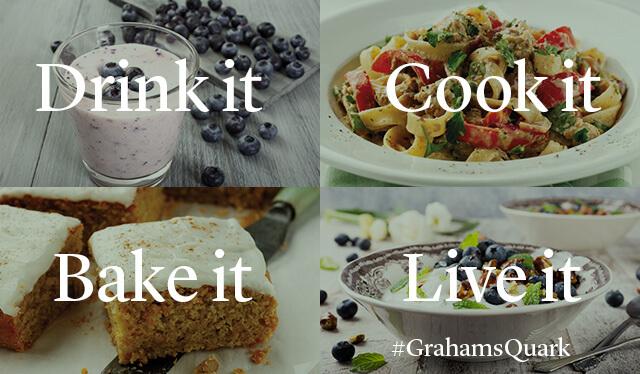 At Graham's Dairy, we're huge fans of Quark. We can't get enough of this low-fat, high-protein, super-versatile wonder. If you want to find out more about what Quark actually is, you can read our earlier blog post on the subject.
The thing is, it's all very well us tucking into it in all manner of different ways but we want you to know about how to use it too. That's why we've put together this article to help guide you through the different ways in which you can make Quark work for you. Especially if you used to thing the term 'cooking cheese' just meant Halloumi.
So, what can you do with quark?
You can bake with Quark
Quark is a form of soft cheese, so one of the most obvious baking benefits it has is that it can be used in cheesecakes! Great British Bake Off aficionados will remember Flora Shedden from the sixth series of the show. The Perthshire lassie is a Graham's ambassador and has delighted in making use of quark in her culinary creations. Her Baked Chocolate Cheesecake is a thing of wonder and uses Quark, where previously you might have expected a cheesecake in this country to use another soft cheese like mascarpone.
Quark means Halloumi's not the only 'cooking cheese'
Curry, quiche, moussaka… these are just some of the Quark recipes that you can find on our site.  Because Quark shares some traits with both yogurt and cheese, which means in some recipes it can be used as substitute for one or the other (not always though). The great thing about using quark in this way is that you're replacing those ingredients with a low-fat and high-protein alternative.
You can even waffle with Quark
If you're lucky enough to have a waffle maker at home then you'll find that quark can help you make delicious savoury waffles as well as sweet ones. Food blog Celery & Cupcakes came up with a fantastic recipe for High Protein Curried Courgette Waffles using quark. They recommend it as a breakfast idea but we think the waffles are delicious at any time of day!
Quark and fruit? The perfect blend.
Smoothies are as popular as they've ever been, with more and more people choosing to kick-start their day with a blend of fruit (or veg!) and yogurt. Yogurt's not the only way to add a protein boost to breakfast on the go though. Quark can work brilliantly… and you can always add a little honey to sweeten your smoothie to your tastes.
Don't have Quark in your fridge yet?
We hope now you realise just how versatile Quark is and you'll make sure you've always got a pot of it in the fridge – ready to be whipped up into an easy snack or meal. Graham's Quark comes in two great versions, Natural and Vanilla. Why not give them a try and find the right one for you?