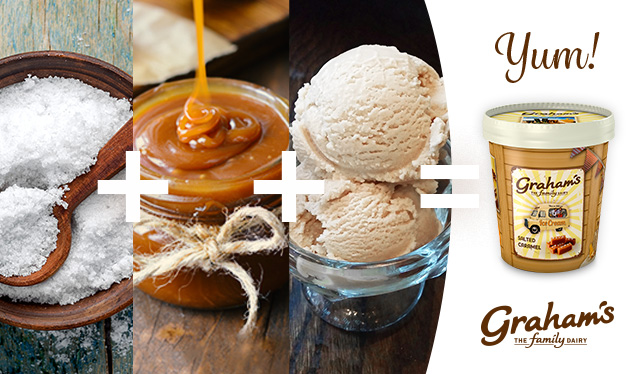 Ten years ago, you probably weren't eating salted caramel. Nowadays, though, it's hard to imagine being without it. Really hard. We tried it just for a moment there… and it was a terrible moment. The thing is, that mixture of salt and sweet seems like it shouldn't really work but it DOES.
How can you elevate that sweet and salty sensory sensation even further? By tantalising your taste buds with a big chill and enjoying it as ice cream. That's why our Salted Caramel Ice Cream is one of our most popular flavours.  However, as we combine enquiring minds with our love of salted caramel ice cream, we wanted to delve a little deeper into working out why this combination works so well.
Who first thought of adding salt to caramel?
Think of France and you think of culinary excellence, and it turns out that salted caramel can be added to the list of French classics, alongside escargot and bouillabaisse. Not literally alongside snails and fish soup, obviously; we think that may be an innovation too far. However, it is true that it was a Frenchman who first came up with the idea of salted caramel.
Henri Le Roux was a chocolatier who opened a store in Brittany in the late 1970s. He wanted to develop a unique product that would help him to stand out from his competitors, while making use of local produce. Brittany produced delicious salted butter and Le Roux had the idea of using it to produce a salted caramel. By 1980, it was named "Best Sweet in France"! From there, the popularity of the combination has grown to become the phenomenon we know today.
Why do sweet and salty things taste good together?
There are five primary tastes that our taste buds are able to pick up on. These are sweet, salty, sour, bitter and umami. Salted caramel combines two of these, giving an effect that chefs call "flavour layering". Salt also acts as an enhancer of flavour (that's why you sprinkle it on your chips, for instance), so that's why it makes caramel taste even better. The key thing in all of this though is ratio. Too much salt could ruin your chips and likewise too much salt can ruin the flavour of caramel too. It's all about getting the perfect balance – that's what leads to those fireworks on your tongue.
Why is salted caramel so good in ice cream?
Temperature has an effect on the taste buds. When things are too cold it can be difficult for them to pick up the tastes in food. In these circumstances it's easier to pick up sweet tastes than any of the other primary tastes. The way in which ice cream is made has developed over the years, meaning that it can be served at slightly warmer temperatures. In years gone by, ice cream would still have been below freezing when served. These days, you can wait until it gets to around 5c before serving it, allowing the salty flavour in salted caramel to be savoured alongside the sweet. That makes salted caramel a modern flavour that's perfectly suited to the best in modern ice cream. 
Can salted caramel ice cream be made even better?
You might think that it's not possible but what if we told you that Flora Shedden from The Great British Bake Off had combined our delicious Graham's Salted Caramel Ice Cream with ginger biscuits to make the perfect dessert sandwich? That's right, that's a thing. We think you're going to love Flora's Ginger Biscuit Ice Cream Sarnies.