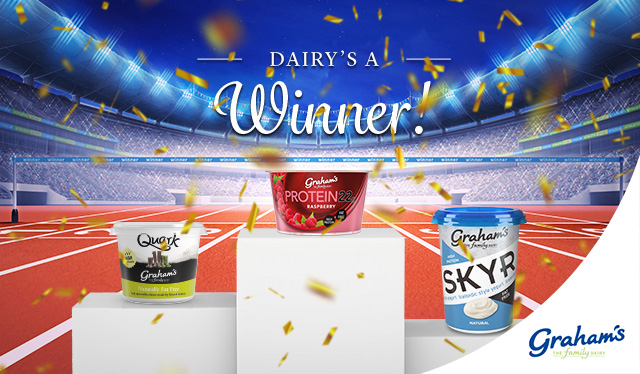 As regular readers of our blog no doubt know by now, dairy offers us so much in the way of nutrition. It's something that you'll find in the shopping baskets of professional athletes too, not just something for us earthlings! Keeping a disciplined nutritional regimen is just as important for performance in sport as the training itself, something that the following personalities know well.
Anthony Joshua
For a 6ft 6, 17st heavyweight boxer competing in high profile fixtures against the world's best – you're going to need fuel. Lots of it. When training for his fight against the formidable Ukrainian Wladimir Klitschko, it's thought that Joshua was consuming upwards of 5,000 calories every day! Given that the average intake for men is 2,500 calories per day, this just goes to show how much work the young contender was putting in towards his eventual victory. Dairy, of course, was a heavy hitter in his diet plan. Yoghurt and milk would go into a protein-packed breakfast smoothie (blended up with oats and honey) and a pot of yoghurt served with fresh fruit, nuts, honey and granola for dessert featured at lunchtime too.
Jessica Ennis
Legendary track and field athlete Dame Jessica Ennis-Hill has had more than a few podium moments in her career. Most of us will remember Jessica's event as the heptathlon, in which she is the 2012 Olympic champion and a three-time world champion. Now retired for her incredible career, Jessica gets her dairy in the form of porridge and/or yoghurt (with a generous helping of fruit on the side) when training.
Bradley Wiggins
For professional road racing cyclists like Sir 'Wiggo', training is intense in many different ways. Getting the right kind of fuel is essential for such a physically demanding routine. That's why protein and hydration are the order of the day. Protein, like that found in milk or yoghurt is crucial because your body will be crying out for those amino acids that help build and remodel your muscles as they're put through their paces. Pounding the tarmac under the baking sun (or even just going the distance) means that your body will lose a lot of fluids – thus, it's important to stay hydrated. We've written before about how milk is a great way to hydrate (possibly better than water!), a fact that's backed up in this interesting article from Cycling Weekly.
We should point out that these three champions did not rely solely on dairy to get them gold – it always featured as part of a balanced diet, but most definitely played a part! Do you use dairy to help you perform at your chosen sport? We'd love to hear how it helps you!