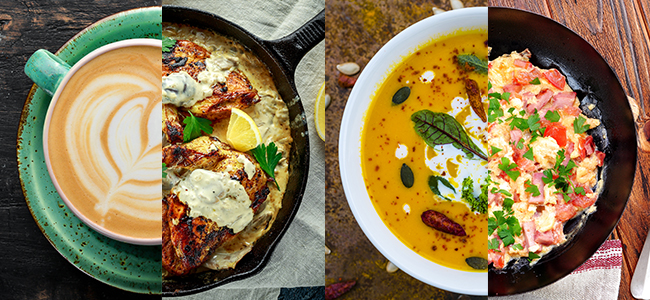 If you read our recent blog article on all the different types of cream we make and the various ways to use them over the Christmas period, you might have found yourself with a little bit extra of your favourite type hanging around your fridge, with the sell-by-date looming. Well fear not, if you're not sure how to make sure every last drop goes to good use we've got a few tips for you. Firstly, thanks to its fat content, it keeps much longer than milk. In fact, if you place it in the coldest spot in your fridge this can prolong its life even longer than usual.
Coffee
Adding a splash of cream to your morning cup of coffee can be a game-changer if you're looking for something that's a bit more luxurious. Be warned though, it's so good that going back to milk isn't an easy thing to do! For bonus Christmas points sprinkle a dusting of cinnamon or nutmeg on top.
Scrambled eggs
Sticking with the breakfast theme, starting the day with scrambled eggs is always a good idea. Instead of adding a splash of milk to your whisked up egg whites and yolks before they hit the frying pan, try using double or single cream instead. Light, fluffy and full of flavour it's a great way to indulge on those lazy holiday mornings.
Soup
There are few soup recipes that aren't improved with the addition of a little cream – and who can resist a hearty bowl of warm soup after being out in the brisk winter weather.
Sauces
You can add leftover cream to a simple pasta sauce (like a classic marinara) to bring out all kinds of flavour and textures. Or if you're feeling a bit more adventurous you could always use a skillet to cook up some meat then use cream to 'de-glaze' the skillet. This basically means making a sauce out of all those delicious brown bits that are left in the pan after searing meat (or fish). With a few simple ingredients (mustard, herbs, stock, shallots, garlic, white wine and cream for example) you can easily create an incredible dish in a short space of time. Or, if you're a fan of a homemade vinaigrette you can put that leftover cream to good work by mixing it up and drizzling it over a nice fresh salad.