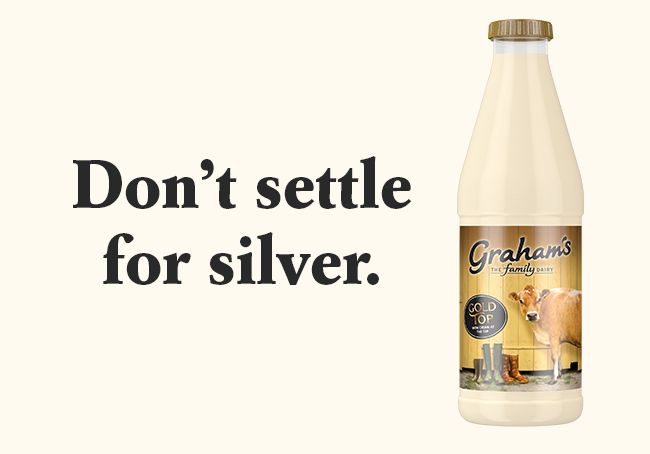 It's a milk unlike any other! OK, rather a dramatic statement but we think it's the absolute truth. Our Gold Top milk is really something special when it comes to the dairy aisle of your average supermarket. We absolutely love pouring it over cereal or using it in porridge, or using it to bake our favourite recipes – and we know our customers love it too. Its creamy texture and deliciously indulgent flavour is absolutely second to none in our book, but what is it that gives each bottle these sought-after qualities? Let's start at the start.
What is Gold Top milk?
Made with milk produced by our lovely Golden Girls (the herd of Jersey Cows that we bought from the Queen's herd back in the day) it's like a level up from whole milk. We produce ours in the traditional way it's always been done on Jersey, meaning that a bottle of our Gold Top comes with a layer of cream at the top. So anyone lucky enough to open a new bottle would get to enjoy this part to themselves!
Why does milk from Jersey cattle taste creamier?
So what makes it so creamy? Well, it's just 'different'. For one thing it's 18% higher in protein and 20% higher in calcium than 'standard' milk. Oh and it's also rich in essential vitamins and minerals such as zinc, iodine and vitamins A, B, D and E. But that silky smooth creamy texture is really down to the fat content. Yes, it does contain a higher level of fat (5%) than most other milks, however when you consider single cream has a fat content of about 18% it pales (pails?) in comparison.
Recipes
As mentioned, Gold Top milk makes a delicious (if slightly indulgent) substitute for semi skimmed or whole milk on most things; cereal and porridge to give two popular examples. However that fat content can completely transform the results of your tried and tested recipes. Richer pastry, perfectly moist sponge cake, an indulgent twist on the traditional rice pudding… the list goes on. Or if you're looking for some inspiration, our recipes page always has the goods. We always love seeing what our customers cook up using our ingredients so if you give it a go, why not send us a picture of the results on the usual social channels?