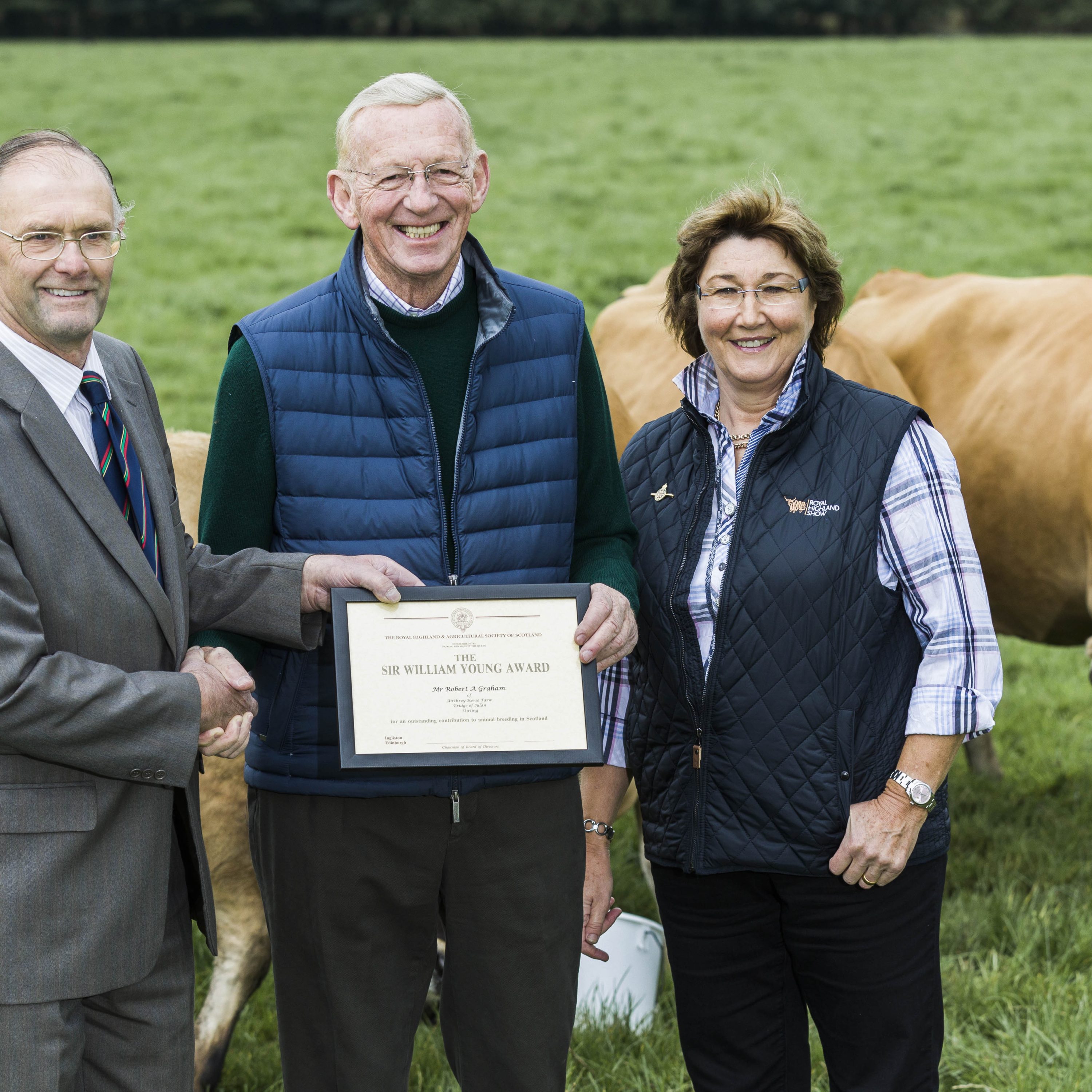 Dr Robert Graham from Airthrey Kerse Farm, near Stirling, has been announced as the 2017 recipient of one of the livestock industry's most prestigious prizes, the Sir William Young Award.
The award, from the Royal Highland and Agricultural Society of Scotland (RHASS), recognises outstanding contribution to livestock breeding and commemorates the service to Scottish agriculture by the late Sir William Young.  Last year, renowned sheep breeder James (Jimmy) Gray Douglas from Fraserburgh, won the award.
As Chairman of Graham's The Family Dairy, Dr Robert Graham is one of the most recognisable faces in Scotland's farming and dairy community. He has made an outstanding contribution toward growing the three-generation strong family business to become the thriving success it is today, impacting farming not just locally, but across Scotland.  
Highly respected for his knowledge of Scotland's dairy and farming industry, he is also internationally recognised for his expertise in livestock management, developing the quality of breeds for which Scottish farming is renowned.
Such is Robert Graham's knowledge that he regularly shows and judges; a passion of Robert Graham's, which has seen Samy, one of his prize Limousin bulls, win the Burke award 3 years in a row at the Royal Show; the only animal of any breed to achieve such success. Robert Graham has judged cattle and sheep at every one of Britain's Royal Shows and became the first non-Frenchman to judge at the Paris Show. 
He has worked hard to highlight the development of all types of livestock, and is a past chairman of both the Murray Grey Beef Cattle Society and the Berrichon du Cher Society. Furthermore, he is the founding chairman of the British Rouge de L'Ouest Society, established over twenty years ago to promote the exceptional breed's purity.
His award-winning Limousin herd, which was established in the late 1970's, is recognised around the world for its quality. Robert Graham regularly holds Limousin production sales at Carlisle, with trade peaking at 32,000gns for Grahams Lilly in 2016 at the Red Ladies show.
Robert Graham's dedication has also ensured a strong demand for his Limousin bulls.  Grahams Samson broke world records when he sold for 55,000gns back in 2003. Many of the herd have hit the headlines over the years, including Grahams Unbeatable and Grahams Ultra which made 35,000gns and 22,000gns respectively in 2004; Grahams Arkle, a 26,000gns seller in 2005; Grahams Dublin reached 26,000gns in 2010; and Grahams Humphrey sold for 37,000gns in February 2014. More recently, Grahams Lorenzo sold for 40,000gns, a record price in 2016, with all of these successful and prolific sales testaments to the quality of stock. 
Over his career showing livestock, Robert Graham has also had significant success with various sheep breeds – he was awarded 10 championships for his Rouge de L'Ouest from 1987 to 1994 with a top price of 10,000gns, 5 Championships for his Bleu du Maine from 1988 to 1994 with a top price of 8,000gns, and 6 championships to date for his Berrichon du Cher.
In 1994, Robert Graham achieved a fantastic result winning three Breed Championships at the Royal Welsh Show for his Berrichon du Cher, Rouge de L'Ouest, and Jersey cattle.
In 2016 he also hosted the UK Jersey and World Jersey Cattle Bureau, presenting the Graham's Gold Top Invitational Auction sale to those who took part in the Scottish tour. This followed several national events hosted by Robert Graham including the International Limousin Congress in 2004 and Scotsheep in 1997 – a great honour to be asked to host three events across three different livestock.  
"Livestock is Robert Graham's passion, which is reflected in the world class animals he has produced," says past Chairman of RHASS, Keith Brooke. "His achievements are remarkable, and to be consistently leading the way in his industry is credit to a man who is truly committed to excelling in livestock management. 
"His understanding and insight into livestock breeding is significant and he contributes so much to the livestock sector – he is a true asset and very worthy of this year's Sir William Young Award." 
Robert Graham adds, "UK livestock is renowned all over the world for the quality of livestock that it produces, so it is a great honour and privilege to not only be nominated, but to be presented with the prestigious Sir William Young Award; especially with there being so many other worthy breeders.  
"Livestock breeding in the UK has never looked stronger and with Brexit, there could now be opportunities to export more livestock and livestock products around the world. I have been breeding cattle and sheep for 50 years and during that period livestock has changed quite dramatically, with the introduction of new techniques to assist the breeding, which has made competition much higher. These new techniques and the precision that goes into preparation for breeding puts the UK in very strong position."