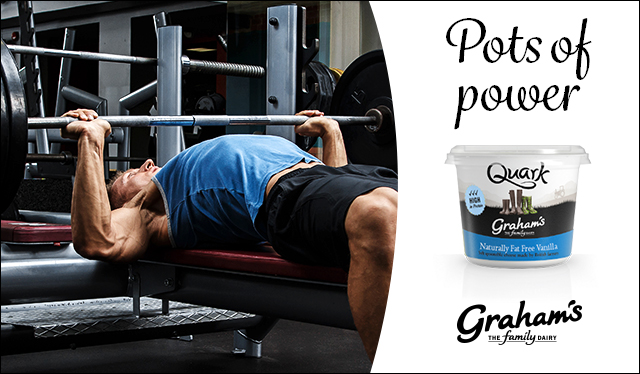 It's no big secret, take a walk down pretty much any aisle in your local supermarket and you'll notice that a lot of the packaging has one particular thing in common. Protein. No longer confined to that boring-looking panel apologetically placed on the side of your cereal, protein content is something that's becoming a bigger and bigger consideration for people. Perhaps this is because we're all getting wiser about nutrition and healthy living in general – but let's delve a little deeper into protein and what exactly a healthy intake as part of a balanced diet can do for you.
What is protein?
Protein is a hugely important building block for your body. It helps create things like bones, blood, skin, nails, hair, cartilage and of course – muscle! It's got a variety of uses in your body, from repairing damaged tissues to making enzymes and hormones. It's classified as a 'macronutrient', which means that your body needs quite a lot of it (in comparison to other things). Your body doesn't store protein though so this makes it crucial to make sure you're getting enough of it.
Why do we need protein?
But why is getting enough of it so important? Well, aside from allowing your body to produce all the things and do all the jobs listed above, protein is an essential if you're a keen gym bunny. We should be clear that if you're looking to build strength and muscle, exercise is the only thing that will do this – protein is an essential part of the process though. More protein does not translate to more muscle! But it is great as part of a balanced diet and especially after a hard workout (or even a gentle one!). It helps your body repair itself, build strength, and allow you to hit the dumbbells again quicker than you might normally be able to.
Where can you find it?
There are many ways to get your protein fix, but one of the most convenient is our Protein 22, containing 22g of protein per pot. They're fantastic for having on the go, making it easy for you to go from the gym to that boardroom meeting without feeling like you're going to drop! Available in four delicious fruit flavours; strawberry, raspberry, blueberry and peach, they are sure to keep you fuller for longer. Plus it's fat free, unlike a lot of yoghurt options. Or, if you're looking for a more versatile ingredient for using in your cooking that's high in protein you might be interested in Graham's Quark. It's a spreadable cheese that's very similar in texture to créme fraiche and is naturally fat free. Perfect for stirring in to pasta sauces and even baking!
When's the best time to have protein?
We can't stress the importance of balance when it comes to your diet. So there's really no need to go to town on your protein intake, but there are points in the day that it can be really beneficial. Breakfast is a perfect time to have a high protein meal – it'll make you stay fuller for longer and help you resist those cheeky 'elevenses' we all treat ourselves to from time to time. Post-workout is another great time to get your protein in, your tired muscles will thank you for it!
Have you tried any of our high-protein products like Protein 22 and Quark? We'd love to know how you found them. Let us know on Facebook, Twitter or Instagram!