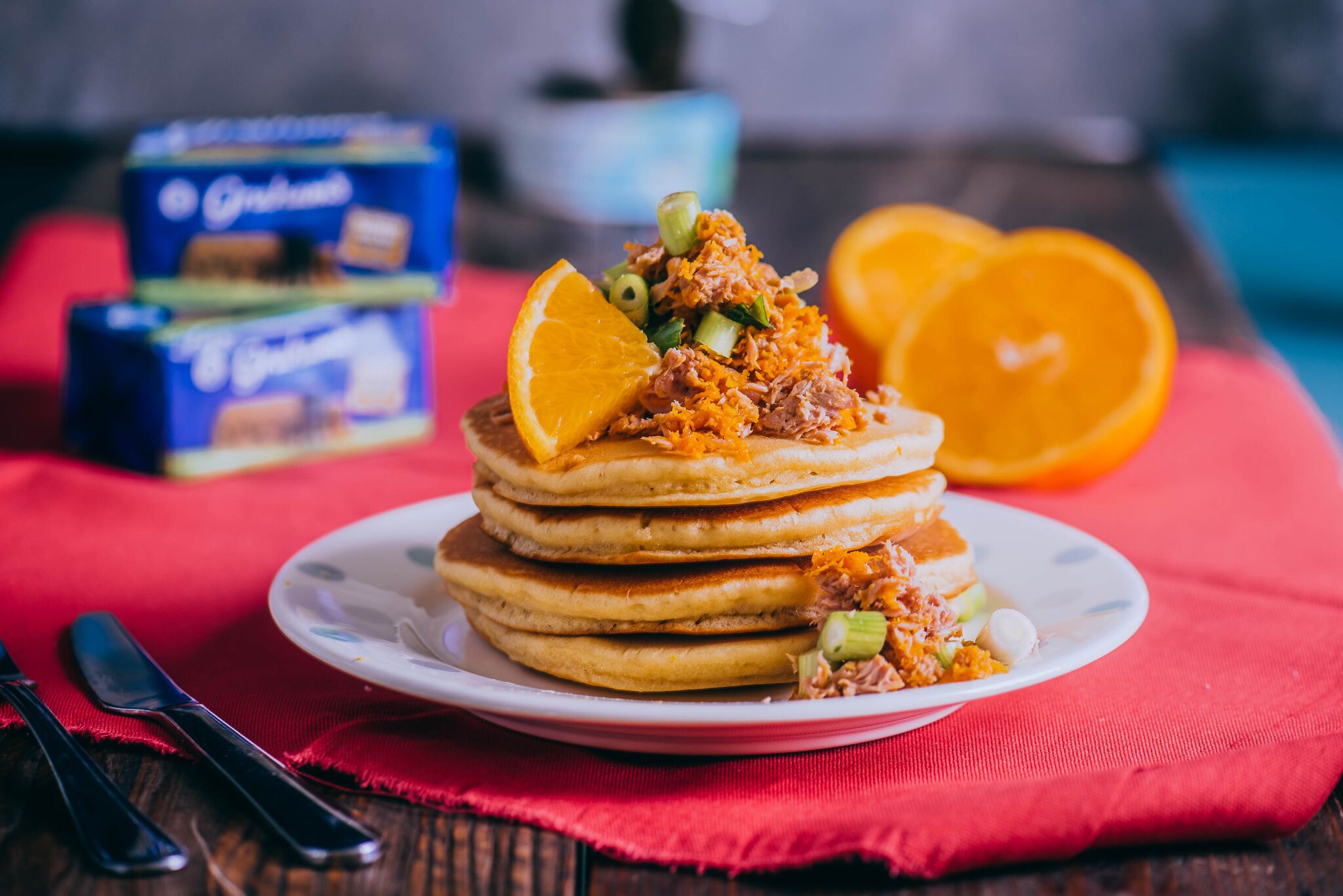 Let's toss the traditional 'lemon and sugar' or 'bacon and syrup' pancake toppings in favour of ingredients that are far from ordinary, seemingly bizzare and that pack a punch this Pancake Day.
Graham's the Family Dairy is set to tantalize and shock taste buds with a trio of delicious yet highly unusual pancake recipes.  From olive and white chocolate, tuna and orange to peanut butter and curry powder, Graham's delightfully fluffy pancake are unexpected yet delicious. Adventurous bakers can ensure their pancakes don't fall flat this Shrove Tuesday with flavor combinations that are batter than ever:
Salted chocolate is a well-known favourite, but Graham's are suggesting the salt sweet combination of olives and white chocolate. The olive's salty bitterness cuts thought the creamy, vanilla notes of white chocolate, creating a moreish combination.
 
A staple cupboard go-to, tuna is a versatile ingredient. Pair it with vibrant, zesty orange for contrasting flavours, texture and colours.
 
Peanut butter and curry powder is an unusual combination that surprisingly works.  The mild curry packs a punch against the subtle sweetness of the peanut butter.
Graham's ambassador and Great British Bake Off star, Flora Shedden, has whipped up a recipe for the perfect pancake as the ideal base for Graham's quirky flavours, using Graham's Gold Top milk and butter –  made using milk from the Jersey cows, famous for its creamy texture and rich, buttery taste.
Flora's top tips for fool proof flips would be to work fast, her pancake batter is best when freshly made, and only flip when little bubbles appear to achieve maximum fluffiness.
Crafty crepe creators are invited to submit their own flavour combinations via Graham's Facebook and Twitter pages.
Carol Graham, Marketing Director at Graham's the Family Dairy said: "We're constantly innovating and enjoy experimenting using our product ranges, and we felt like having some fun for Pancake Day.  Flora created a lovely recipe for the perfect pancake and we decided to spice things up with some weird and wonderful combinations which the family have enjoyed tasting.  I was a little sceptical at first – especially of the tuna and orange combination! – but having tried and tested each dish, I'm convinced that we're on to a winner here. We'd love to hear other people's Pancake Day creations, so please get in touch via our Facebook and Twitter."
You'll need:
225g self-raising flour
40g caster sugar
1 tbsp golden syrup
250ml Graham's Gold Top milk
1 large egg
Graham's slightly salted butter for cooking
For the pancakes weigh all the ingredients into a bowl and whisk together until the batter is smooth. Heat a little Graham's butter in a nonstick frying pan and use a piece of kitchen roll to make sure the whole pan is covered. Spoon in dollops of the batter, making it as round as possible. The pan should be on a medium heat. Allow to cook for a few minutes or until bubbles start to form on the surface of the pancake. Flip and cook for a further few minutes until golden brown.
Graham's Weird and Wonderful Pancake Creations
Using Flora's pancake recipe as your base, we recommend the following flavor combinations which – unusually – complement each other perfectly. Ingredients are listed per serving.
Olive, White Chocolate and Mozzarella
Slice 3 pitted green olives, a handful of white chocolate buttons and tear a small ball of buffalo mozzarella, sprinkle over your pancake and serve with a drizzle of balsamic glaze.
Season half a can of tuna in spring water, mix with the zest and juice of 1 orange and a glug of olive oil. Serve on your pancake, garnished with orange slices and spring onion.
Peanut Butter and Curry Powder
Spread a generous dollop of crunchy peanut butter on top of each pancake, serve with whipped Graham's double cream seasoned with a sprinkle of mild curry powder and a sprinkle of coriander.
Notes to Editors
About Graham's Family Dairy
Graham's The Family Dairy is based in the heart of Scotland, producing an award-winning, home-grown range of the highest quality food and drink, including milk, cheese, cream, butter, ice-cream, cottage cheese, quark, sour cream and yogurt. Established for more than 76 years, Graham's remains a family-run company with a focus on farming, provenance, high quality produce and a quest to promote the best of Scotland's larder throughout the country.
Twitter: @grahamsdairy
Instagram: @grahamsthefamilydairy
www.facebook.com/GrahamsTheFamilyDairy