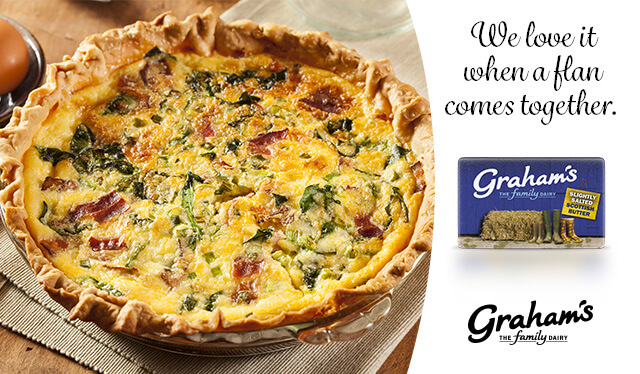 Is any dish as versatile as the quiche? Served warm from the oven it's a cosy and comforting winter meal, while served cool it's a summer buffet or picnic essential. It's also easily adapted to suit either vegetarians or committed carnivores. We've got some fantastic quiche creations on the Graham's The Family Dairy website so we thought we'd bring them all together in this blog post to offer you some kitchen inspiration.
 
Quark Quiche Lorraine Recipe
Quiche Lorraine is the quintessential quiche – so surely there's no way to adapt or improve upon a classic, right? Wrong. This recipe uses Graham's Quark, which is naturally low in fat and high in protein. As well as being important for muscle maintenance, repair and growth, protein is also helpful when it comes to keeping us feeling fuller for longer. That means there will be no rumbling tummies after tucking into this delicious dish.
Be quick to try this Quark Quiche Lorraine recipe.
Wholeheartedly Healthy's Roasted Red Pepper, Feta & Spinach Quiche Recipe
Laura Agar Wilson is a wellbeing coach who is committed to creating and sharing recipes that help people to ditch serial diets and instead focus on a healthier lifestyle overall. This is something that her website Wholeheartedly Healthy is committed to and this tasty combination of vegetables, eggs and (again) Graham's Quark is a perfect example of simple, healthy cooking.
With this dish you can enjoy the colours and flavours of the Mediterranean without even leaving your own kitchen. Even better, it's incredibly easy to make, containing only five ingredients – quark, eggs, red peppers, spinach and feta cheese. Easy, flavoursome and good for you; this dish is an ideal combination.
Race for this Roasted Red Pepper, Feta & Spinach Quiche recipe.
James Morton's Bacon and Leek Quiche Recipe
The first two quiches on this list have been made with Graham's Quark, but please don't think that we're forgetting about cream aficionados. Great British Bake Off star James Morton is a big fan of the kind of hearty farmhouse cooking that we grew up on and his Bacon and Leek Quiche is a stunning example of it.
James himself says that this is the kind of dish that will even win over quiche-sceptics. Just what is it that makes this quiche so different? "The critical cream to egg ratio".
Take on James Morton's Bacon and Leek Quiche recipe.