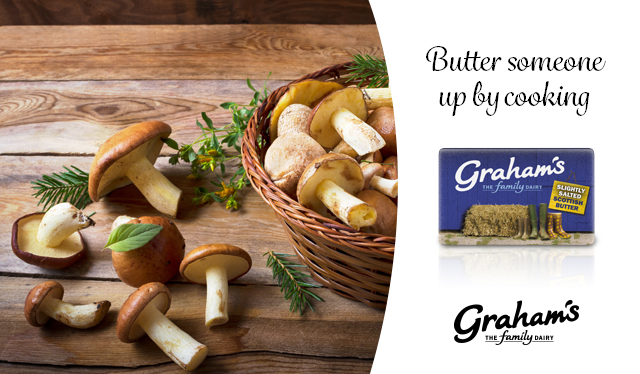 The humble mushroom can sometimes be a little overlooked, but at Graham's The Family Dairy we're all in favour of natural ingredients and home cooking. That's why these friendly fungi (the safe ones) will always have a place in our hearts.
To help give you some ideas on how to make the most of them, we've put together this handy list of our favourite mushroom recipes from the Graham's The Family Dairy website.
Simple and warming: Mushroom Soup recipe
Lunch, dinner or just whenever you're in the mood for a little bit of comfort food. There's never a bad time to enjoy a bowl of freshly made mushroom soup. What we love about this recipe is how easy it is.  That doesn't mean there's no room for a touch of the exotic though – this version from our own Eileen Stewart uses shiitake mushrooms as well as Portobello mushrooms. Remember though, you can always adapt the recipe to suit the ingredients you have.
See Eileen's Mushroom Soup recipe.
Hearty but healthy: Mushrooms and Quark on Toast
Mushrooms are naturally low in both sugar and fat, so they're a great choice to incorporate into mealtimes if you're on a health and fitness kick. That also makes Graham's Quark the perfect partner for them as it's also naturally low in fat and sugar but has the added advantage of having a high protein content. Protein is essential for muscle repair and maintenance and can also help you to feel fuller for longer, useful when you're trying to control what you eat.
Try our Mushrooms and Quark on Toast recipe.
Fast and flavoursome: Quick Tarragon Chicken with Chestnut and Morel Mushrooms
We all get tired at the end of the day but fast food doesn't need to mean picking up a takeaway or opting for the ping of the microwave. None other than top celebrity chef Nick Nairn has come up with delicious dish which will only take around half an hour to rustle up. It's easy to prepare yet it will feel like you're really treating yourself. We love chestnut mushrooms but it's the addition of morel mushrooms that really adds the punch to this dish and makes it so tasty.
Time for Nick Nairn's Tarragon Chicken with Mushrooms.
Rich and indulgent: Wild Roe Deer, Potato Cake, Wild Garlic & Mushrooms
This recipe from our friend Neil Forbes of Edinburgh's Café St Honore is so good that it could actually be a Christmas dinner. We think it would make a fantastic festive feast… but we're not sure that after eating it we'd be able to wait another 12 months to try it again! This sumptuous combination really has to be tried.
Don't make yourself wait until Christmas for Wild Roe Deer by Neil Forbes.