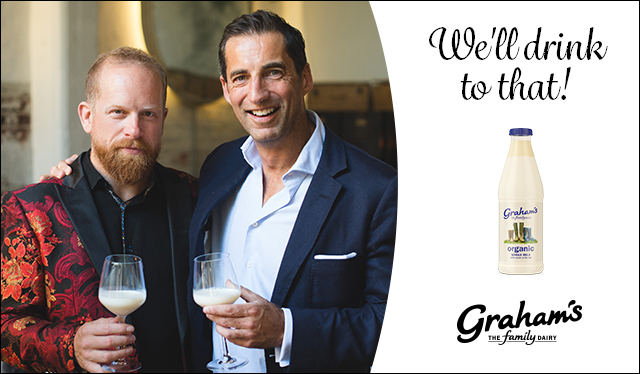 Good quality milk is something that's often taken for granted… after all, it's always in the fridge and usually involved in most recipes too. Here at Graham's however, we've got a nose for recognising a the subtleties hidden in a glass of the white stuff. That's not to say that you have to come from a long line of dairy farmers to be able to appreciate milk on this level – that's something we found out with our very own Milk Sommelier and neighbour, Doug Wood.
The man. The milk. The legend. 
Doug claims the honourable title of 'UK's first Milk Sommelier', so we just had to get him on board to help spread the word about just how complex and enjoyable milk can be. Doug's well set for the job as his usual day-to-day is spent discovering new flavours and scents in alcohol, which he's been doing for over 15 years now. Doug applies exactly the same skills when tasting a glass of wine, but this time it's a very different kind of 'house white'. Always up for a challenge Doug quickly found a place for his talents; 'Once the tastes and aromas started coming through, it really opened my eyes to how complex a humble glass of milk could be.'
Our milk tasting events
You might have seen a bit of action from our Milk Tasting events on our social channels? We organised these to give people an unforgettable evening of fine flavours and a little bit of learning about our various milks and their profiles. We've been producing a range of  award-winning dairy products for over three generations now and we always keep the highest standards in mind, so we made sure there little room for disappointment on our guests' part! Each milk that was featured in the tasting was partnered up food intended to complement the flavours.
What's on the menu?
Each tasting started with a palate cleansing cocktail and then it was swiftly on to the 'main menu'. Firstly our Semi-Skimmed milk's light, sweet and almost grassy profile was paired with longhorn beef tartare on a potato crisp.
Next up was our Organic Whole Milk (with cream at the top). Its creamy, white chocolate and panna-cotta flavours went down well with a fairly spicy braised oxtail croqueta. The cooling effect of the milk really seemed to compliment the soft melt-in-your-mouth oxtail.
This was followed by the delicious pairing of our hugely popular Gold Top with tarragon chicken roulade on brioche toast. Doug found a lush, creamy but distinctly clear flavour and fruit undertones with this milk which really brought out the savoury roasted flavours of the chicken.
We then served up the perfect matching of our Gold Smooth with poached pear and preserved lemon tarte tatin, the sharp fruit of which played a great compliment to the deep velvety notes of vanilla and toasted nuts.
Finally, we rounded the evening off with a glass of our Organic Semi Skimmed milk (with cream at the top) and a chocolate and almond biscotti. Our take on the classic milk and cookies, the full-palate flavours of oats, almond and buttercup matched beautifully with the texture of the biscotti and it's warm gooey chocolate.
We were so pleased to get such a great response from our guests too. It was fantastic to see that the quality of our homegrown milk being appreciated by a range of people. You can see photos and videos of our events and hear from Doug himself over on our Facebook page. Or if you're feeling adventurous, why not hold a tasting of your own. Be sure to let us know what your tasting notes are!