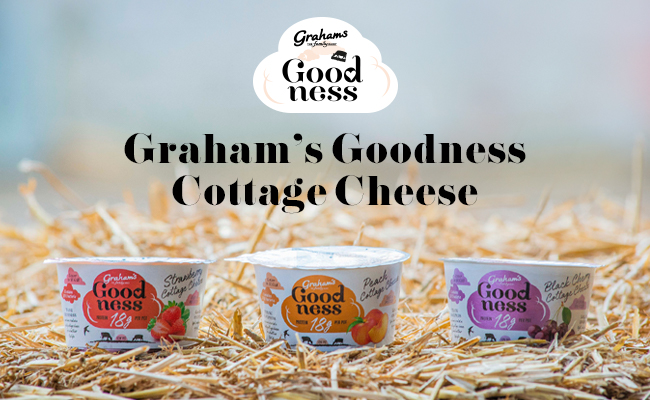 Long-time Graham's fans will know by now just how much we love donning our thinking caps and coming up with exciting new products for people to enjoy. In the last few years we've brought out delights such as Skyr, Protein 22 yoghurts, Protein 40 Milk, an organic range, Quark and most recently our Goodness Ice Cream.
The thinking behind the latter (and most of our new products actually) is to create something that balances great taste that also offers a healthy source of nutrition. And that's just what we've done with the latest addition to our range – cottage cheese that comes in three deliciously fruity flavours!   
Tasting is believing
Available in black cherry, peach and strawberry, each 165g pot contains a hearty portion of tangy cottage cheese layered on top of the sweet fruity compote. We're delighted with just how well the two complement each other! Each one is most definitely a sensation that needs to be tried to be believed. 
 Nutritious and delicious
Not only does this new range have all the great taste that you'd expect from a product that bears the Graham's logo, but they're full of good stuff too. Each pot boasts a whopping 18g of protein – fantastic for helping you feel fuller for longer than you would on 'empty carbs'. Not only that but it's great for your gut too. Full of 'good bacteria' our cottage cheese helps support a healthy digestive system. Good gut health is thought to be one of the key pillars of staying in tip top condition in general as it's connected to bodily functions such as your immune system, energy levels and even your mood.
If that's piqued your interest (and your appetite) you'll find full details of each new flavour over on our product page. Or if you can't wait to try, pop down to your local Aldi. We're always keen to know what people think too, so don't be afraid to get in touch via our contact page to let us know your thoughts!