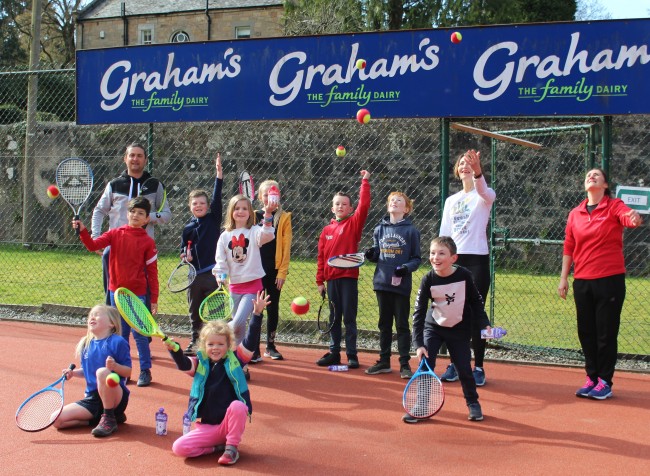 Graham's and Bridge of Allan Sports Club's partnership encourages junior development and skills progression in tennis and squash.
Today, (date) Graham's The Family Dairy and Bridge of Allan Sports Club (BOASC) announces the renewal of their long term partnership alongside dates for FREE family tennis classes. Graham's has invested in junior development at Bridge of Allan Sports club, helping to improve the skills, performance and progression of children across the local community in tennis and squash, for over 12 years.
Graham's ongoing support of BOASC sees the launch of Children's Clubs, led by coaching professional Adam Brown. Now kids as young as 5 years old can enjoy a structured coaching program complemented by games, to enhance the physical and mental health benefits of playing tennis and squash. From now until Wimbledon in July, families and children of all ages, abilities and fitness levels are welcome to take part in free BOASC club events and enjoy a range of Graham's dairy products, including Squidgies yogurt in pouches.
Carol Graham, Marketing Director, Graham's The Family Dairy said: "The enjoyment of sport and good nutrition are an incredibly powerful combination for child development. The vision of our partnership with BOASC is to significantly improve the skills, development, performance, and progression of juniors in tennis and squash. From our family to yours, we hope to continue to encourage local children to get into and most importantly, enjoy sport from a young age".
Kris Henderson, Club Manager, Bridge of Allan Sports Club, "We are delighted that our valued and longstanding partner, Graham's is supporting us for another year. It has been a tough twelve months, but now we are excited to welcome back old and new members and kick off the fantastic Children's Clubs. We still have a few spaces available, so we are keen to see some new local kids take up a sport that could change their life".
Children and families attending the BOASC Children's Clubs can enjoy a range of Graham's dairy products, including Squidgies, a new yogurt pouch created especially for children made with fresh fruit  and creamy whole milk, collected from over 100 of Graham's Scottish farming partners.
Squidgies are naturally healthy and available in handy little pouches, great for breakfast, lunch or dinner on-the-go. Each pouch is packed full of nutritional goodies including calcium, great for bone health, vitamin D and live cultures, available in three tasty flavours: Strawberry, Peach and Mango and Blueberry.
Graham's Squidgies children's yogurt pouches (RSP 75p) are available in Tesco and SPAR stores across in Scotland, and coming soon to Sainsbury, with the aim to roll out across the rest of the UK.