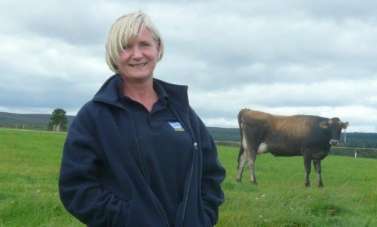 Our #MyGrahamsMoment campaign is to encourage people to share their special moments of personal connection through their love of milk and great tasting dairy products, particularly in these challenging times.
We have asked some of our wonderful farmers to give us a little insight into how they got into dairy farming and to share their very own Milk Moments with us.
First up is our very own Morag Holdsworth. Find out a bit more about her role as Farm Manager at Graham's and how she travelled the world with the skills she picked up on her home farm!
"I have worked in agriculture for more years than I care to remember! I am not from a typical farming background; my dad was an IBM Manager and a frustrated farmer who rented a small farm where I grew up helping around the place and just loved being hands on.
I'm not sure I chose a career in agriculture; it chose me!
As a young girl I was told that agriculture wasn't for women so never really considered it a career. Maybe, in those days, there wasn't the same range of associated opportunities and I am glad things have changed.
When I left university, I took the opportunity to travel the world for a couple of years working on a sheep station in Australia and a dairy unit in Canada. I was also a gardener in Los Angeles and worked in a shipyard and a building site in Australia! Having practical skills learned on the farm means that you can pretty much pick up work anywhere in the world.
Once I returned to Scotland I was fortunate to get a job with the NFU Scotland in Argyll a job that I loved as it took me all over Argyll and was in the days before email and mobile phones. I was then project manager at Lantra Sector Skills Council and from there I moved to First Milk and ultimately to Graham's The Family Dairy.
A day in the life as Dairy Manager at Graham's
As the Farm Services Manager for Graham's the Family Dairy there is no such thing as an average day! My typical day will depend on how my phone rings and what is happening in the dairy world at the time. I have responsibility for liaising with the farmers who supply our milk and I cover everything from milk quality and milk haulage right through to ensuring the milk cheque goes out and everything in between.
I love working for the Graham's because you are truly involved in the business working with great quality farmers supplying the milk to make the great quality products. I love watching the milk tankers arriving knowing I have played at least a small part in getting the milk in.
Before Covid19 I would have said the worst thing I hate about my job is snow! If I look out and see it's snowing, I instantly start thinking about tanker drivers, farm access and the winter of 2017. Covid 19 was very similar, although sadly has gone on for a lot longer than snow and has had a devasting effect on our food service sector.
…and finally
My advice to young people, particularly females wanting to get into a career in agriculture is to find yourself a mentor. Someone you trust to give you guidance, feedback and support is invaluable.
An old farmer friend said to me "An education is easy carried around with you". Those words stuck with me and I spent 4 years at university getting a degree in Biological Sciences.  Having a solid education has certainly helped me over the years – and 4 years at university was pretty good fun.  There are now so many great roles within agriculture and the allied industries (or the 'coos tail' as the farmers say) that the opportunities are boundless if you are willing to work hard and turn your hand to anything".