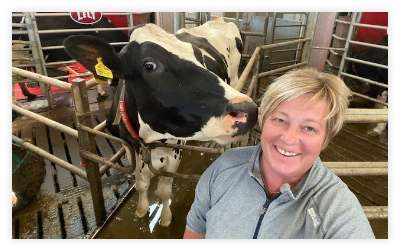 I think farming as a way of life, not just a job
I was brought up on our family dairy farm and it was always a case of 'all hands on deck' to help out; from washing up after milking, bedding cubicles to many summers of steam cleaning and painting .
After school I went on to further study and for many years, I worked in agricultural research at the Hannah Research Institute. I then met and married a dairy farmer, and in 2001 we started milking our own herd of cows here at West Scoutts.
Robots milk our cows
By 2011, with limited staff we installed 2x Lely A4 robots for our high yielding cows. This helped ease our workload slightly as the milking robot allowed our cows to enter it, as many as four or five times a day, which they really seem to enjoy – while getting fed also. The rest of our low yielding herd went through a conventional milking parlour.
It was at this point that I took the decision to quit my job in research and concentrate on our family (we have 3 children) and the day to day running of our robots.  Purchasing them was such a large investment, we needed to make it work for our business.
In 2017, we had a business split which was an exciting time for us as a family, as it enabled us to make our own decisions and invest in our herd and farm.
I love bringing a new calf into the world!
A year later, after further staff shortages, our teenage son Craig showed a keen interest in coming home, so we decided to improve our herd with better cow families and bloodlines and invested in all robotic 4 Lely A5 robots.
So, now my day to day is to help with the many decisions on the farm, running of robots, rearing of calfs, management of bills and accounts …. and I do love a steam clean wherever needs! Oh, and I squeeze in helping my sister at Corton plants in my spare time too.
For me, the best things about farming is to look back on what you've achieved, whether it be rearing nice healthy, happy calfs, or enjoy the benefits of farm improvements you've made over the years which make the many hours of hard work worthwhile!
My advice if your keen to get involved in agriculture, is do what you love to do, be around things that make you smile. I've always been an outside kinda girl. I love nothing better than calving a cow and bringing a new life into the world and to see your own herd of cows going on and doing well.