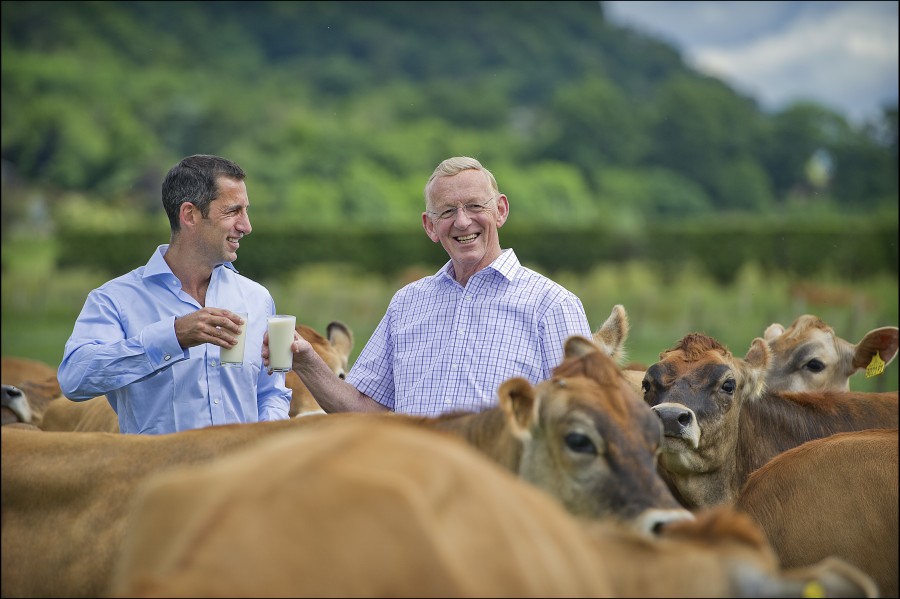 Scotland's largest independent dairy business, Graham's The Family Dairy, has renewed its UK license to produce and distribute the rich and creamy Gold Top milk product on behalf of the farming co-operative Quality Milk Producers Ltd (QMP).
The 25-year agreement also marries together the popular Graham's Gold jersey milk brand with the firmly established Gold Top stamp to create a new identity – Graham's The Family Dairy Gold Top.  This ensures loyal Gold Top consumers can still source the product with ease while it extensively grows the Graham's brand south of the border.
The product range, which is high in protein and calcium and renowned for its unique taste, features two 1 litre bottle milk variations Graham's The Family Dairy Gold Top with the cream on top and Graham's The Family Dairy Gold Smooth with the cream mixed throughout, as well as 250g packs of butter and 284ml pots of double cream.
The new identity created by Edinburgh-based threebrand is a natural extension to the existing brand and features Graham's signature wellie boots along with images of the dairy's award-winning Jersey cows, which are reared on the lush pastures of the Carse of Stirling.
Dr Graham, chairman of Graham's The Family Dairy, said:  "Our farming and dairy business first started rearing Jersey cows more than 25 years ago as we wanted to offer something different to our customers, with a more luxurious taste.  We started with 40 Jersey cows and now have 300 milking and 300 young stock in our herd which produce a milk higher in protein and higher in fat.
"Our arrangement with QMP is important development for our business as it further strengthens the Graham's The Family Dairy brand south of the border where we will now have significant shelf presence in all the major multiple and independent retailers currently stocking the Gold Top brand.
"Our only concern is the level of supply of Jersey milk on the market to meet the growing demand of consumers, so we are actively seeking more partnerships with Jersey breeders."
The new Graham's The Family Dairy Gold Top range will be launched during this week's Royal Highland Show.
Notes to Editors:
In 1939 when the company was founded daily output amounted to 400 pints. The company is now producing more than 700,000 pints on a daily basis.
Graham's The Family Dairy produces an award-winning range of milk, butter, cream, ice cream and cheese as well as a its Jersey range.
Graham's The Family Dairy has established itself as a top 10 Scottish brand in Scotland ranking 8th in the latest Kantar Worldpanel research. 
Graham's The Family Dairy recorded sales of more than £82 million in the year to 31 March 2014, up from £68m in the preceding 12 months.
The Gold Top brand has been registered since the 1970s and has evolved into a range of quality dairy products under the Gold Top name