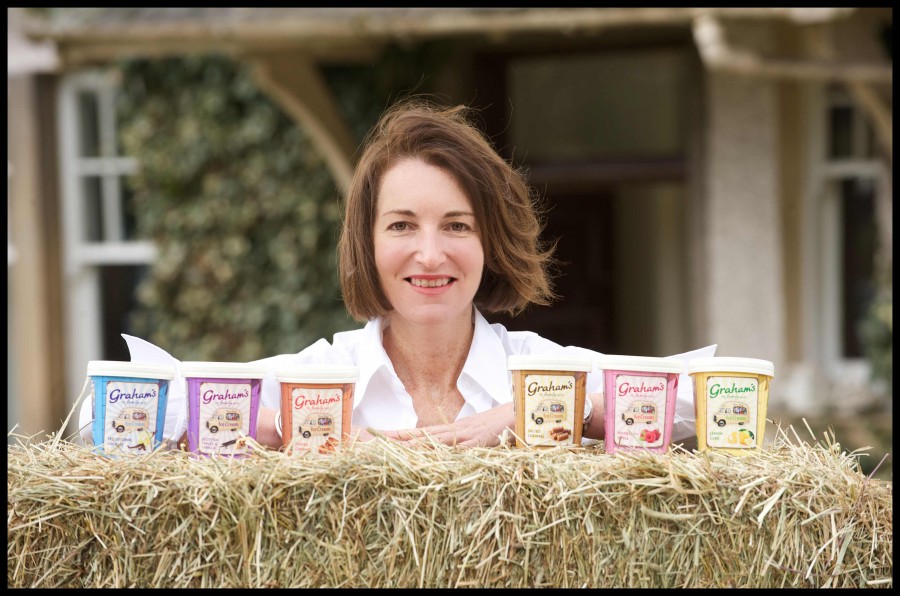 The magic and nostalgia of classic family holidays, of seaside breaks, sandcastles on the beach and days gone by, all those memorable childhood moments are beautifully captured by Graham's The Family Dairy in the rebrand of its ice cream and the creation of a tasty collection of six new flavours.  
Scotland's leading family dairy first unveiled a range of traditional, organic and Jersey Gold ice cream back in 2009 but this latest move sees Graham's introduce a distinctive new look and classic collection of fresh natural flavours based on traditional family favourites with Traditional Vanilla, Scottish Tablet & Vanilla, Lemon Curd, Salted Caramel, Toffee Caramel and Raspberry Ripple. ​
Available in 500ml tubs, the range has been made using the finest Scottish milk sourced from the 90 Scottish dairy farmers Graham's works with.  Major supermarkets have already confirmed listings with the range available across Scotland in Waitrose and Tesco this month, Sainsbury's from May and Asda from 1 June at a RRP of £3.00.
Smaller 100ml tubs are also being launched into the food service industry this summer that will be available in visitor attractions, hotels, cinema and theatres.  Large Napolis have also been created for catering trade customers selling individuals scoops.
Like all of the products from Scotland's only independent family dairy, the new ice-cream packaging features photographs of the Graham's family.  This time old family snaps from Graham's holiday albums feature including Robert Graham Snr appearing as a child on a family holiday in St Andrews, his wife Jean as a child on holiday in Largs and their daughter Carol as a teenager on holiday in Rhodes.
The distinctive, bright and colourful packaging clearly reflects the flavour variety with additional photography of the main ingredient such as fresh raspberries on the Raspberry Ripple pot.  All packaging features Graham's own traditional ice cream van, which regularly tours the country visiting many retailers and shows including the popular Royal Highland Show.
The rebrand will also be supported by a six-figure TV advertising campaign currently in development that will run on TV and in cinemas over the summer.
Carol Graham, Marketing Director of Graham's The Family Dairy, commented: "People's first taste of ice cream was probably experienced on a family holiday or round the kitchen table after a family meal.  We wanted to evoke those special memories with classic flavours such as lemon curd and through our packaging, which has a distinctly nostalgic look and feel to it.
"Ice cream is no longer seen as just a summer dessert or a special treat, as customers now enjoy eating it straight from the tub in front of the TV or a good movie all year round.
"We aim to make great tasting products in Scotland, essentially products we can enjoy at home and those our loyal customers have come to love and demand. Our new ice cream collection is a natural extension to the Graham's The Family Dairy range and we hope it will  prove popular with all ages.
"As a family, we had great fun developing and tasting the different flavours round the kitchen table and we each have a particular favourite." 
Renowned for its award winning milks, creams and butters, this latest innovation by Graham's The Family Dairy is produced and packaged at its Airthrey Kerse Farm in Bridge of Allan, Stirlingshire. 
In a sign of the growing demand for local produce Graham's The Family Dairy's has established itself as a top 10 Scottish brand, ranking 7th in the latest Kantar Worldpanel research.
The business is also proud to work in partnership with more than 90 farmers who together produce 11% of the total liquid milk production in Scotland.  These farming partnerships guarantee that more customers have access to dairy products from Scotland through Graham's range of products.
Notes to editors:
Graham's products can now be found the length and breadth of the country via more than 6,000 customers from independent retailers to hotels and restaurants as well as all the major multiples in Scotland.  Morrisons, Sainsbury's, Waitrose, Tesco and Asda also stock Graham's branded goods south of the border.
Graham's The Family Dairy recorded sales of more than £85 million in the year to 31 March 2014, up from £68m in the preceding 12 months.
In 1939 when the company was founded by Robert Graham – the grandfather of the current managing director Robert Graham (Jnr) – he reared 12 cows, milked them by hand then made all deliveries by horse and cart
When founded daily output amounted to 400 pints. The company is now producing more than 700,000 pints on a daily basis.
Graham's The Family Dairy is Scotland's largest independent dairy producing an award winning range of milk, butter, cream, ice cream and cheese as well as Graham's Gold Jersey range.
The company has established itself as a top 10 Scottish brand, ranking 7th in the latest Kantar Worldpanel research.