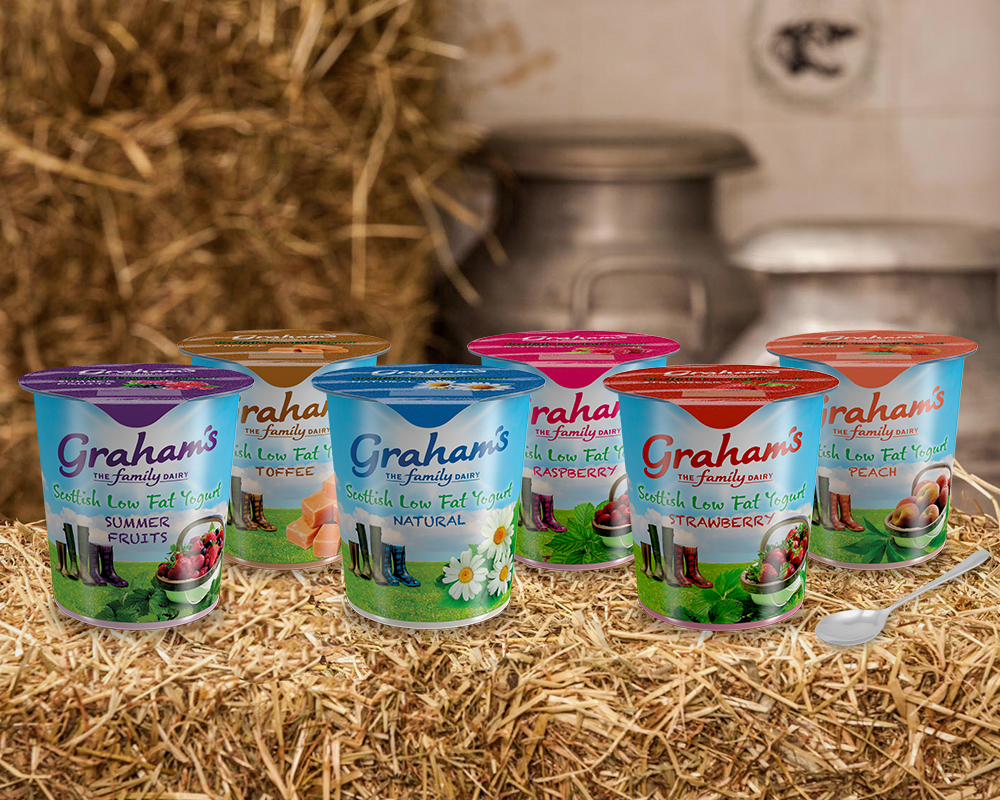 Graham's The Family Dairy has expanded its portfolio of award-winning dairy products with an innovative new range of six low fat yogurt varieties.
The family-owned Scottish farming and dairy business, which supplies home-produced products for more than half the households in Scotland, has also secured a Scotland-wide listing in Scotmid with 150g pots of Raspberry, Strawberry, Summer Fruits, Peach, Toffee and Natural flavours now on shelf in over 190 stores across the country.
Yogurt will be produced from Graham's processing site in Nairn in the North of Scotland. The site was acquired from Claymore Dairies in 2010 to provide more flexibility in capacity and production capabilities. In order to facilitate the dairy's expansion into the yogurt category, Graham's has made a significant investment in specialist production facilities with additional funding support via a Food Processing, Marketing and Grant Co-operation (FMPC) grant from the Scottish Government.
Growth in yogurts and chilled desserts, which account for 26 per cent of total dairy spend, has been largely driven by price increases in the last year. However, there's been a shift in yogurt trends from indulgence to healthier options. Robert Graham, managing director of Graham's The Family Dairy and grandson of the firm's founder, said: "Unbelievably the best-selling yogurt brands in Scotland are French and English, therefore we saw an opportunity to meet customer demand with a low fat Scottish yogurt using Scottish milk sourced from our 98 farming partners.
"There is real growth in the low-fat yogurt sector, which is up on last year so it was a natural progression for us to move into this category. Our focus is concentrated on growing our presence in retailers across Scotland and this new product range delivers on quality, flavour varieties and indulgent taste without the guilt as well as offering a greater home-produced choice in dairy products to both our retail customers and the Scottish households buying Graham's products."
The introduction of the new yogurt range follows the recent launch of the Lighter and Organic Spreadable Butters as well as the new ice cream collection. The six new yogurt flavours are now available in Scotmid stores in 150g pots with a trial price of 49p (standard RRP 60p) with Natural also available in a 450g pot for RRP £1.40. The range is expected to roll out across other multiples in the coming month.
Colin McLean, Chief Operating Officer for Scotmid Co-operative said: "Graham's The Family Dairy is a terrific family business who works closely with Scottish farming communities. As a retailer at the heart of many towns, villages and cities across Scotland, we're thrilled to be launching this new product with Graham's as part of our commitment to supporting local suppliers."
Graham's grew its sales by 25 per cent in the year to 31 March 2015 to £85m, with its pre-tax profits rising to £1.3m. In March, the company unveiled plans to build a £20m dairy, research centre and training academy in Stirling, which would create 450 jobs including 50 local apprenticeships. Analysts estimate that the 150,000 square-foot facility – which would include production lines for milk, cream, cheese and spreadable butter – would generate an extra £20m GVA each year for Stirling's economy.
Find out more about our yogurt range here 
Twitter: @GrahamsDairy
Facebook: GrahamsTheFamilyDairy
Notes to editors:
Graham's products can now be found the length and breadth of the country via more than 6,000 customers from independent retailers to hotels and restaurants as well as all the major multiples including Waitrose, Tesco and Asda, with Morrisons, Sainsbury's, Waitrose, Tesco, Asda also stocking Graham's branded goods south of the border.
Graham's The Family Dairy recorded sales of more than £85 million in the year to 31 March 2014, up from £68m in the preceding 12 months. ·
In 1939 when the company was founded by Robert Graham – the grandfather of the current managing director Robert Graham (Jnr) – he reared 12 cows, milked them by hand then made all deliveries by horse and cart ·
When founded daily output amounted to 400 pints.  The company is now producing more than 700,000 pints on a daily basis.
Graham's The Family Dairy is Scotland's largest independent dairy producing an award winning range of milk, butter, cream, ice cream and cheese as well as Graham's Gold Jersey range. · The company has established itself as a top 10 Scottish brand, ranking 7th in the latest Kantar Worldpanel research. · 
At the 2014 Scotland Food and Drink Excellence Awards, Graham's The Family Dairy won the Business of the Year award and the Brand Success of the Year award with the Entrepreneur of the Year award going to Robert Graham. ·
Other award accolades during 2014 include the Chairman's Award for First Time Entrants at the Marketing Society Scotland Star Awards and Carol Graham being named Fife & Central Scotland Regional Director of the Year at the IoD Scotland Awards.