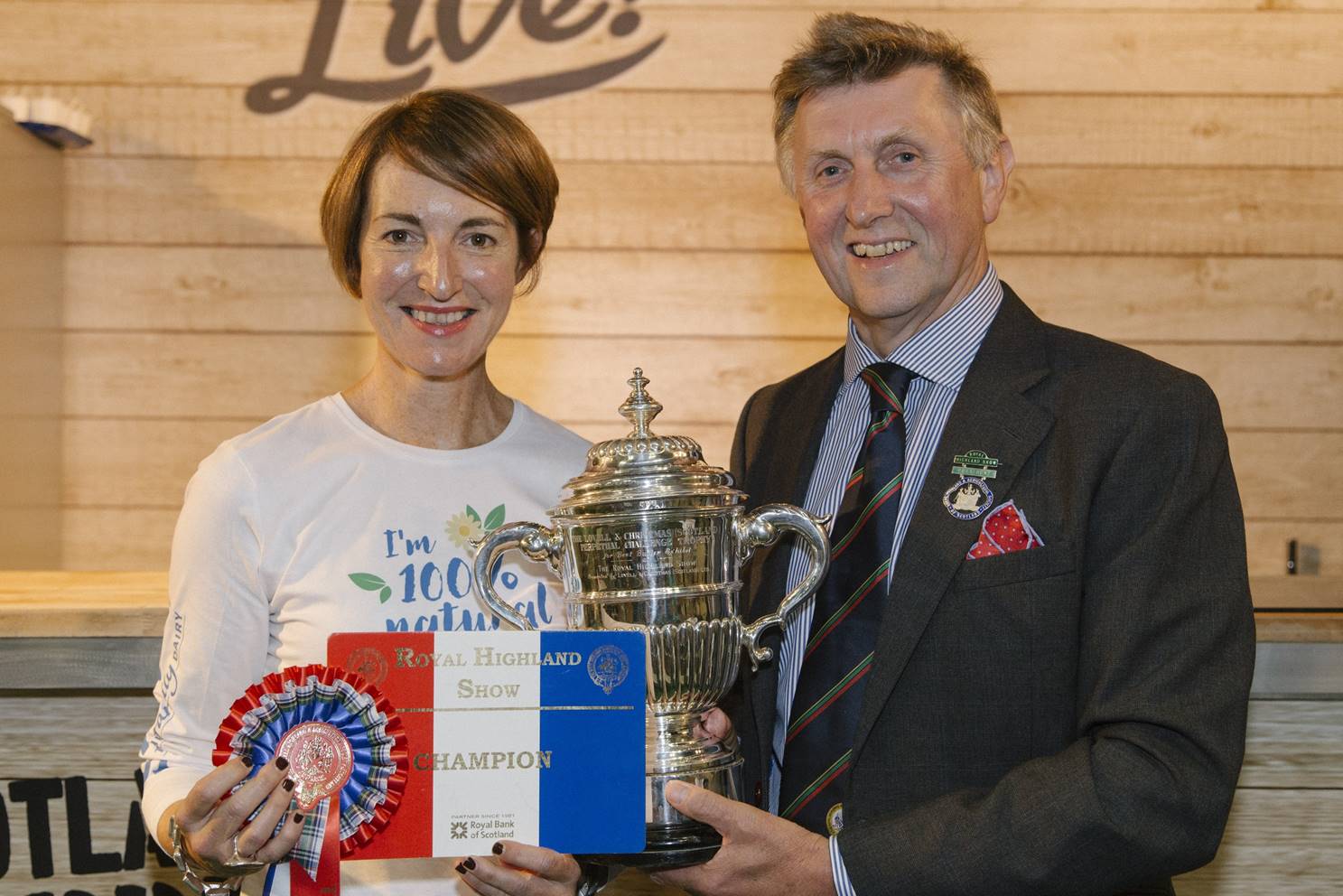 Graham's The Family Dairy enjoyed a successful Royal Highland Show at the weekend, picking up a range of awards across their product range, cattle and team.  They were crowned Overall Dairy Champion for their Scottish Slightly Salted Butter – a newly created award across cheese, butter and ice-cream, of which Graham's are the first ever recipient.  
The Bridge of Allan based dairy's Salted Butter also won the Champion Butter Exhibit Award, alongside both a Gold and Bronze Medal.  Their Unsalted Scottish Butter picked up a silver award, and they received bronze awards for their Unsalted Gold Butter and their Churned Scottish Unsalted Butter.
Graham's also scooped awards for their ice-cream range made with fresh milk and double cream:  their Scottish Dairy Jersey Gold Ice Cream won a silver medal, as did their Scottish Dairy Vanilla and their Scottish Tablet and Vanilla flavour; with Chocolate, Strawberry, Raspberry Pavlova, Amerena Cherry, Salted Caramel and Bubble Gum all winning bronze.
Graham's Lorenzo Limousin bull picked up some major titles at the weekend including Reserve Junior Limousin Champion, Reserve Male Limousin Champion, Best Animal bred in Scotland, and was crowned Winner of the Interbreed Championship in the Marks and Spencer's Beef Bull Championship.  The Graham's Jersey cows – who produce milk for the Gold range – won a first prize in the Heifer (served to calf at under three years old) category.
In addition, Graham's Stockman Drew Hyslop took home the Best Stockman at Show Award and was presented with the winner's cup at Ingliston House.
Carol Graham, Marketing Director at Graham's The Family Dairy said: "It's been a hugely enjoyable Royal Highland Show and to win this brand new award of overall Dairy Champion for our Scottish Slightly Salted Butter is just fantastic.  We're delighted that our butter and ice-cream ranges were recognised by the judges; and that our cattle and Stockman Drew have picked up such prestigious awards. 
"We're a farming family across five generations and showcasing our range and cattle alongside some of the very finest from across Scotland at The Royal Highland Show is a highlight of our year.  We're incredibly proud of the team's achievements."
The annual Royal Highland Show is seen as a must-attend event for everyone in the farming industry, from pedigree breeders hoping to showcase stock, to dairy farmers exhibiting their products.  The judging panel is comprised of the cream of the crop of Scotland's farming community. 
The  family owned business, based in the heart of Scotland since 1939, was last year crowned number 1 Scottish dairy brand and number 3 Scottish brand overall in the Kantar WorldPanel Research. Graham's has recently expanded their range and offered visitors to their stand samples of their new natural and vanilla quark product, a naturally fat free spoonable soft cheese.
For more information, please contact Caroline Docherty at Wire Media: caroline@wire-media.co.uk 0141 648 9612/07593 247 767
About Graham's The Family Dairy
From their family farm in the heart of Scotland, the award-winning business has grown through three generations of dairy farmers to become one of Scotland's greatest food and drink successes, since setting up in Bridge of Allan in 1939.
Graham's The Family Dairy is Scotland's largest independent dairy producing an award winning range of milk, butter, cream, ice cream and cheese as well as Graham's Gold Jersey range.
Graham's products are available the length and breadth of the country via more than 6,000 customers from independent retailers to hotels and restaurants as well as all the major supermarkets in Scotland, and some south of the border.
Graham's was named number 1 dairy brand in Scotland and number 3 Scottish brand overall in the Kantar WorldView Panel Research in 2015. 
The dairy works with 100 farming partners across Scotland.