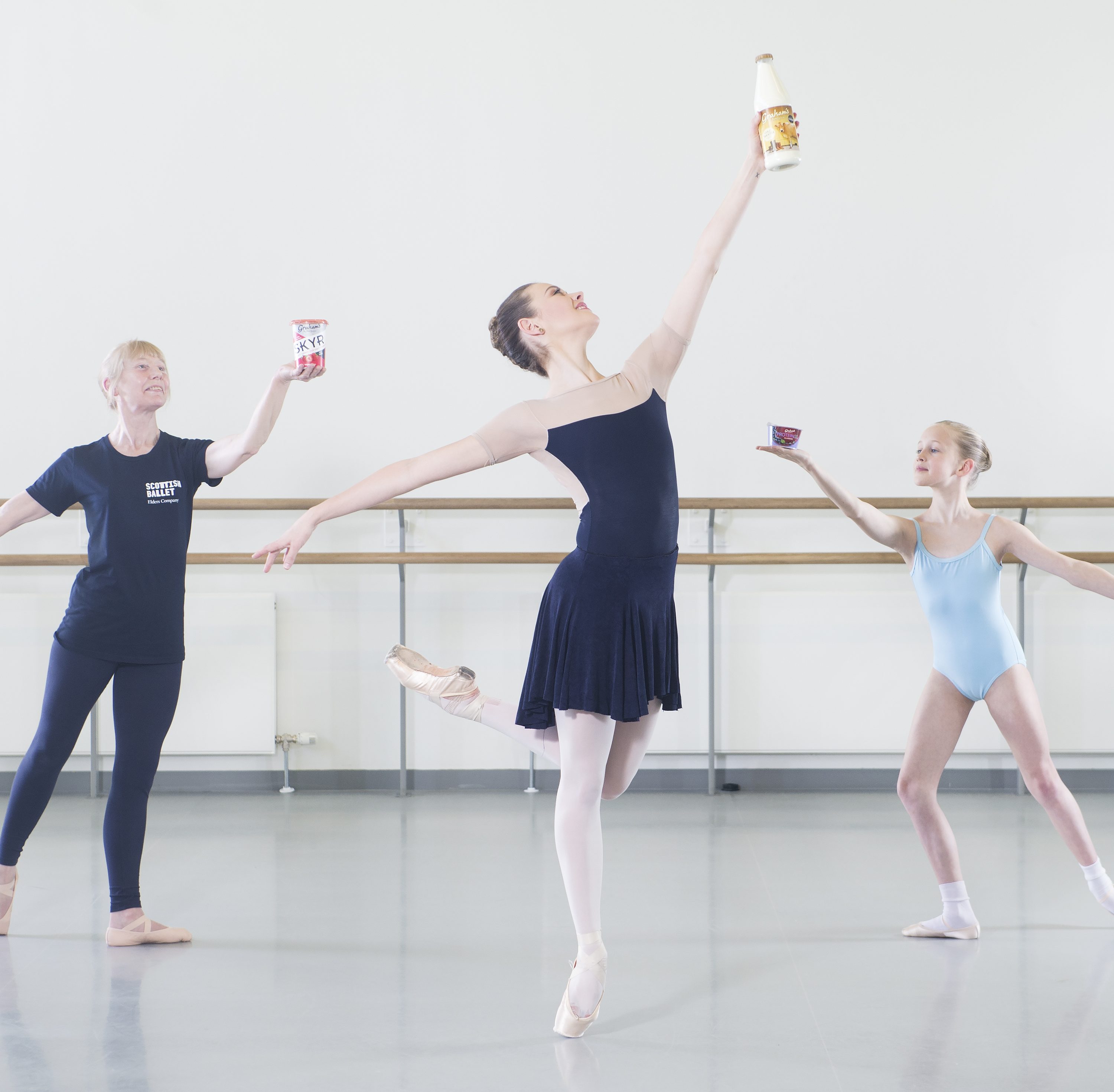 Graham's the Family Dairy has announced they will reprise their role as official health sponsor of Scottish Ballet for the third year running – working in unison with the Company to promote the benefits of dairy for a healthy, active lifestyle.
To celebrate the partnership, Scottish Ballet invited three generations of dancers, junior associate Caitlin Bambrick (11), Scottish Ballet artist Mia Thompson (25) and Scottish Ballet Elders Company member Mary Milligan (64), to gather at the barre, showing that ballet can be enjoyed at any age – just like Graham's products.
Milk that goes into all of Graham's the Family Dairy's produce is packed with calcium, vitamins and protein, which are important to all ages, ensuring healthy teeth, bone strength and brain function.  Its natural blend of water, sugar and electrolytes is an excellent combination to help aid recovery after exercise and reset the body for its next burst of activity, making it the perfect post-exercise drink for dancers.
To help keep their bodies in peak condition from studio to stage throughout the year, Scottish Ballet's dancers will be gifted products from Graham's award-winning range, including milk, yogurt, cheese, quark, cream and Protein 22. They will also enjoy Graham's newest product, Skyr, which is high-protein, fat free and low sugar which helps to maintain and grow muscle mass.
Carol Graham, Marketing Director at Graham's the Family Dairy said: "A healthy, protein and calcium rich diet is key at all stages of life, especially when you live an active lifestyle – which is why we're delighted to announce a third year of health sponsorship with Scottish Ballet. 2018 is an incredibly busy year for the company and complementing the dancers' training regime with our award winning dairy produce is the perfect way to support them."
Christopher Hampson, CEO / Artistic Director of Scottish Ballet, said: "Here at Scottish Ballet we know the health and wellbeing of our dancers is key to successful performance. We are incredibly grateful to Graham's the Family Dairy to have their support for the third year in a row. Our dancers must maintain peak physical fitness and sustain their health throughout the busy year – Graham's products are a great addition to the dancers' balanced diets."