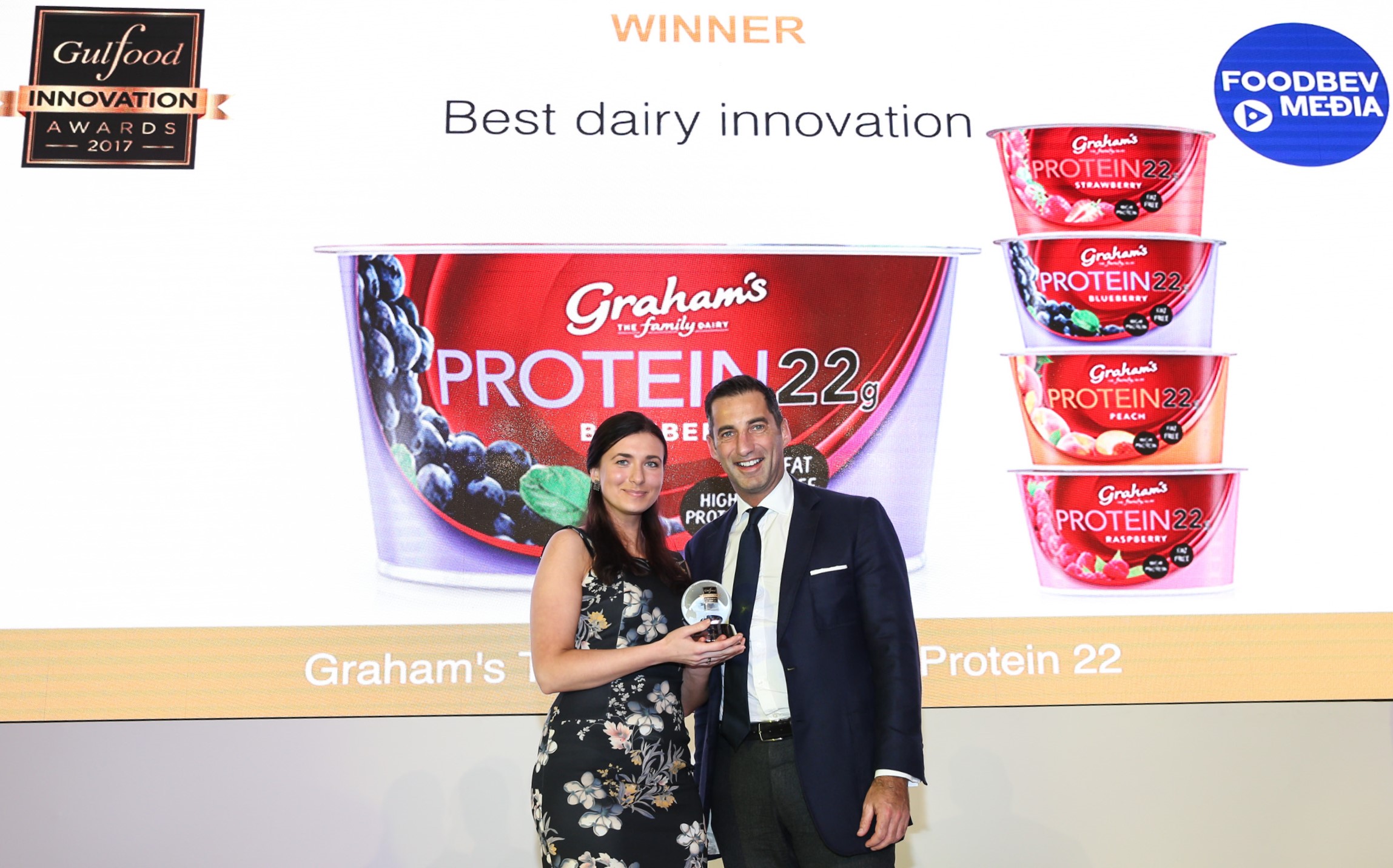 Graham's The Family Dairy punched above its weight as the only UK company to be honoured at the global 'Gulfood Innovation Awards', taking home the 'Dairy Innovation Award' for their new Protein 22 product.
Proving that Scottish food and drink is up there with the world's finest, the Bridge of Allan based company celebrated at a packed ceremony, which took place on Sunday (26 Feb) at the Dubai World Trade Centre. 
Launched in January, Protein 22 is perfect for fitness enthusiasts, athletes and healthy eaters.  With natural fruit flavouring, it contains 22 grams of protein per pot – more than similar protein products available, making it unique in its market.  Thick and creamy, just like a yogurt, Protein 22 is low in sugar, contains no preservatives or additives, and can help to maintain and grow muscle mass. 
Graham's Managing Director, Robert Graham (pictured with Graham's The Family Dairy's technologist, Natalia Rojek), who is in Dubai representing the company at the world's largest food and hospitality event, Gulfood, proudly picked up the award.  He said:
"These awards celebrate the best in global innovation and we are thrilled to have been recognised on the international stage for a product we are so proud of.  We developed Protein 22 in response to the growing trend towards high protein, low sugar diets and the rate of sale is already very strong, surpassing our expectations, which is testament to the great taste and quality of the product.
"Since launching in January, we are delighted to have secured listings with three retailers in Scotland; but we believe Protein 22 has enormous potential and are confident we will see the product on more shelves across the UK and further afield.  High quality, fresh local produce has always been at the heart of our range and our globally award-winning Protein 22 is no different."
The Gulfood Innovation Awards recognise excellence and creativity within the global food and drink industry and are judged by an international panel of industry experts.  Graham's were the only UK finalist in any of the 18 categories, in a competition which attracts over 400 entries from across the world.
Protein 22 is available in four delicious flavours – strawberry, raspberry, peach and blueberry – and can be found in Sainsbury's, Scotmid and Home Bargains stores across Scotland.  Graham's has ambitions to quickly expand listings across the UK.
For more information, please contact Caron Tait or Caroline Docherty on 0141 648 9610; or email caron@wearewire.co or caroline@wearewire.co.
About Graham's The Family Dairy
Based in the heart of Scotland Graham's The Family Dairy are a family business, stretching back 130 years, that produces an award-winning range including Gold, Organic, milk, butter, ice cream, cheese, yoghurt, cream, cottage cheese, soured cream, quark and now Protein 22.  Their range is made from the freshest of milk from 100 farming partners across Scotland.