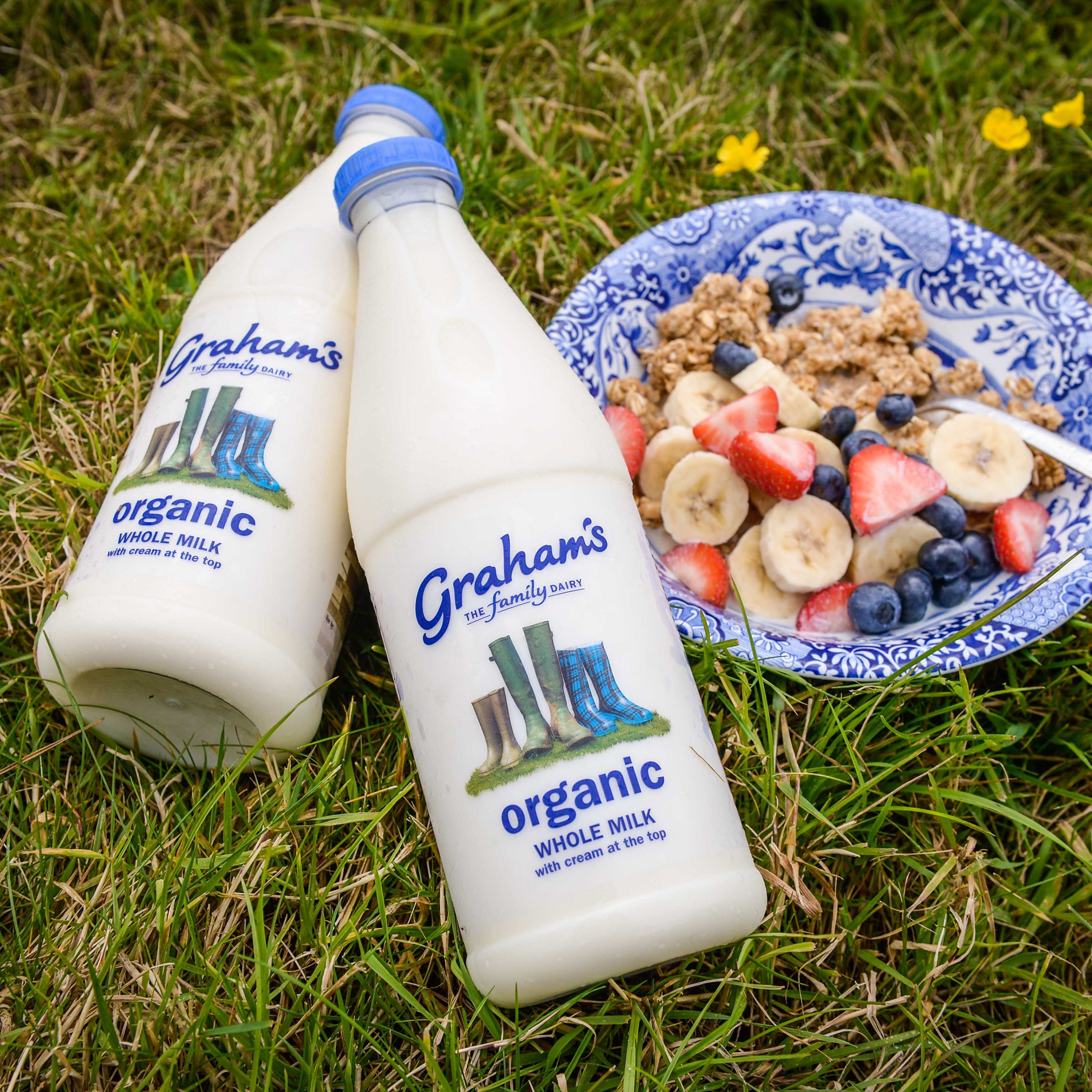 Sometimes less is more. With Graham's The Family Dairy's brand new Organic Whole Milk this really is the case – no homogenisation means the new milk provides all the healthy goodness of organic dairy, with the added bonus of cream at the top.
To ensure the cream rises to the top, Graham's Organic Whole Milk is non-homogenised, meaning that it does not go through the process which gives other milk products a more consistent texture.
Packaged in a high quality, recyclable clear plastic PET bottle, similar to the brand's Gold Top milk range, the new Organic Whole Milk has the same creamy top appeal, reminiscent of traditional milk float deliveries – but with the added bonus of more essential fatty acid Omega 3, as is found in organic dairy.   
Responding to customer demand for a product as close to natural milk as possible, Graham's new Organic Whole Milk is perfect for parents looking to provide their families with a healthy, wholesome milk; fans of organic produce, and foodies looking to try something different and full of goodness.
All of Graham's organic milk comes from cows that have been grazed on pastures across Scotland that has no pesticides or chemical fertilisers used on them.
Fresh, wholesome milk from local farmers has always been at the very heart of the full Graham's award-winning range and the new Organic Whole Milk complements our wider milk collection, which includes: Whole Milk, Semi Skimmed, Skimmed, Organic Skimmed, Organic Semi Skimmed, Organic Whole, Light & Low which includes buttermilk, and the Gold Smooth and Gold Top milk.
Robert Graham, Managing Director for Graham's The Family Dairy, said: "This milk is a delicious alternative to other milk on the market, especially for those who are looking for an option that provides all the goodness of organic dairy, with the added bonus of cream on the top. With a nod to traditional milk deliveries, it's packaged in a PET bottle that both feels good to pour and looks great on the breakfast table.
"Some customers are telling us that they want a product close to natural whole milk, for the taste, for their families and for all the health benefits that organic produce brings. We have been dairy farming since 1939 and, while our business remains steeped in family values, we are always looking to innovate. It is wonderful to be able to respond to this demand with a product that goes back to basics."
The new non-homogenised, organic milk is the latest addition to Graham's award winning* product line, with the dairy continuously investing in new product innovations. Based in the heart of Scotland, Graham's are a genuine family business that produces 10 different types of milk alongside a range including butter, ice cream, cheese, yogurt and cream cottage cheese, soured cream and the recently launched quark.
For more information, please contact Kirstin Stevenson or Fiona Hayes of Wire Media on 0141 648 9610 or email kirstin@wire-media.co.uk or fiona@wire-media.co.uk.
Notes to editors:
About Graham's Organic Whole Milk with Cream at the Top:
Most milk is homogenised, a process which changes the milk's structure to give a more consistent texture – it evenly distributes the fat particles by forcing the milk at high pressure through small holes, preventing a separate cream layer.  Graham's new non-homogenised whole milk doesn't go through this process, which means that the cream sits at the top of the bottle.
About Graham's The Family Dairy
From their family farm in the heart of Scotland, the award-winning business has grown through three generations of dairy farmers to become one of Scotland's greatest food and drink successes, since setting up in Bridge of Allan in 1939.
Graham's The Family Dairy is Scotland's largest independent dairy producing an award winning range of milk, butter, cream, ice cream and cheese as well as Graham's Gold Jersey range.
Graham's products are available the length and breadth of the country via more than 6,000 customers from independent retailers to hotels and restaurants as well as all the major supermarkets in Scotland, and some south of the border.
Graham's was named number 1 dairy brand in Scotland and number 3 Scottish brand overall in the Kantar WorldView Panel Research in 2015. 
*In June 2016, Graham's won the Best Dairy Product Award for their spreadable butter and were crowned Brand Success of the Year at the prestigious Scotland Food and Drink Awards.
The dairy works with 100 farming partners across Scotland.