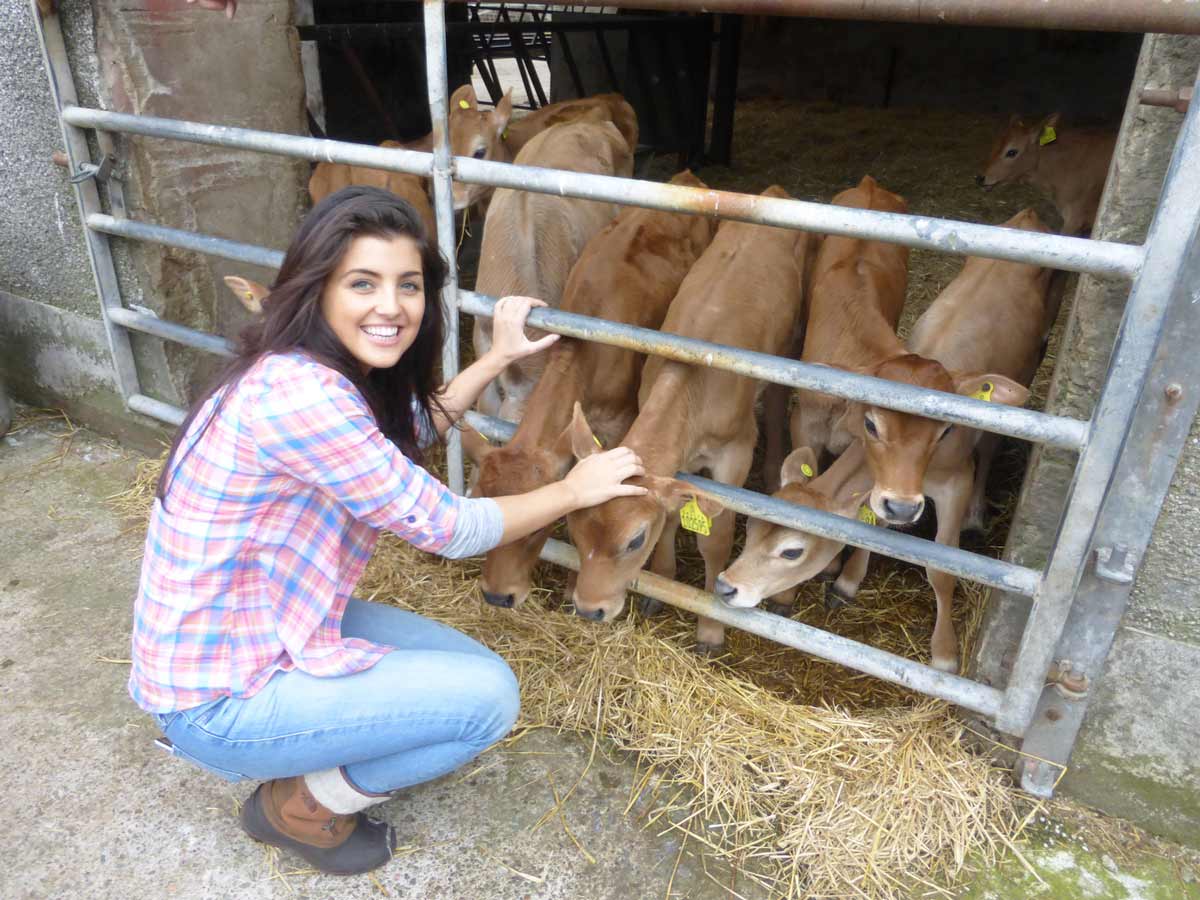 BBC's top children's channel CBeebies visited Stirlingshire recently to film Graham's The Family Dairy for the next episode of its new Down On The Farm series.  Dr Robert Graham Snr and his wife Jean Graham are appearing in an item about Jersey cows – filmed from Graham's Boquhan Farm in Kippen and Airthrey Kerse Dairy in Bridge of Allan – which is set to air at 5pm on Friday 21 August. 
Down On The Farm explores the outdoor world of farming and the countryside.  From livestock to harvesting, presenters JB Gill and Storm Huntley will discover where their food comes from and how it's grown.
 
The presenters have visited a variety of farms and will get stuck in with growing projects and adventure schools, where children can embrace the outdoors and learn about the environment and their food.  Former JLS member turned farmer JB Gill will offer first-hand insight throughout the five-week series, showing viewers around his very own farm.
 
The episode featuring Graham's The Family Dairy, Scotland's leading family dairy business, looks at how many of today's dairy products including cheese, butter, yogurt and ice cream are made from milk.
 
Storm Huntley spent a day at Graham's Boquhan Farm in Kippen helping Dr Robert Graham Snr hand feed some of the young jersey calves as he explained life on a working dairy farm highlighting where the milk comes from and what makes the milk from Jersey cows so special.
 
They then visited the holding barn and milking parlour to film the milk being pumped into tankers before going through the pasteurising and bottling process.  Farmer Robert's wife Jean was also filmed making a delicious milkshake that will feature on CBeebies website.
 
Carol Graham, marketing director for Graham's The Family Dairy, commented: "We had a great day with CBeebies and welcomed the opportunity to showcase our lovely Jersey cows and milking process on a national children's show.  Programmes such as Down On The Farm are geared towards keeping children entertained while capturing their interest with educational topics and it was a pleasure to work with Storm and the crew.
 
"The concept sits nicely with our own Graham's Children's Tasting Panel that we launched in 2013 in a bid to help educate youngsters on food and life on a working dairy. The philosophy behind the panel and our approach to food education is pretty simple, we believe it's important that children learn real food skills as well as understand where food and drink comes from, this all helps get them off to the best possible start when it comes to eating well for life."
 
The launch programme of Down On The Farm aired on Friday 14 August and will appear on CBeebies every Friday at 5pm for five weeks.  The episode featuring Graham's The Family Dairy will be broadcast on Friday 21 August.
 
Down On The Farm has been commissioned by Kay Benbow, Controller of CBeebies and has been made by BBC Scotland. The executive producer is Yvonne Jennings, and the producer is Donna Damassa.
 
Kay Benbow added: "CBeebies is dedicated to delighting and surprising its young audience, which is why it's fantastic to be able to add JB and Storm to the CBeebies family, while educating our viewers about farming.  Down On The Farm will feed our viewers' inquisitiveness about the origins of their food, and will hopefully inspire the next generation of farmers!"
 
Notes to editors:
Graham's products can now be found the length and breadth of the country via more than 6,000 customers from independent retailers to hotels and restaurants as well as all the major multiples in Scotland.  Morrisons, Sainsbury's, Waitrose, Tesco and Asda also stock Graham's branded goods south of the border.
Graham's The Family Dairy recorded sales of more than £85 million in the year to 31 March 2014, up from £68m in the preceding 12 months.
In 1939 when the company was founded by Robert Graham – the grandfather of the current managing director Robert Graham (Jnr) – he reared 12 cows, milked them by hand then made all deliveries by horse and cart
When founded daily output amounted to 400 pints. The company is now producing more than 700,000 pints on a daily basis.
Graham's The Family Dairy is Scotland's largest independent dairy producing an award winning range of milk, butter, cream, ice cream, yogurt and cheese as well as Graham's Gold Jersey range.
The company has established itself as a top 10 Scottish brand, ranking 7th in the latest Kantar Worldpanel research.