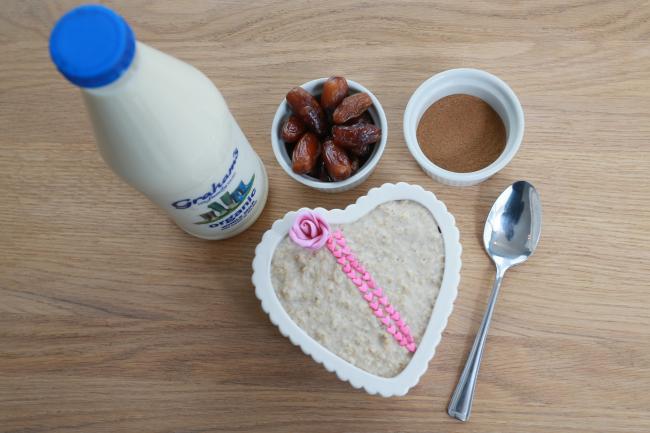 Graham's The Family Dairy are to set pulses racing this Valentine's Day with a heady new love potion made with their award-winning organic milk.  The bespoke milk, infused with traditional aphrodisiacs – dates, cinnamon, cardamom, shatavari and shilajit – will be offered for one day only, at MILK in Edinburgh, encouraging people to get in the mood from first thing that morning.
The special milk is set to be made into a porridge, only 50 bowls of which will be available – meaning that those with a healthy appetite for love can enjoy the ultimate romantic breakfast.
Of the natural aphrodisiacs being used, two are a little more unusual. Drawn from the high altitudes of the Himalayas, shilajit is a tar-like mineral that seeps from the rocks and is mentioned throughout the Karma Sutra for its ability to increase stamina, energy and vigour. Shatavari – the ground sweet roots of asparagus – is said to improve lust and passion by nourishing the libido.
Aphrodisiacs are believed to be made more potent by mixing with milk because the liquid releases very slowly into the small intestine, absorbing more gradually into the bloodstream and helping the body retain its effect for longer.
Carol Graham, Marketing Director at Graham's The Family Dairy said: "This is the first time that we've created a special infusion, helping people to 'milk' the most from Valentine's Day.
"We're using Organic Whole Milk for the porridge, which has more of the essential fatty acid, Omega 3, also known to increase libido. From cows that have been grazed on pastures free from pesticides and chemicals, our organic range is healthy and wholesome – and created with love."
Rod Mattocks, Owner of MILK said: "They say the way to a person's heart is through their stomach, and what better way to start your Valentine's Day than with our specially created porridge? 
We're true romantics here at MILK so when we heard Graham's were creating an aphrodisiac milk to bring a little bit of spice to breakfast, we wanted to get involved straight away. It certainly makes for an interesting date! "  
For further information, please contact Wire:
Caroline Docherty : caroline@wearewire.co, 0141 648 9610 / 07824 341 425
Notes to Editors
Customers will be able to buy a bowl of porridge from MILK at Edinburgh Sculpture Centre, until 12 noon on Tuesday 14th February. Limited to 50 bowls in total.
MILK: www.cafemilk.co.uk
Twitter: @milk_edinburgh
About Graham's The Family Dairy
From their family farm in the heart of Scotland, the award-winning business has grown through three generations of dairy farmers to become one of Scotland's greatest food and drink successes, since setting up in Bridge of Allan in 1939.
Graham's The Family Dairy is Scotland's largest independent dairy producing an award winning range of milk, butter, cream, ice cream, sour cream, cottage cheese, quark and cheddar cheese as well as Graham's Organic range and Graham's Gold Jersey range. New product, Protein 22, joined the range in 2017.
Graham's products are available the length and breadth of the country via more than 6,000 customers from independent retailers to hotels and restaurants as well as all the major supermarkets in Scotland, and some south of the border.
Graham's was named number 1 Scottish food brand, and number 2 Scottish brand overall in the 2016 Kantar WorldView Panel Research. The brand also retained its 2015 title of number 1 dairy brand in Scotland.