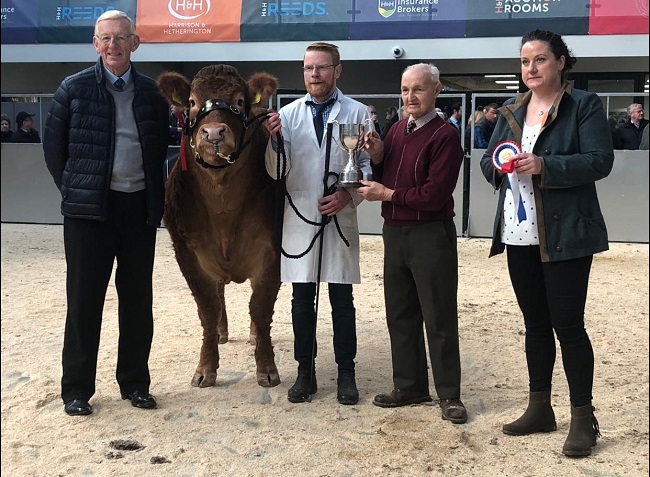 Graham's The Family Dairy enjoyed a successful Royal Highland Show, picking up a range of product and cattle awards. The new addition to their butter range, Scottish Butter with Isle of Skye Sea Salt was crowned Champion Butter and their Slightly Salted Butter was awarded Reserve Champion Butter.
The family-owned dairy business and number one Scottish Chosen Brand*, also scooped Gold awards for Sour Cream, Kefir – Passionfruit, Mango and Papaya flavour, Butter with Isle of Skye Sea Salt and Slightly Salted Scottish Butter. Graham's Low Fat Cottage Cheese was awarded the Silver award and Graham's Unsalted Scottish Butter and Graham's Skyr – Strawberry, Raspberry and Superberry flavours won Bronze awards.
Graham's Precious Limousin heifer was awarded the prestigious title of Overall Continental Interbreed Champion and Overall Champion of the British Limousin Champion. Dr Robert Graham has successfully bred his heifers to win the title in two event consecutive years, as Graham's Naomi Limousin also won this major title in 2019.
The mother of Graham's Precious (Graham's Melody), was the dam of the Champion bull which sold for £28,000 in 2020.
Carol Graham, Marketing Director at Graham's The Family Dairy said: "It's been a very different Royal Highland Show this year, but no less enjoyable. I am delighted for my dad (Dr Robert Graham). That Graham's Precious Limousin won such high accolades, and to have bred two animals to become champions in the Overall Continental Interbreed Champion at the Royal Highland Show is a huge achievement!
We're also delighted that our butter and other products were recognised by the judges. To receive these top accolades for our butters, including Champion Butter for our new Scottish Butter with Isle of Skye Sea Salt is just fantastic.  
We're a farming family for over 80 years, across five generations and showcasing our range and cattle alongside some of the very finest from across Scotland at The Royal Highland Show is a highlight of our year – and it was sorely missed last year.  We're incredibly proud of the team's achievements."
The annual Royal Highland Show is seen as a must-attend event for everyone in the farming industry, from pedigree breeders hoping to showcase stock, to dairy farmers exhibiting their products.  The judging panel is comprised of the cream of the crop of Scotland's farming community.
The family dairy is based in Bridge of Allan since 1939 and continues to invest and be innovative in a challenging but incredibly exciting and dynamic food and drink industry. Graham's has recently expanded their Gold Jersey milk range, introducing a new luxury Yogurt to their iconic Gold Top range – a first for Scotland!