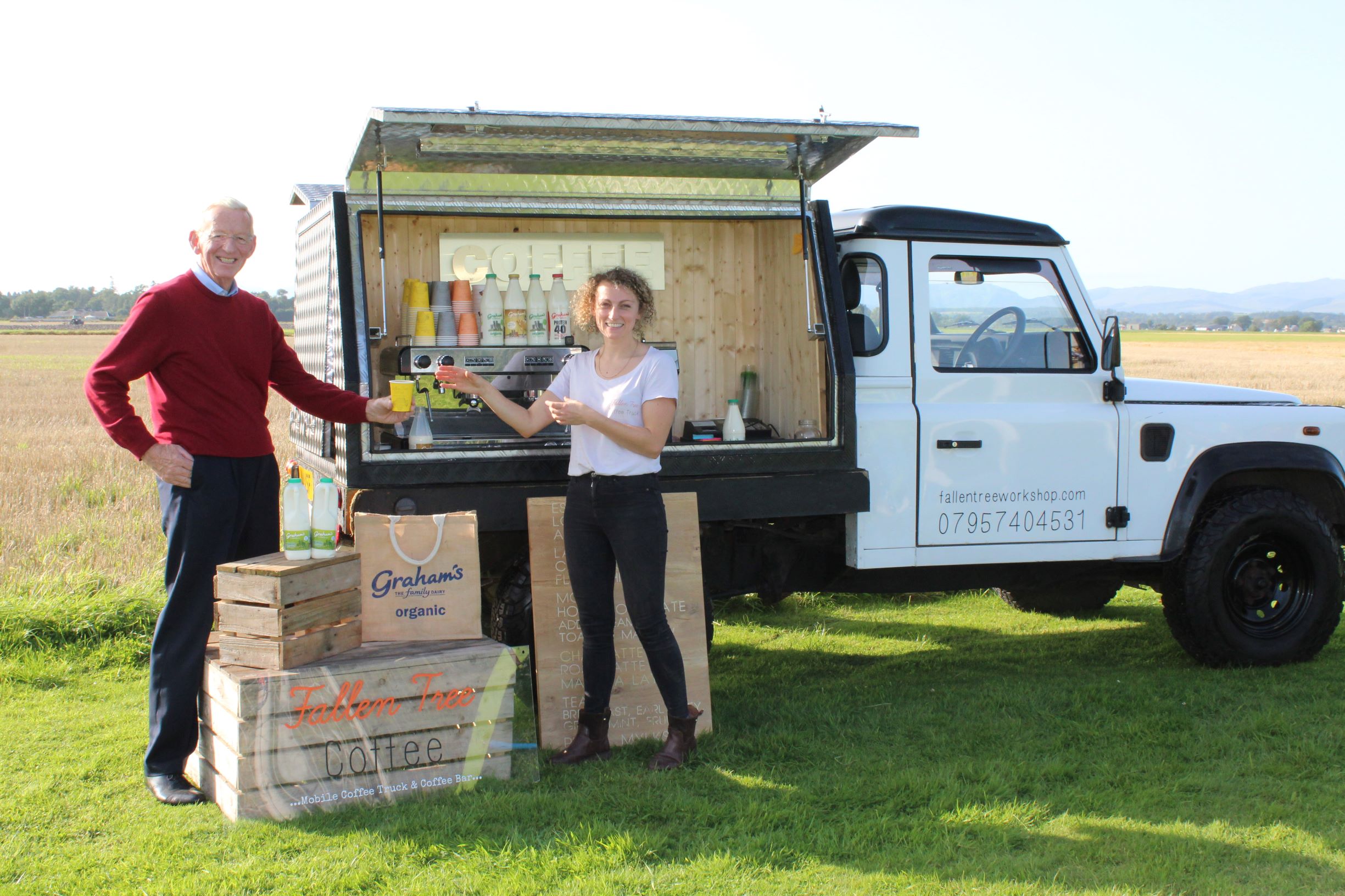 Today, Graham's The Family Dairy announce their search for a new Milk Ambassador is now over. Michelle Kibaris, from Fallen Tree Coffee, Blair Drummond in Stirling has been awarded the honour and free milk contract for one year!
The competition kicked off in July to mark the indoor opening of pubs, restaurants, and cafés across Scotland after nearly four months of lockdown closure. At that time local coffee shops, family run restaurants and local pubs needed their customers more than ever.
Robert Graham Snr, Chairman, Graham's The Family Dairy said: "Michelle's application stood out immediately; her ambition and drive for her business, passion for coffee, active community spirit and love of milk shone through. We are delighted to welcome Michelle and her wonderful business, Fallen Tree Coffee into our herd as new Milk Ambassador. Together, we will inspire others about the wonderful health, taste and quality credentials that only our milk has to offer."
Michelle Kibaris, Fallen Tree Coffee: "It's been a really challenging time trying to run a small family mobile coffee business over the last year. However, on both a business and personal level the last 6 month has really hit home and emphasised the importance of shopping local and supporting local business. Living within the farming community of Blair Drummond, I immediately jumped at the chance to apply to be Graham's new Milk Ambassador. I thought it would be an amazing opportunity to raise the profile of my business in these challenging times, talk lots about my favourite subject of milk and how the quality of taste can impact the coffee experience, and of course get free Graham's milk for a year!
Although the business is slowly starting back up, so much uncertainty still remains. What was supposed to be our best and busiest business year to date, like so many others within the industry, has now become and exercise in staying afloat and keeping our business alive! I am so grateful for all opportunities that come my way and take nothing for granted, so working with the Graham family is incredibly exciting. I have so many ideas and hope that my coffee truck can get moving again, visiting events and places around the country over the next few months!"
As part of her role as Graham's first ever Milk Ambassador, Michelle will develop written and photography content, sharing her love of the white stuff, knowledge of hidden depths of flavour and texture across milk ranges, on Graham's website and social channels.
As the winner of the Milk Ambassador competition, Michelle won a generous milk contract, however Graham's also awarded £500 milk contracts to both Leo's Beanery in Edinburgh and Ciao in Bridge of Allan, as worthy runners up.
For more information and Milk Ambassador terms and conditions, please visit www.grahamsfamilydairy.com.
ENDS
For more information, please contact Ailsa Herd, Grahams The Family Dairy on T: 07827 816 722, E: Ailsa.Herd@grahamsfamilydairy.com
@GrahamsDairy              facebook.com/GrahamsTheFamilyDairy
www.instagram.com/grahamsthefamilydairy/
Notes to the Editor
About Graham's The Family Dairy
The new Milk Ambassador, Michelle Kibaris will work alongside Graham's resident Milk Sommelier Doug Wood.
From their family farm in the heart of Scotland, the award-winning business has grown through three generations of dairy farmers to become one of Scotland's greatest food and drink successes, since setting up in Bridge of Allan in 1939.
Graham's The Family Dairy is Scotland's largest independent dairy producing an award winning range of milk, butter, cream, ice cream, sour cream, cottage cheese, quark, Protein 22 and Skyr as well as Graham's Organic range and Graham's Gold Jersey range and now Goodness Ice Cream.
Graham's products are available the length and breadth of the country via more than 6,000 customers from independent retailers to hotels and restaurants as well as all the major supermarkets in Scotland, and some south of the border.
Graham's was named number 1 Chosen Food Brand in Scotland for the first time, overtaking Irn Bru by Kantar WorldView Panel Research 2020.
About Michelle Kibaris, The Fallen Tree Coffee Truck
Michelle has recently opened up a pop-up café in Vera Artisan Bakery located on Barnton Street, Stirling.
The Fallen Tree Coffee Truck is a mobile multi-roaster coffee truck based in the rural Blair Drummond, near Stirling, providing speciality coffee and freshly squeezed juices to public and private events in and around Scotland Serving up an ever changing seasonal menu of speciality coffee from U.K. based roasters by passionate baristas, our goal is to bring amazing coffee……to the rural countryside and…..beyond.
Whether it's a muddy field in the middle of nowhere, a pristine office block board room in the heart of the city, or a beautifully decorated dreamy wedding venue, we can provide the perfect coffee solution. And using our four wheel drive Defender coffee truck or mobile coffee bar, we can pretty much can go anywhere. move back to the countryside to have our baby barista, Flynn back in 2015……and leaving behind a busy job running a speciality coffee shop in Glasgow's westend, Fallen Tree Coffee Truck was initially born out of a very selfish need for good coffee in and around our new home. We felt very strongly that good coffee shouldn't be something that was exclusive to the big cities and their cafes. 
Our Ethos is, no matter where you are, or what you are doing, you should always be able to grab yourself a great cup of coffee. And we truly love bringing our ethos to life. There really is no better feeling than seeing the look of surprise on someone's face when they have a really really great coffee……in a muddy field in the middle of nowhere…….or even better, their first ever truly great coffee….in a muddy field in the middle of nowhere!