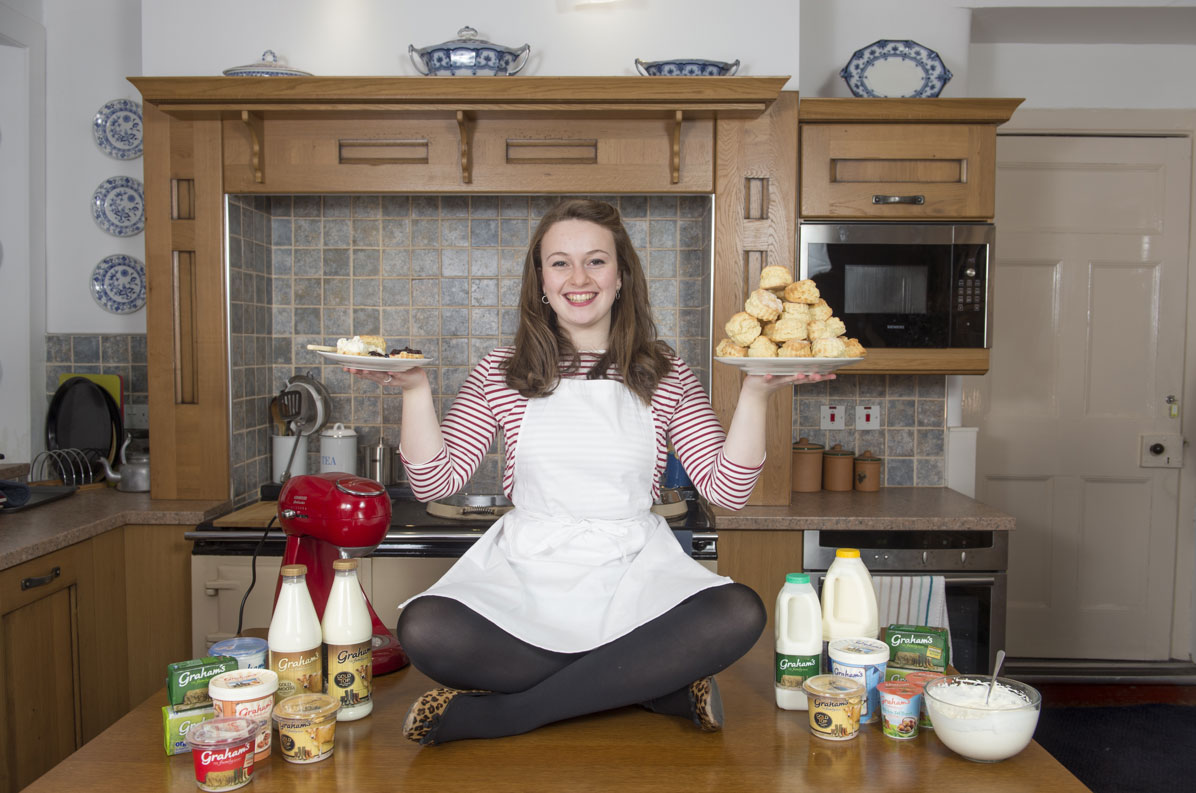 Today, Tuesday 15 March 2016, Graham's The Family Dairy announce Flora Shedden as their newest ambassador, joining a host of talented Graham's partners such as renowned celebrity chef Nick Nairn, fellow Bake Off contestant James Morton and restaurant entrepreneur Carina Contini.
During the partnership, Flora will create a number of exclusive recipes with accompanying videos, inspired by the Graham's range including butter, milk, cream and cheese.  Flora's sweet and savoury recipes will see her using the ingredients in new and creative ways, such as courgette pizza with double cream and cheddar, buttery golden shortbread bars and a delectable peach yogurt cake, as well as highlighting the benefits of sourcing fresh local produce.  The videos will be live on the Graham's YouTube and social channels from March, with new recipes being posted fortnightly.
To mark today's announcement, Flora created a special dairy themed cake, featuring grass icing detail, icing daisies with stem ginger and miniature cows, signifying the partnership's joint commitment to locally sourced ingredients and provenance.
The elaborate cake took five hours to create and is made with three tiers of vanilla sponge, covered and layered with lemon buttercream icing.  1.8kg of Graham's unsalted butter went into the cake, along with 36 eggs, 1.8kg of self-raising flour and a dozen lemons.
Flora, 20, from Perthshire, will also take part in a special competition later this year, where school children can win an exclusive baking session with the famous baker.
Carol Graham, Marketing Director at Graham's The Family Dairy said: "I am a huge fan of Bake Off and enjoyed following Flora's progress during the last series.  Flora's continued commitment to Scotland's natural larder and her focus on quality produce is very closely aligned with our own ethos and we can't wait to see what treats she whips up using our full range of farm fresh produce."
Flora Shedden, said: "I am so delighted to be partnering with Graham's!  I've grown up eating, drinking and baking with Graham's products: they've been a staple for me whether at home or at university so when they got in touch to ask if I wanted to be their new ambassador, I said yes immediately. 
I think simple, good quality, fresh ingredients can absolutely transform a bake and I can honestly say the proof is in the pudding when it comes to buying local produce for baking.
Baking the bespoke cake was so much fun.  There were some heart-in-mouth moments during assembly that took me right back to the Bake Off tent, but at least Paul wasn't standing over my shoulder this time!"