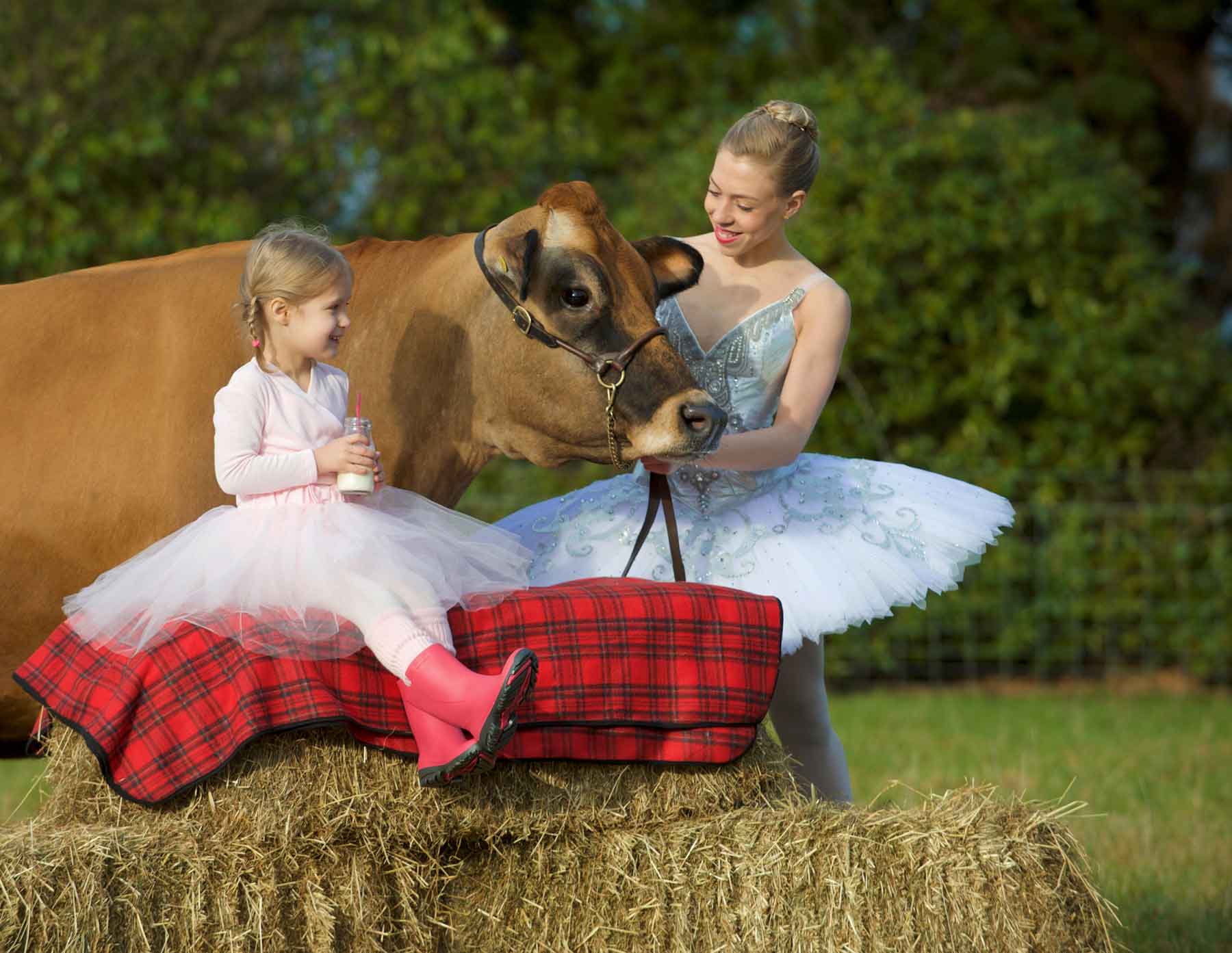 Scottish Ballet are set to pirouette their way to a healthy 2017 as Graham's The Family Dairy today announce their official health sponsorship for the second year running.  The dairy reprises its role in the wake of a successful year-long partnership – the first of its kind for Scottish Ballet – working in unison with the Company to promote the benefits of dairy to a healthy, active lifestyle.
Scottish Ballet Principal Dancer Constance Devernay and Prima-in-the-making Alba took a break from rehearsals to visit the Graham's farm in Stirling where they joined Chairman Dr. Robert Graham for a tour of the farm to learn where their fresh, protein-rich food comes from.
Milk that goes into all of Graham's The Family Dairy's produce is packed with calcium, vitamins and protein, which are important to everyone, ensuring healthy teeth, bone strength and brain function.  But its natural blend of water, sugar and electrolytes is an excellent combination to help aid recovery after exercise and reset the body for its next burst of activity, making it the perfect post-exercise drink for dancers particularly.
To help keep their bodies in peak condition from studio to stage, dancers will be gifted products from across Graham's award-winning range, including milk, yogurt, cheese, quark and cream.  They will also enjoy Graham's newest product, Protein 22, which helps to maintain and grow muscle mass, essential to ballet dancers' training.
Renewal of the partnership is the latest step in Scottish Ballet's ongoing commitment to their dancers' welfare, a pledge that gives each dancer the support and facilities to be in control of their own body conditioning, such as a multi-gym facility, therapeutic massage programme and access to Gyrotonic® equipment and instructors.
Carol Graham, Marketing Director at Graham's The Family Dairy said: "We could not be more delighted to announce a second year of health sponsorship with Scottish Ballet.  As an active family, with our herd's welfare at the forefront of everything we do, we understand that good nutrition reaps great results. With 2017 already off to such a jumping start for the Company, complementing the dancers' training regime with a healthy, protein and calcium rich diet is the perfect way to support them in their biggest, brightest year yet."
Christopher Hampson, CEO / Artistic Director of Scottish Ballet, said: "The Health and Wellbeing of our dancers is critical to the success of Scottish Ballet on and off the stage. Following a very successful partnership in 2016, we are delighted to be partnering with Graham's the Family Dairy in 2017 – in what will be a another physically demanding year for our dancers with extensive touring at home and abroad. We'll be working together to help our dancers remain at peak physical fitness and that they sustain this by looking after their bodies with the right nutritional foods. Here's to a healthy and successful 2017!"
For further information, please contact Wire:
Caron Tait caron@wearewire.co, 0141 648 9621 / 07824 341 425
Caroline Docherty caroline@wearewire.co, 0141 648 9612 / 07593 247 767
 
Scottish Ballet:
Carrie McAdam carrie.mcadam@scottishballet.co.uk, 0141 331 6296
Notes to Editors
About Graham's The Family Dairy
From their family farm in the heart of Scotland, the award-winning business has grown through three generations of dairy farmers to become one of Scotland's greatest food and drink successes, since setting up in Bridge of Allan in 1939.
Graham's The Family Dairy is Scotland's largest independent dairy producing an award winning range of milk, butter, cream, ice cream, sour cream, cottage cheese, quark and cheddar cheese as well as Graham's Organic range and Graham's Gold Jersey range. New product, Protein 22, joined the range in 2017.
Graham's products are available the length and breadth of the country via more than 6,000 customers from independent retailers to hotels and restaurants as well as all the major supermarkets in Scotland, and some south of the border.
Graham's was named number 1 Scottish food brand, and number 2 Scottish brand overall in the 2016 Kantar WorldView Panel Research. The brand also retained its 2015 title of number 1 dairy brand in Scotland.
In June 2016, Graham's won the Best Dairy Product Award for their spreadable butter and were crowned Brand Success of the Year at the prestigious Scotland Food and Drink Awards.
About Scottish Ballet
Founded in 1957, Scottish Ballet is Scotland's National Dance Company with strong classical technique at the root of all its work. This includes new versions of classic titles, as well as seminal modern works from 20th century choreographers, signature pieces by living choreographers, new commissions for revered contemporary choreographers and full-length story ballets re-imagined with fresh relevance for a contemporary audience, creating a unique artistic identity.
In addition to extensive touring activity throughout the UK and abroad, Scottish Ballet provides a comprehensive education and outreach programme for people of all ages and abilities and remains focused on supporting young dancers in training for a career in the industry.
In 2009, Scottish Ballet celebrated its 40th anniversary, and moved to its purpose-built home at the Tramway complex in Glasgow, creating a production and presentation facility of a scale and artistic mix unrivalled in the UK.
Scottish Ballet is currently touring its production of Hansel & Gretel, choreographed by CEO / Artistic Director Christopher Hampson. Hansel & Gretel will be performed at the Theatre Royal, Newcastle until 4th February, before finishing the tour at the Grand Opera House in Belfast from 8th-11th February.
Website: www.scottishballet.co.uk