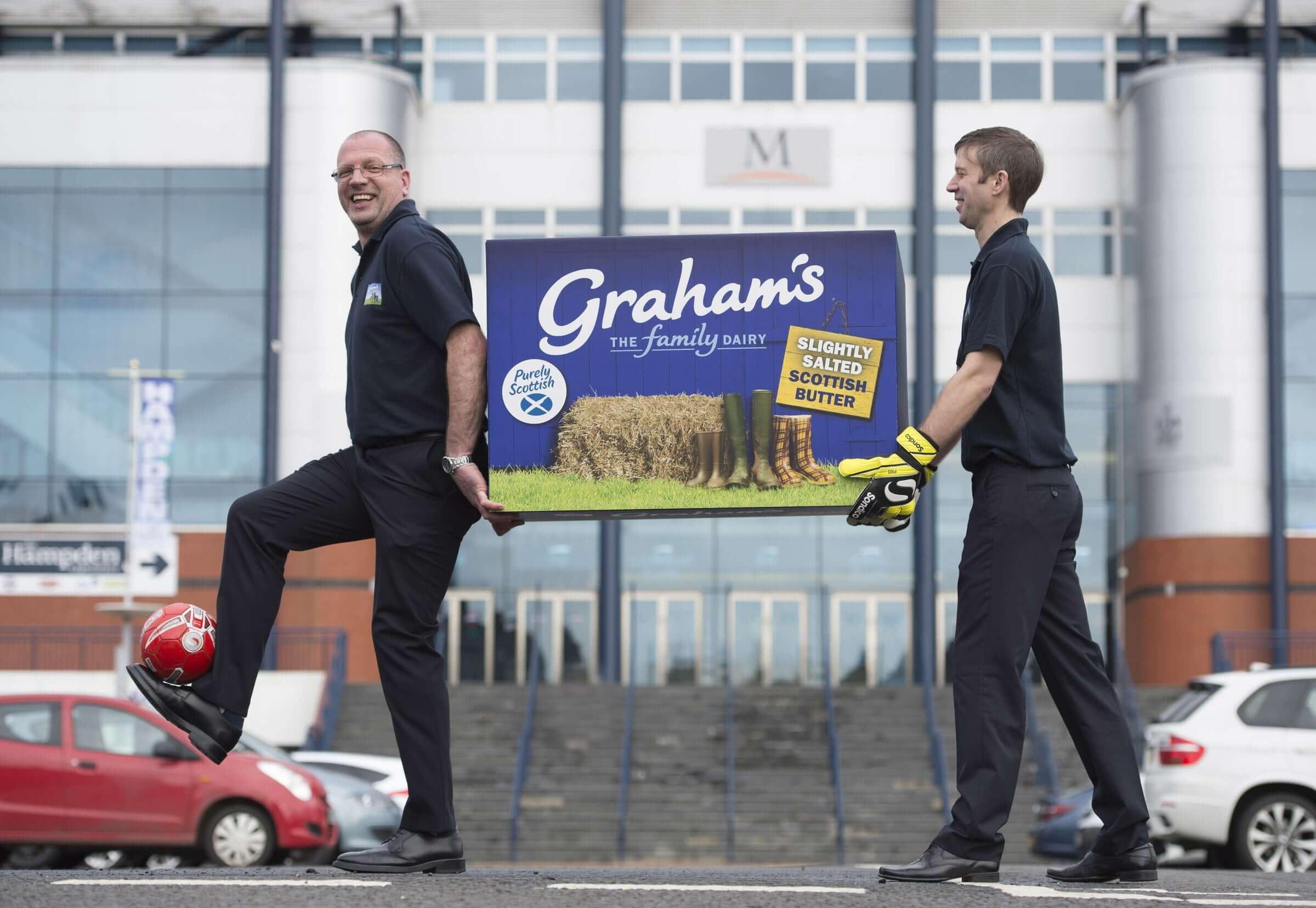 It might be just a friendly, but steps are being taken to make sure that Scotland has the home advantage come their tie with Denmark on 29 March at Hampden Park.  Looking to take advantage of any 'slip-ups', Graham's The Family Dairy hope to make Danish keeper Kasper Schmeichel a Butterfingers, with a special bumper pack of butter delivered straight into his hands ahead of the game.
The 3ft x 2ft box – designed to look like a block of the number one dairy's butter and containing 30 packs of Graham's award-winning butter – was delivered to Hampden Park this morning, alongside a pair of pre-greased goalie gloves, smothered in Graham's spreadable butter. 
The note attached said: 'Dear Mr Schmeichel, Welcome to Scotland!  Please get your hands all over Scotland's finest and freshest butter ahead of tomorrow night's match.  We hope you get absolutely covered in it for the ball flying towards you tomorrow night.  All the best, Graham's The Family Dairy'.
The cheeky delivery plays on fierce competition between long-term butter rivals, Graham's and Lurpak.  Staggeringly, 96% of spreadable butter sold in Scotland is not produced here, with Graham's major competitor Lurpak churned in Denmark, before being distributed overseas. 
With their spreadable butter being the fastest growing Scottish brand in Scotland last year, Graham's have a real sporting chance of claiming more of the spreadable butter market in Scotland this year.
Robert Graham, Managing Director of Graham's The Family Dairy said: "Last time Scotland faced the Danes, they beat us with only one goal in it, so we're just buttering them up to tip the scales in our favour this time. 
I know Schmeichel's more used to a penalty box than a butter box, but we hope he'll see the funny side to our surprise gift… and enjoys our butter so much that his gloves are absolutely covered in it when the ball flies towards him tonight.  We hope the team enjoy what is the freshest of Scottish butter, given it's produced at our family farm in Bridge of Allan and doesn't have to travel hundreds of miles to get to Scottish breakfast tables.
Scottish butter accounts for only 4% of butter sales in Scotland, compared to 70% Danish, which is something we'd like to see change. But there needs to be a joint commitment from consumers and retailers to help make that happen.
Our butter is in a different league than our Danish rivals' efforts and we hope by the time the transfer window rolls around, we'll see consumers across Scotland swapping foreign butter brands for home-produced butter, supporting  local farmers and producers and eating the freshest products they can."
The Graham's range of butter includes Slightly Salted, Unsalted, Organic Slightly Salted, Organic Unsalted block butters, and Slightly Salted, Lighter Salted, Organic Salted spreadables, plus Gold Top Unsalted Butter.
For further information, please contact Wire Media:
Eva Cook eva@wire-media.co.uk, 0207 255 6143 / 07745 215 777
Kirstin Stevenson kirstin@wire-media.co.uk, 0141 648 9615 / 07803 970 106
Notes to Editors
Photos show the bumper pack of Graham's butter on its way to Denmark goalkeeper Kasper Schmeichel, ahead of Scotland Vs Denmark game at Hampden Park.
Photo credit: Graeme Hunter
About Graham's Family Dairy
Graham's The Family Dairy is based in the heart of Scotland, producing an award-winning, home-grown range of the highest quality food and drink, including milk, cheese, cream, butter, ice-cream, cottage cheese, quark, sour cream and yogurt.
Established for more than 76 years, Graham's remains a family-run company with a focus on farming, provenance, high quality produce and a quest to promote the best of Scotland's larder throughout the country.
The spreadable butter market is in growth – it accounts for approx 70% of Scotland's total butter sales – with Graham's spreadable butter taking the lead; it is now Scotland's fastest growing brand, up 76% year-on-year.
Graham's recently invested £1 million at their dairy at Aithrey Kerse Farm in Bridge of Allan, allowing the company to increase spreadable butter capacity, create more flexibility in production and keep up with growth in demand.