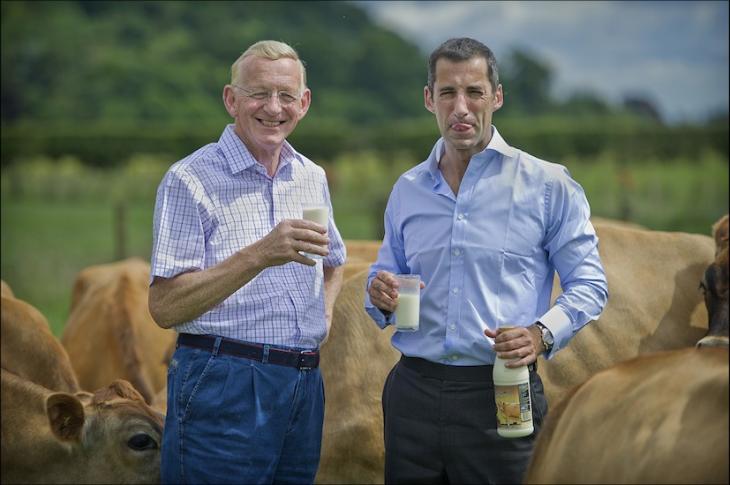 A new Gold range for Graham's – full of Jersey goodness.
Every year, we like to keep something up our sleeve to reveal to the thousands of visitors that attend the Royal Highland Show and this year is no exception.  As today (Thursday 19 June) we officially unveiled our latest product innovation – Graham's The Family Dairy Gold Top.
Now some of you may be thinking we've been producing delicious Jersey milk for quite some time and you would be right.  However, we have renewed our UK license to produce and distribute the rich and creamy Gold Top milk product on behalf of the farming co-operative Quality Milk Producers Ltd (QMP).
The Gold Top brand has been registered since the 1970s and has evolved into a range of quality dairy products under the Gold Top name.  Graham's has a 25-year agreement with QMP that has allowed us to marry together our popular Graham's Gold Jersey milk brand with the firmly established Gold Top stamp to create a new identity – Graham's The Family Dairy Gold Top.  This ensures loyal Gold Top consumers can still source the product with ease while it extensively grows the Graham's brand south of the border.
The product range is high in protein and calcium and renowned for its unique taste.  I personally love it on my porridge in the morning and I know Jean enjoys using the butter and cream during her indulgent baking sessions with Holly and Douglas.
You'll start to see two different types of one litre bottles – Graham's The Family Dairy Gold Top with the cream on top and Graham's The Family Dairy Gold Smooth with the cream mixed throughout, as well as 250g packs of butter and 284ml pots of double cream.
We've been rearing Jersey cows for more than 25 years, as we wanted to offer something different to our customers, with a more luxurious taste.  We started with 40 Jersey cows and now have 300 milking and 300 young stock in our herd which produce a milk higher in protein and higher in fat.
Our only concern is the level of supply of Jersey milk on the market to meet the growing demand of consumers, so we are actively seeking more partnerships with Jersey breeders!
We hope you love it.
Robert (Snr!)