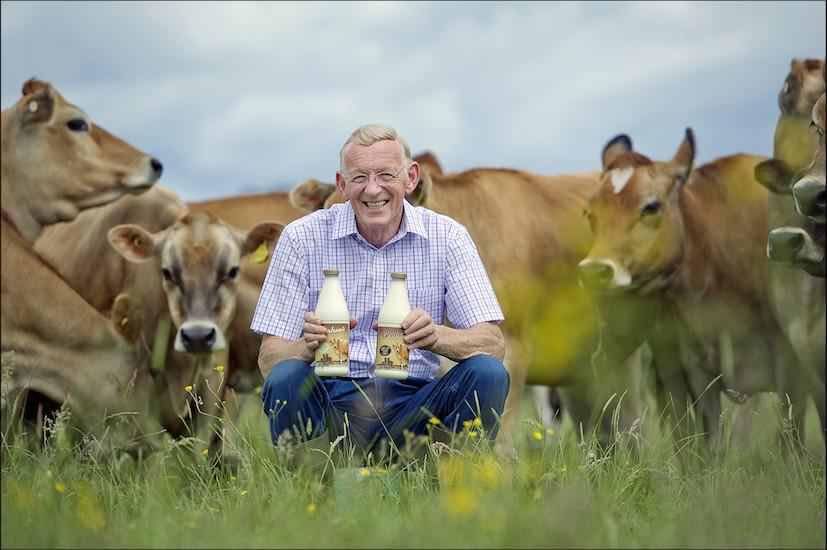 Dr Robert Graham writes to his 19-year-old self, as he joins the family business in 1960. Recipient of the Sir William Young Award, Robert is currently chairman of Graham's the Family Dairy, Scotland's no. 1 dairy brand. 
Dear Robert,
Take a moment, you always knew this day would come. Dairy farming is in your blood, and you've milked enough cows and delivered to enough doorsteps in Bridge of Allan to know this is your future. But for you, long gone are the days of the milk boy round, but some of the lessons you've learned on the road will stand you in good stead. I can still hear Dad say, "the customer is always right". Listen to their feedback, they'll take the business places you never thought possible.
You're 19 years old and joining the company at an interesting time in the industry. Raw, unpasteurised, milk has been a product you've sold for years, and has helped turn Dad's farm into a very modest business. But soon you'll notice the papers consistently reporting that raw milk can cause brucellosis, and off the back of doctor's orders, customers are demanding pasteurised milk.
A pasteuriser is a big investment and you'll have to sell a field to purchase it, the 150 acres close to the university superb for growing tatties and crops. You will feel conflicted now – as you will over many difficult business decisions to come – but believe me, reacting to customer demands is key to the growth of the company.  It will set the stage for the next 60 years and Dad's 12 cows will feel very small in comparison to the operation you'll eventually see today. Be bold, be brave. This decision will move three generations of farmers in a whole new direction.
This is a huge turning point, and by doing your homework and being innovative, opportunities will open up for you. Now your milk lasts longer and can be sold in shops, you can adapt to the times and offer a semi-skimmed product.  You'll know already that New Product Development is an exciting place to be – embrace this, by always listening to consumers, and in years to come you'll see the benefits.
You'll start working with surrounding farmers who produce the best quality as demand increases.  I know I don't need to say this, but always stay true to your farming roots.  The farming sector will often be challenging, but help build a supportive community and ensure you play a key role in its strength.
Around this time, you'll meet an amazing woman at a dance at the Golden Lion in Stirling. She'll help you in more ways than you could ever imagine. This woman will become your wife and the mother of your children. And let me tell you now, you'll raise a family and you'll raise cows. Cows are easier. But not only will Jean become your partner in life, with her strong commercial head and background in retail, she'll become a partner in business –  and our family values will not only underpin the ethos of the business but be crucial to its success.
A trained astro-physicist, Jean is incredibly clever. And when things can get fraught, she will be a very calming influence on you and the business.
She will see an opportunity when Miss Mackenzie's dairy goes on sale. Listen to her and take the opportunities when they are presented to you. Jean will always ask 'how can we make it better?'. With a little help from Mr McAlpine, the banker with the large moustache, you'll buy the business and set up shop.  Alongside the product at the heart of your offering, you'll expand by selling groceries from the local cash and carry, then install an oven and Bunty's freshly baked good will draw in the crowds. This is when you'll learn that people come back for quality – it's the most important ingredient.
The retail side of the business will grow into seven shops, meaning more milk to sell.
You will thrive when you're busy. One of your strengths is that you have a great engine for work, you're very good at keeping your head down and working through until a job is finished – even on little sleep.
With raising a family, running a dairy and a chain of shops, you can't do it all on your own, so you need to hire some staff. You're waking up at 1:30am just so you have enough time to process, bottle and pack the milk, ready for the vans that day. Now, I know this sounds like hard work, but it won't feel like it. You have youth on your side and a family to provide for.
In 1988, your appreciation for quality and a gap in the market will influence your purchase of 40 Jersey cows from the Windsor herd. No one is selling Jersey milk and it will give us something different to elevate us from the competition. We call it 'Breakfast Milk', a luxurious addition for your cornflakes and coffee. And as the demand grows, your herd grows. Now 300 strong, your producers start buying jersey cows too.
When Robert comes home from university, hands you a list of dairy companies in Scotland and tells you "we're going to buy all these" – you'll get a shock. But always be open to change – and to growth.
With a business almost 70 years in the making, your son Robert will bring another drive of ambition, curiosity and a strong work ethic. He will keep questioning the ways of working, and offering updated, new solutions. You will resist at first, but change is good. And Carol will reflect the family's values by building a brand that customers and farming partners throughout the country will trust and cherish. Never look back.
After 35 years of waking up at 1:30am, at 77 years old you'll still be active within the business – from the board room to the farm.  Don't forget your passion and roots, as it's your dedication towards livestock which will see you grow the business into the success it is today. Being brought up as farmer, it never leaves you.
I want to give you the knowledge that building a successful company that cares for a large number of people is the most rewarding thing. Working with your family will bring you so much pride, and with that unique position, you'll continue to offer that personal touch, something that other businesses cannot.
Yours,
Robert