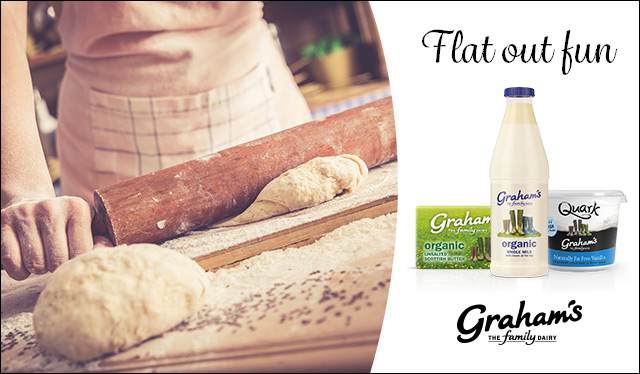 Regular bakers will already know the benefits that come with putting the apron on and getting stuck in to their favourite mixing bowl. For those of you who are yet to convert to the way of home-baking, here are five great reasons why baking could be your next favourite pastime.
1. Is there a better smell than freshly baked bread?
It's our opinion here at Graham's HQ that freshly baked bread could just well be one of the most satisfying smells known to humanity. It's no secret that estate agents often whip up a fresh batch of cookies or a loaf of bread when showing prospective buyers around a home. That fresh baked smell is one of comfort and is said to actually improve your mood too!
2. Together time
Baking is fun on its own, but it's at its best when done with others. It's a social activity in more ways than one – yes, the act of getting together in the kitchen but also the sharing of what you've made together (you weren't thinking of having that cake all to yourself now were you?!). Kids love mucking in and customising their recipes, just don't tell them baking's secretly educational and will teach them skills that they'll use for life! Oh and don't forget the obligatory fight over who gets to lick the spoon…
 3. Knead some therapy?
Did you know that baking can be therapeutic? There's a meditative quality to the repetitive motion of kneading the dough, measuring out ingredients, and waiting for the goods to bake. It's a task that takes your whole attention, forcing you to shut out the worries of the day and focus on one thing at a time. Plus, it doesn't just make you happy. A fresh tray of flapjacks or a hearty brown loaf are sure to please the rest of the house too!
4. Know exactly what's going in
Not many of us have time to stop in the supermarket and read the label for everything that ends up in our basket. We just trust that it's right for us. There's no need for anything that sounds like it comes out of some kind of futuristic laboratory when we bake though, just good honest wholesome ingredients. Just grab your butter, milk flour as well as whatever else you need and get mixing!
5. Save money… and the planet
Alright, technically that's two reasons – very good ones at that though! The cost of baking your own bread from scratch is loads less than you'll have to spend in the supermarket. You might find that you've usually got the basics in the fridge as well, meaning that if you find yourself with a spare half hour you can probably put something together. Have a browse through our recipes, you'll no doubt see something you fancy trying. Of course, your home baking will be packaging-free too, so that's a big tick from planet earth.
So, there you have it; five (or should that be six?) reasons to get rolling, kneading, sieving and whisking today! What is it you love about baking? Have you got any special recipes that you'd like to share? Get in touch on our social channels if so!