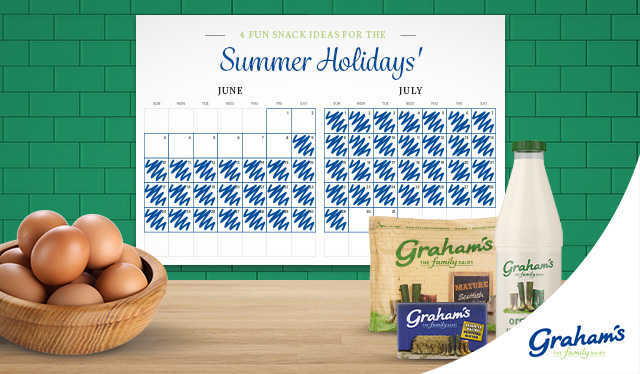 Remember when you were a wee one and summers seemed to last forever? Well, it seems that they can last forever for adults too… just in a slightly different sense! Of course those six weeks of school holidays are bound to be full of fantastic memories of quality time spent together – but they can often feel like spinning plates if you're not prepared for keeping your kids entertained and well-fed throughout. Graham's to the rescue. We've put together a shortlist featuring a few ideas of snacks that'll help make this summer they remember.
Breakfast but better
The great thing about summer holidays is that you don't have the usual morning rush to contend with and can give breakfast the attention it truly deserves. Pancakes are one thing that's sure to get even the most 'laidback' teenagers out of bed – and there's plenty of recipes on our website to help you whip up a stack. If you're a first-timer why not try Flora Shedden's recipe for perfect pancakes or these classic blueberry ones?
Make your own Pizzas
Pizzas are a great food for customising and making them is not only fun, it's a great way to get the whole family involved (and hopefully interested) in cooking. All it takes is making enough dough to go around, some passata and setting out a few bowls with various topping options in each. For a fantastic base, why not make your dough according to James Morton's pizza recipe? Don't forget the cheddar!
Superb sundaes
Summer wouldn't be summer without a healthy serving of ice cream, and creating your own sundaes are a great treat to reward good behaviour with! Don't worry about going out and buying special ice cream glasses for this, just some tall ones that you might normally drink out of will do. Top tip; if you're using sauce, roll the glass as you squeeze it in from the rim to get that knickerbocker effect. Search for 'ice cream' on our recipes page to get inspired!
Fruit ice lolly pens
Now while this might not sound like the most stress-free idea, we say 'embrace the mess'. At least for a short while anyway. Basically, it involves dipping these fruity ice lollies in natural food colouring and creating some masterpieces (on a good supply of paper). You'll find the full recipe over at BBC Good Food.
Hopefully there's something here that inspires you, and if you've got any similar tips of your own feel free to get in touch and let us know!