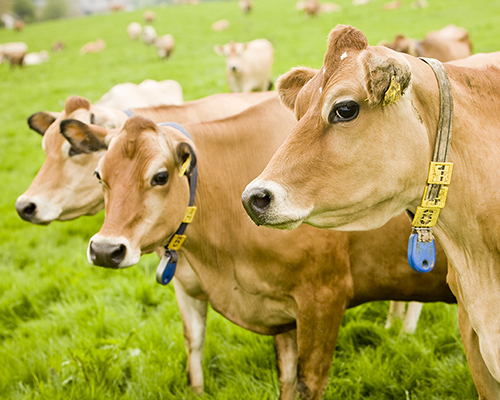 Graham's The Family Dairy guaranteed this year's Royal Highland Show got off to a deliciously indulgent start with the launch of the latest addition to its rapidly expanding product portfolio – Graham's Gold.
Featuring milk, cream and butter, Graham's Gold is produced by the dairy's award-winning Jersey cows.  Reared on the lush pastures of the Carse of Stirling, Graham's Jersey herd delivers golden, creamy milk, high in protein and calcium and renowned for its unique taste.
The new products, which will be available in a number of retailers in Scotland including Sainsbury's and Harvey Nichols, were unveiled by Robert Graham Snr, chairman of Bridge of Allan-based Graham's The Family Dairy, and Allan Burns, chairman of Scotland Food & Drink.
Speaking at the launch, Mr Burns said: "The dairy industry is a vital component of Scotland's economy, contributing enormously to the country's food and drink GVA and agricultural output.
"Graham's The Family Dairy is a forward thinking and ambitious company, and it gives me great pleasure to be involved in its latest, and hopefully hugely successful, product launch."
Graham's, Scotland's largest independent dairy company and the seventh-largest liquid milk producer in the UK, has previously produced Jersey products on behalf of a number of leading retailers.
Comprised of 750ml bottles of milk, 284ml double cream pots and 250g packs of butter, the Graham's Gold range features a distinctive, luxurious black and gold label, differentiating it from the existing red, blue and green packaging which dominates dairy products.
Nevertheless, the label does retain the touch of tartan found on all Graham's products, emphasising the company's 'Scottishness' and helping to ensure consumers are aware of the fact they are buying locally-produced product.
Carol Graham, director of Graham's The Family Dairy, commented: "The launch of Graham's Gold comes as part of our ongoing development strategy, which has seen us enlarge our product offering, as well as revising and improving the way our products are packaged and promoted.
"Compared to conventional milk, milk from our doe-eyed Jersey cows is golden in colour, indulgent tasting and considered to be a luxury item.  The black and gold labels help the range stand apart from other dairy items while enhancing its premium proposition.
"The development of Graham's Gold has generated huge levels of excitement around the dairy and we hope our customers share in this and enjoy the range as much as we do."
The showcasing of new products at the Royal Highland Show, which is attended by more the 150,000 visitors each year, has become something of a tradition for Graham's.
Two years ago, the dairy used the show to launch its new brand identity, which went on to scoop the Brand Development award at the 2007 Scotland Food & Drink Excellence Awards, where it also won the Retail award for its organic range.
More recently, Graham's was named the Best of Previous Year's Winners at the 2008 Awards.