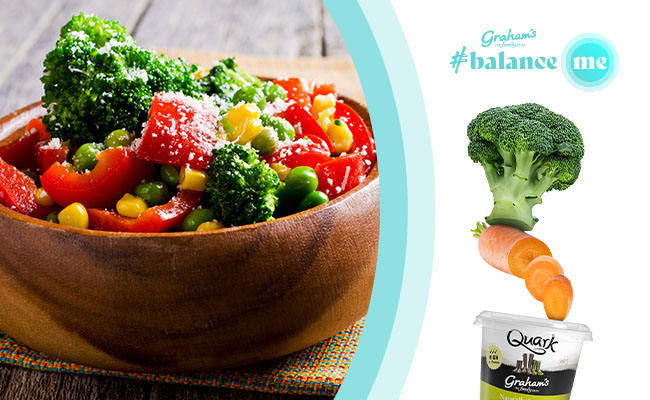 We've been talking a lot lately about how important protein is. And whether you're just having a couple of days a week meat free or going full veggie – a vegetarian dinner doesn't need to mean one that's low in protein. There are a number of vegetarian ingredients that are high in the stuff. At Graham's though, we're very proud of our Quark range. Quark is a dairy product that is naturally high in protein and low in fat. It's perfect for creating high protein vegetarian meals that will help you bring even more balance into your life (and maybe avoid any guilt from when a treat or two slip through the net!).
Quark can be used in place of or as well as ingredients like cheese or Greek yogurt in some recipes, helping to provide a natural protein boost. Why is protein so important? Well, regular blog readers will know that it's the nutrient that's essential for muscle repair, maintenance and growth. It's also known that eating protein can help keep you feeling fuller for longer.
Now, without further ado, let us guide you through the best high protein vegetarian meals on the Graham's website!
Beetroot, Sage and Feta Frittata by Flora Shedden
This recipe from the Great British Bake Off's Flora Shedden doesn't actually contain quark but it does have the combined protein boost of eggs and feta cheese, as well as having a good splash of Graham's Double Cream. This frittata is also a great way to enjoy the antioxidant-rich benefits of beetroot. It may be an acquired taste for some but this recipe is the perfect way to acquire it!
March to the beet of Flora's drum by trying her Beetroot, Sage and Feta Frittata.
Quark Macaroni Cheese by Graham's The Family Dairy
Macaroni Cheese is perhaps the ultimate comfort food, but there's no reason why this pleasure has to be a guilty one. Our recipe uses our own Graham's Quark, helping to create a macaroni cheese that's lower in fat than the traditional version would be, as well as being higher in protein. It's an ideal vegetarian meal for the whole family. The addition of Mature Cheddar, Parmesan (please note, Parmesan is not vegetarian but you can substitute this for an alternative vegetarian cheese) and Graham's semi-skimmed milk further bump up the protein levels.
Celebrate the high protein return of the Mac with our Quark Macaroni Cheese.
Veggie Thai Green Curry by Fresheather
We've all had that moment where you get to the weekend and you're torn between preparing something healthy or opting for a curry. Well, with this recipe from food blogger Fresheather there's no need to have to choose between the two options! Graham's Quark, coconut milk and the addition of green beans all bring a protein boost to the dish too.
Curry favour with your taste buds by trying Fresheather's Veggie Thai Green Curry.
Roasted Red Pepper, Feta and Spinach Quiche by Wholeheartedly Healthy
Who doesn't love a good quiche? And this creation by Wholeheartedly Healthy is a really good quiche! As well as being delicious, the great thing about this recipe is how simple it is to prepare. Perfect warm on a cold evening or served called on a bright spring or summer's day. So versatile and packed with the combined protein punch of eggs and Graham's Quark.
You won't get better than this use of Feta. Try Wholeheartedly Healthy's Roasted Red Pepper, Feta and Spinach Quiche.