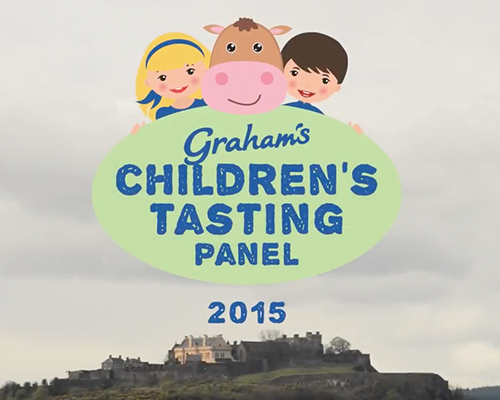 A total of thirteen young Scottish foodies from as far afield as Banff and Brechin to Stirling, Edinburgh and Ayrshire proved they're the cream of the crop by beating off stiff competition to win a place on Graham's The Family Dairy's 2015 Children's Tasting Panel.
The application process, which launched in January, originally called for seven places but due to the unprecedented level of applications received this year, Graham's The Family Dairy has created a further six panel positions.
The winning children, who will join the youngest members of the Graham family, Holly (9) Perfect Prefect and Douglas (6) Dairy Dude at Graham's Airthrey Kerse Farm in Bridge of Allan on Saturday 25th April, are: 
New Products Picker, Gregor Aiken, aged 7 from Ellon
Flavour Finder, Ashley Barrett, aged 8 from Banff
Junior Butter Boffin, Harrison Crann, aged 7 from Ayrshire
Chief Cheese Champion, Sandy Crann, aged 9 from Ayrshire
Delicious Jersey Junior, Isla Flaws, aged 10 from Stirling
Master Milk Monitor, Rowan Lyon, aged 7 from Brechin
Guardian of Gold, Charlotte McGregor, aged 9 from Falkirk
Organic Officer, Cara Middlemist, aged 6 from Edinburgh
Sergeant Spreadable, Joseph Provan, aged 9 from Edinburgh
Ice Cream Inspector, Grace Robertson, aged 11 from Stirling
Chief Cream Custodian, Martha Treffry, aged 9 from Blairgowrie, Perthshire
Top Taster, Andrew Watson, aged 6 from Ayrshire
Recipe Queen, Katie Watson, aged 9 from Ayrshire
Along-with their parents, the new panel tasters, which includes three pairs of siblings, will receive a special tour of the working dairy, meet Holly's hens, Douglas' ducks and Papa's (Robert Graham Snr) Jersey cows as well as take part in the all-important tasting of lots of exciting new products such as the nostalgic ice cream collection, which has just launched. There will also be lots of family favourite recipes to enjoy and sampling across Graham's award-winning ranges of cheese, ice cream, butter, cream and milk products.
Scotland's leading independent family dairy launched Graham's Children's Tasting Panel in 2013 in a bid to help educate youngsters on food and life on a working dairy after research showed that nearly one in five primary school children believe fish fingers are made from chicken and nearly a third think that cheese comes from plants.
Carol Graham, Marketing Director for Graham's The Family Dairy, commented:
"We're delighted by the fantastic response to this year's Children's Tasting Panel and look forward to welcoming our new panel tasters and their parents onto the Farm.
"Family is at the very heart of our business so we enjoy giving children an opportunity to visit the dairy as well as encouraging them to think more about the food and drink they consume, try new varied ingredients, cook simple recipes and have lots of fun in the process.
"The philosophy behind the panel and our approach to food education is pretty simple, we believe it's important that children learn real food skills as well as understand where food and drink comes from, this all helps get them off to the best possible start when it comes to eating well for life."
Find out more about the Children's Tasting Panel here.
Notes to Editors:
Graham's products can now be found the length and breadth of the country via more than 6,000 customers from independent retailers to hotels and restaurants as well as all the major multiples including Waitrose, Tesco and Asda, with Sainsbury's also stocking Graham's branded goods south of the border.
In 1939 when the company was founded by Robert Graham – the grandfather of the current managing director Robert Graham (Jnr) – he reared 12 cows, milked them by hand then made all deliveries by horse and cart
Graham's The Family Dairy is Scotland's largest independent dairy producing an award winning range of milk, butter, cream, ice cream and cheese as well as Graham's Gold Jersey range.
At the 2014 Scotland Food and Drink Excellence Awards, Graham's The Family Dairy won the Business of the Year award and the Brand Success of the Year award with the Entrepreneur of the Year award going to Robert Graham.
Other award accolades during 2014 include the Chairman's Award for First Time Entrants at the Marketing Society Scotland Star Awards and Carol Graham being named Fife & Central Scotland Regional Director of the Year at the IoD Scotland Awards.