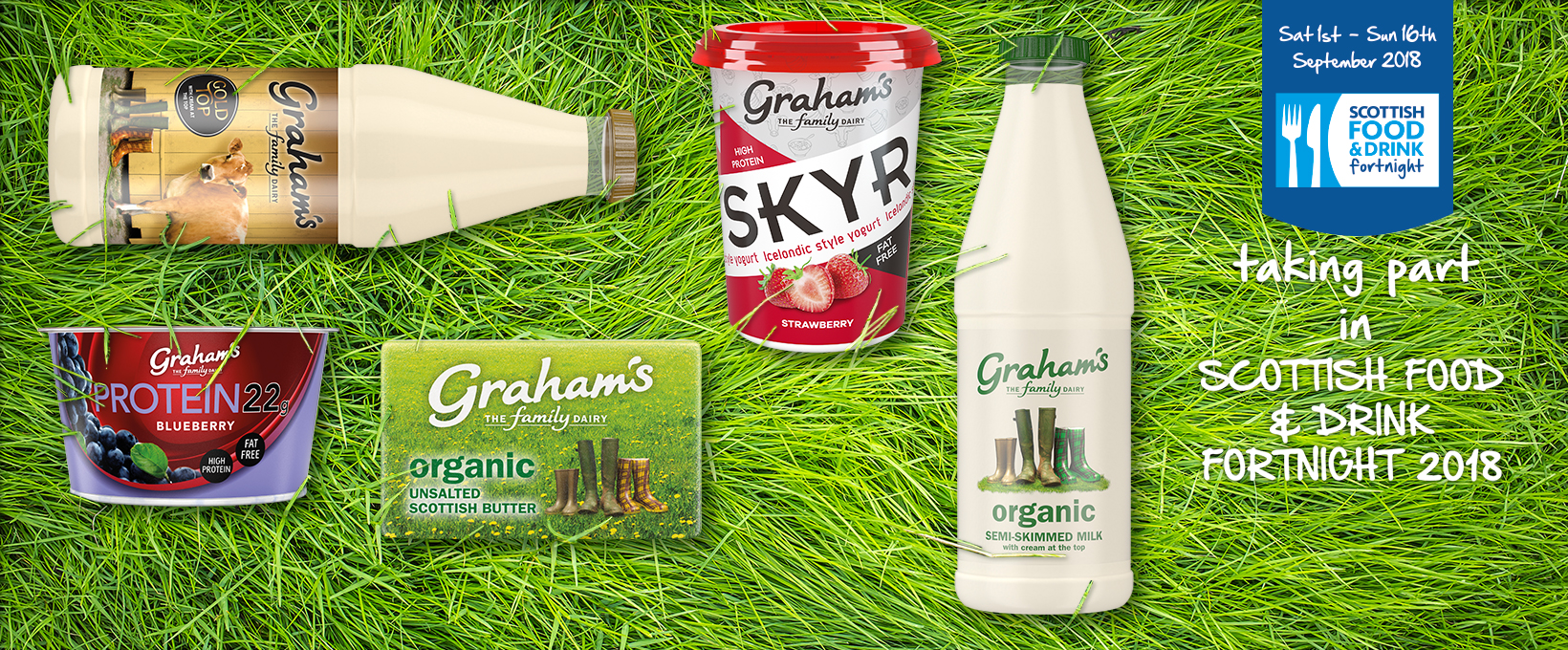 Scotland might be small in size – but in terms of its culinary offering, we as a nation offer some pretty big flavours. Our little corner of the world might be better known for a tendency towards the more inclement side of things weather-wise. However, it's an environment that, although sometimes a bit wetter and windier than we'd like, contributes massively to our incredible range of natural produce. September 1st – 16th marks Scottish Food and Drink Fortnight and it's all about celebrating the fantastic variety of food and drink that's produced here on Scottish soil.
Something to shout about
As a proud Scottish producer and fans of food and drink in general, it's a campaign that we're particularly passionate about – and we welcome as many people to get involved as possible! Our story started in 1939 when Robert and Isabella Graham moved to the farmhouse in Bridge of Allan that we still occupy today. A herd of Jerseys (once owned by the Queen) and a few shiny new bits of machinery later and all of a sudden we're Scotland's top dairy producer (OK, throw in a few decades of good old fashioned elbow grease too!). Being a family is an important part of what we do and a central piece of our identity. After all we've been doing what we do for three generations now. It's this close-knit working relationship that helps us aim for the highest quality in everything we put our minds to, from everyday operations at the farm to thinking up innovative new products.
Graham's fans have got 'great taste'
 Don't just take it from us that our produce is top notch though, the judges at the great Taste Awards seem to think so too. You can see which of our products have been considered the cream of the crop over on our awards page. More recently however, we've been lucky enough to be awarded for our Organic Slightly Salted Spreadable Butter, our Natural Cottage Cheeseand our Gold Top Jersey Double Cream! 2018 seems to have been our year so far.
Quality begins on the farm
 Of course  these awards just wouldn't be possible without the help of the farmers we choose to work with. Only those with the same obsessive attitude towards the best standards and practices need apply! We're farmers ourselves so it's good to be able to meet the best of the best and maintain a healthy, happy working relationship with like-minded folk.
Get involved
 If you're a bit of a foodie, there's many ways you can get involved in #ScotFoodFort too. Just check out their website for some ideas. This year it's all about the future of the industry and spreading ideas on what that might look like. Oh, and don't forget to enjoy some of the produce while you're at it!