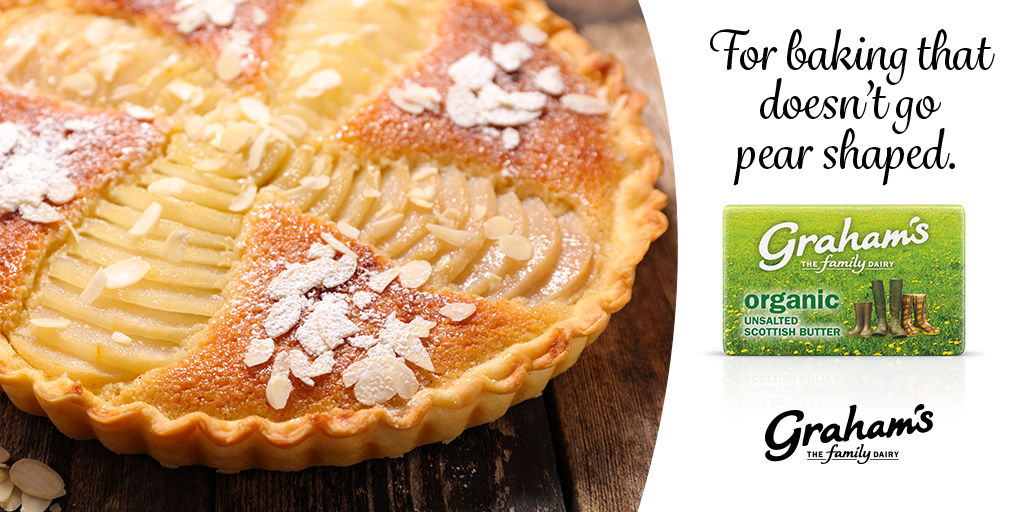 Pears are a delicious fruit that can be enjoyed fresh or preserved in syrups or even alcohol. Their versatility makes them great with savoury foods like cheese but also wonderfully rich and indulgent when turned into a dessert, cake or pastry. We've been having a look over our recipes and we've decided to put together a compilation of some of what we think are the best pear recipes on the Graham's The Family Dairy website. We hope you enjoy these recipes as much as we have!
Nick Nairn's Crème Fraîche Mousse with Caramel Poached Pears recipe
They do say that we eat with our eyes first and this Nick Nairn dish is certainly a vision to behold, with the red wine soaked pear contrasting beautifully with the Crème Fraîche Mousse. Food looks even better though when you know that it's a recipe created by one of the UK's top chefs, Nick Nairn, who was the youngest Scottish chef to be awarded a Michelin star, in the 90s.
Take a fraîche approach with Nick's stunning Caramel Poached Pears recipe.
James Morton's Jammy Pear Tart recipe
We've certainly felt very jammy anytime we've been lucky enough to taste this dish! Bake Off star James Morton serves it for Christmas but we think it's far too tasty to only be enjoyed once a year. It makes a fantastic table centrepiece for any occasion when you have guests round and the sharpness of the pears and sweetness of the raspberry jam in the recipe balance each other beautifully. It's a recipe that has to be tried!
Feel like a jammy devil by trying James's Jammy Pear Tart recipe.
James Morton's Winter Poached Pears recipe
We love this recipe on a cold winter's night but, to be honest, we'd also be perfectly happy to tuck into it on a warm summer's evening too! The sharpness and brightness of the pears, orange and pear cider mean that we can certainly imagine enjoying this while sitting in the garden. On the other hand, the cloves, ginger and nutmeg certainly give it that warming feel that we all crave during the winter.
What's important isn't when you try this recipe though, what's important is that you do.
Start prepping for James's Winter Poached Pears recipe.
James Morton's Pear and Frangipane Tart recipe
You might be getting the idea by now that James Morton loves pears… and you'd be right! But when you can use them in such delicious recipes as he can, can you blame him? Even better, you can try his recipes for yourself. His Pear and Frangipane Tart still leaves room for some creativity of your own as you can top the tart with whatever you like. So, whether added apples, raspberries or even chocolate chips are what grab your fancy – this is the tart recipe for you.
Become a fan of James's Pear and Frangipane Tart recipe.
James Morton's Pear and Vanilla Tarte Tatin
Pear. Vanilla. Puff pastry. Nope, we can't find anything not to like in this recipe. A tarte tatin is like an upside down cake and just one taste of this will turn your world upside down – in a good way!
Try James's Tarte Tatin thrilla with Pear and Vanilla.