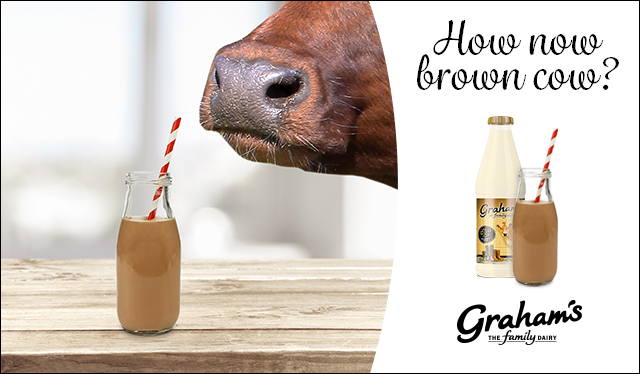 Keeping an eye on all things dairy related, as we tend to do here at Graham's, we noticed a rather alarming headline pop up in our feed lately. The issue? Chocolate milk. 'What could be so controversial about that?!' well, we were pretty surprised too. 
Recently our friends across the water at the Innovation Centre for US Dairy found that 7% of American adults believed chocolate milk… wait for it… comes from brown cows. Now we're not sure if perhaps just 7% of those surveyed have a fantastic sense of humour (or are a wee bit gullible) but we wanted to set the record straight. Especially as 7% of the US population equates to something like 17.3 million people!
Wishful thinking?
In short; no, unfortunately chocolate milk does not come from brown cows. After all, it's not like our beautiful black and white friesians produce milk with black and white patches (although this is giving us some great April fools ideas already). Sorry folks, chocolate milk is simply normal white milk mixed with chocolate flavouring.
Craving for chocolate?
If all this talk of chocolate milk has got you desperate for some chocolatey goodness, our products often make a great companion or ingredient! There's something for everyone, no matter what skill level of baking you're at. James Morton's classic chocolate cake is an easy one to start on and always sure to mysteriously vanish shortly after it's been made. Or if you're looking for something a bit more challenging, you're sure to impress with Flora Shedden's sumptuous chocolate truffles. 
If you're really stuck for time though, our milk is a sure bet for a delicious chocolatey drink. Just mix in your favourite instant chocolate flavouring and you're good to go!