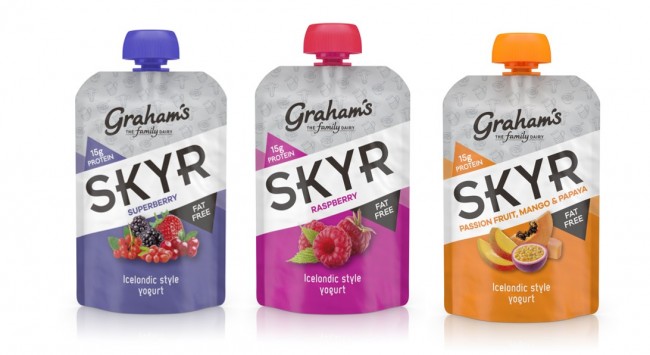 Skyr on-the-go!
Graham's Skyr is an Icelandic delicacy dating back to the ninth century, this deliciously thick, protein-packed yogurt is made with pure Scottish milk from our 110 farming partners, live cultures and carefully sourced fruit. It is high in protein, fat-free and has 30% less sugar than other flavoured yogurts in the market. Now available in handy 150g pouches. Perfect for on-the-go, making it a great pre or post workout snack, or as part of a healthy meal. The pouches are also an ideal healthy choice addition for lunchboxes too.
Graham's Skyr now in handy 'on-the-go' pouches are:
High in protein
Only 130 calories per pouch.
Fat free
Low in sugar
Made from all natural ingredients
Available in three delicious flavours; Passionfruit, Mango and Papaya, Raspberry and Superberry.
In 150g pouches, perfect as a healthy breakfast or snack on-the-go.
Available now in Tesco & Sainsburys stores across the UK and Spar in Scotland
RSP £1.00
Robert Graham, Managing Director, Graham's The Family Dairy, said:
"We are incredibly proud to introduce customers to our Skyr in a new pouch format. Skyr is our best performing new product launch and continues to exceed all our expectations. This new pouch format for Skyr is in direct response to the growing customer demand of functional and healthy 'on-the-go' snack choices.
Family Values, innovation and product development are something we pride ourselves on. We will continue to create delicious, nutritional and exceptional quality dairy products to customers.
Always keen to hear and respond to our customer feedback, we hope that they will be as excited about our new Skyr pouches as we are!"