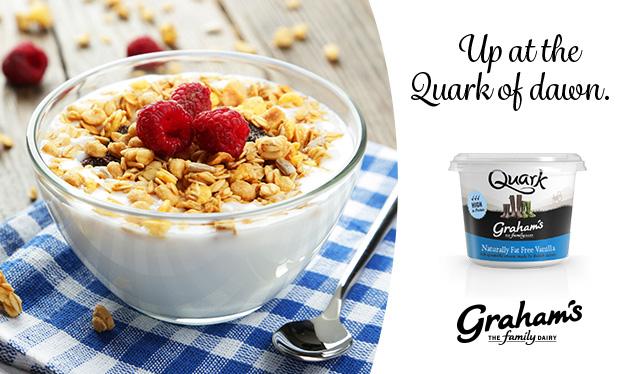 We think Quark is perfect for enjoying at any time of day, but it's particularly handy and delicious when it comes to enjoying a healthy breakfast. That combination of being high in protein and low in fat really sets you up for the day ahead. It helps to keep your muscles fed and your tummy feeling full until lunchtime.
To give you some ideas on how you can kickstart your day with our Graham's Natural or Vanilla Quark, we've put together this handy compilation of some of our favorite breakfast recipes.
Healthy Cranachan Parfait Recipe by fresheather
Cranachan in its traditional form is a classic Scottish dessert but food blog fresheather has made a few small tweaks to turn it into a delicious and nutritious breakfast. Out goes the double cream and in come Graham's Vanilla Quark and Graham's Low-Fat Raspberry Yogurt. It's also a bit early in the day for the whisky so it's been left out too!
Get cracking on this Cranachan recipe.
Berry-delicious Granola Recipe by Nick Nairn
Nick Nairn is one of Scotland's most technically skilled chefs but even he's not afraid to step back and let the ingredients do the talking from time to time. As he sums up this combination of fruit, honey, granola and Graham's Vanilla Quark, "The good thing about this recipe is that there is no real method to it. You can change it up to suit your taste."
Say hola to this Berry-delicious Granola recipe.
Fresh fruit and Grano-low Recipe by Graham's The Family Dairy
Not got such a sweet tooth? No problem, this granola and Graham's Vanilla Quark combo gives the honey a miss.
You can't say no to this Fresh Fruit and Grano-low recipe.
Quark Breakfast Muffins Recipe by Graham's The Family Dairy
Who doesn't love a muffin? They always feel like a guilty pleasure though, don't they? Well, the great news is that we've come up with a recipe that not only takes the guilt out muffins but also makes them a great start to the day.
Graham's Natural Quark, rolled oats and chopped dried fruits combine to create a tasty treat that will have you springing out of bed in the morning to try it!
Be quick to try our Quark Breakfast Muffins recipe.
Fruit Salad with Quark & Poppy Seed Dressing Recipe by Nick Nairn
We all love a smoothie, but this combo of ingredients that you might normally add to the blender actually makes a delicious fruit salad. Mango, bananas, blueberries, Graham's Natural Quark and honey combine to make a delicious and refreshing yet filling breakfast.
Pop this Fruit Salad with Quark & Poppy Seed Dressing recipe into your morning routine.