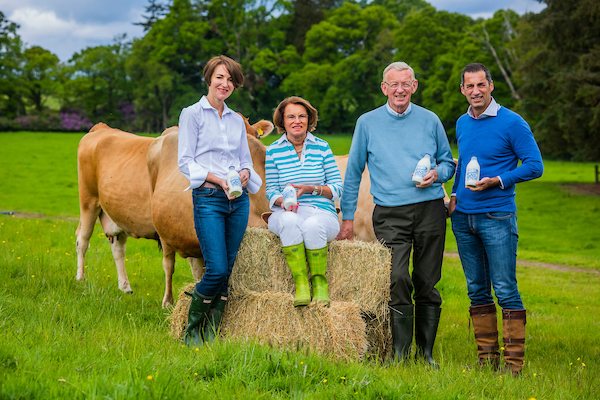 Grahams The Family Dairy has grown through three generations of Scottish dairy farmers and is celebrating its 80th year in business. To commemorate this landmark achievement, the family today announces the launch of its much-anticipated milk in glass bottles, now available to all Graham's customers.
Mr Graham said, "Grandpa Graham started the family dairy back in 1939 with 12 cows, all milked by hand and delivered door to door by pony and cart. The ponies knew the round backwards, always stopping at exactly the right house. 80 years and three generations of family later, fresh milk is still collected from our farmers daily across Scotland and lovingly bottled at our dairy in Bridge of Allan, which we still call home today!  
By the mid-1940s the Milk Boys would be picked up by the pony and cart at 5am to do the milk round with the glass bottles – so we are quite literally looking back to look forward!
Always keen to hear and respond to our customers, we have been asked to make our fresh local milk available in glass bottles for a little while now – so it is exciting to see this come to life. This return to glass also quite nicely coincides on our 80th year in the dairy business!"
The glass milk bottle will be introduced in a limited edition 80th anniversary design, then available in traditional Graham's The Family Dairy bottles thereafter.
Bottled in Nairn, the product offer will commence with 1-pint glass bottles of whole and semi skimmed award-winning Scottish fresh milk from over 110 Graham's The Family Dairy's farmers.
This latest product from Graham's will be available to food service and retail outlet customers and enquires will also be taken for customers' seeking doorstep delivery.
Enquiries and new orders can be taken via telephone and email at Nairn: tel: 01667 453344 and email: sales@grahamsfamilydairy.com and Kintore: tel: 01467 625265  and email: kintoreadmin@grahamsfamilydairy.com
The RSP is 85p per glass bottle and all bottles to be rinsed and returned to place of purchase/doorstep.
For more information, please contact Ailsa Herd, Grahams The Family Dairy on T: 07827 816 722, E: Ailsa.Herd@grahamsfamilydairy.com