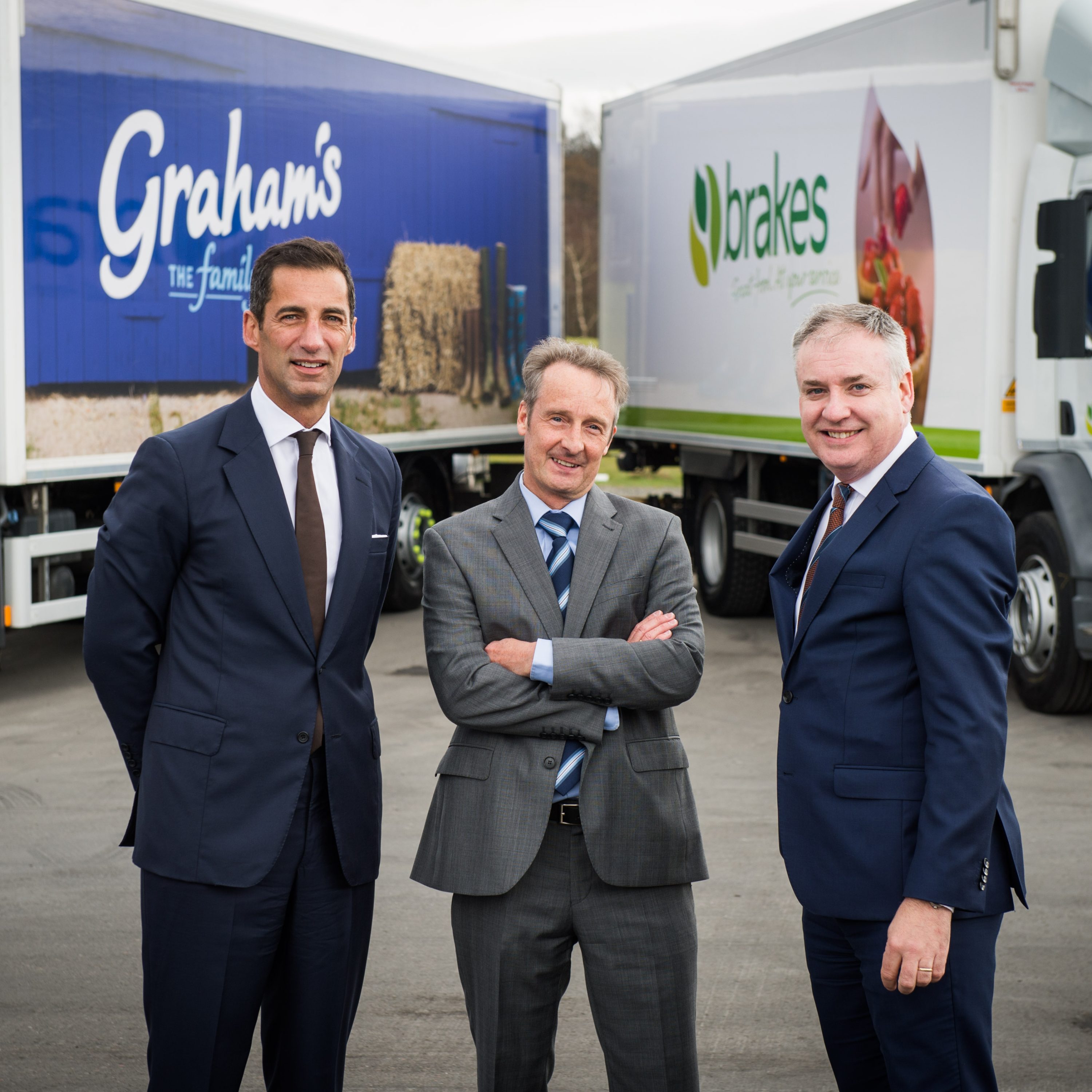 Graham's The Family Dairy has signed a significant new deal with one of Scotland's  leading food suppliers, Brakes Scotland, to provide their award-winning milk, butter (block and spreadable), cream, cheese, yogurt, cottage cheese, quark and crème fraiche to all of its customers across Scotland, effective 4th April.
Cabinet Secretary for Rural Affairs, Food and Environment, Richard Lochhead today (Monday 21st) joined Robert Graham, MD of Graham's The Family Dairy and John Mclintock, Operations Director at Brakes Scotland, to celebrate the partnership at the Graham's dairy in Bridge of Allan.
The family company – recently crowned number one Scottish dairy brand – will now supply to over 6,000 Brakes customers across Scotland. Graham's will directly replace Brakes Scotland dairy products, previously sourced south of the border, starting with milk and cream this month, which equates to just over two million litres of milk per year.
The deal marks Graham's second major new relationship in less than two months, following the announcement of their deal to exclusively supply milk to all Starbucks stores in Scotland from January.
Brakes has built a strong presence in Scotland since first trading over 30 years ago and now partners with over 60 Scottish producers the length and breadth of the country to supply over 11,000 corporate and independent customers, including the G1 group, Crieff Hydro Family of Hotels and the majority of schools and hospitals in Scotland. 
Graham's products, manufactured in Bridge of Allan, Nairn and Fife, will add to Brakes' expanding range of 340 Scottish products.  Brakes have four sites in Scotland – Inverness, Oban, Dundee and Newhouse – and this relationship is further evidence of the company's ongoing commitment to sourcing locally in Scotland.
Robert Graham, Managing Director of Graham's The Family Dairy, said: "We are so pleased to partner with Brakes Scotland to supply their faithful customers across the whole of Scotland.  Though Brakes is one of the biggest food and drink suppliers in Europe, they see the value in investing in local businesses who retain a focus on high quality produce with strong local provenance, and this was one of the key factors that attracted us to working with them. 
Not only does the foodservice sector offer huge potential for our brand, it provides an excellent opportunity to further support the 98 dairy farmers we work with across the country at what is a challenging time for the dairy industry."
John Mclintock, Operations Director for Brakes Scotland added: "It's exciting to be working with Graham's The Family Dairy to supply the best produce to our entire Scottish customer base. We're committed to partnering with the best local suppliers and Graham's is a key addition to our Scottish range."
"We previously bought milk from a processor in England and therefore couldn't guarantee that we would supply purely Scottish milk to our customers in Scotland.  Through customer feedback, we've learned that our customers are interested in Graham's milk and their other product lines, most notably for their provenance and taste. For us it made perfect sense to join up with a company where supply of quality, local milk could be guaranteed and where we could actively reduce food miles, helping the environment whilst supporting Scottish Dairy farmers."
Richard Lochhead, Cabinet Secretary for Rural Affairs, Food and Environment, added: "The great and growing consumer appetite for Scottish food and drink represents a tremendous commercial opportunity, and it is great to see Brakes switch to Scottish dairy in response to customer demand.
"The Scottish Government has been in discussions with Brakes and other food service companies about increasing their sourcing of dairy from Scotland, and so I very much welcome this deal, which could not have come at a better time for Scottish dairy farmers who continue to face low farmgate prices as a result of global market volatility. I urge other businesses to follow suit, as we must all rally behind our hard-pressed producers and source locally when and where we can."
Graham's The Family Dairy is based in the heart of Scotland, producing a range of the highest quality dairy products, including milk, cheddar cheese, cream, butter, ice-cream, yogurt, cottage cheese, quark and sour cream. Established for more than 76 years, the company remains family-run with a focus on farming, provenance and a quest to promote the best of Scotland's larder throughout the country.
Graham's also supplies dairy products to all major supermarkets, independent retailers, delis and farm shops across Scotland and in some areas of England.
Picture credit: Nick Ponty