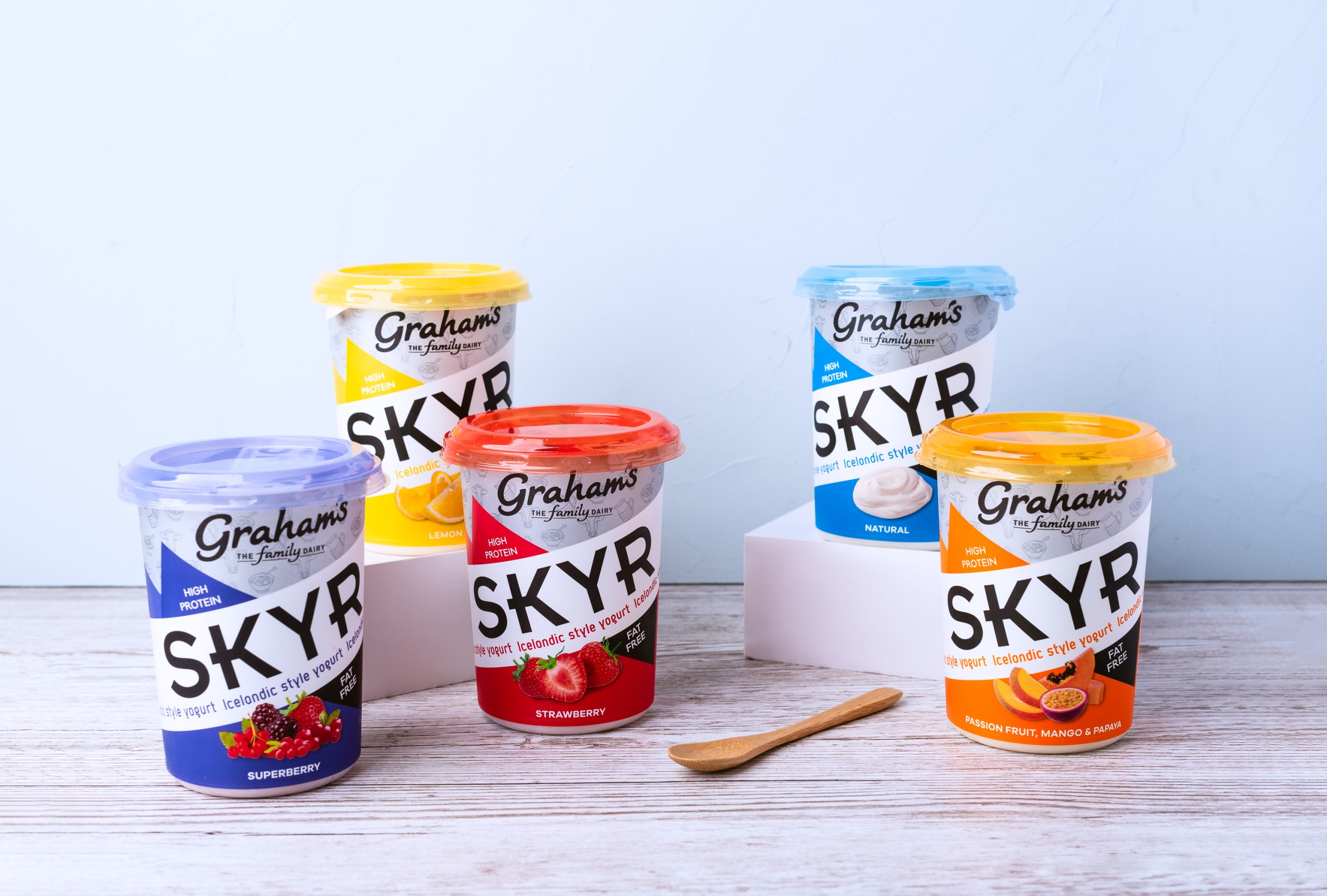 Kantar WorldPanel announce top 30 food and drink brands as chosen by Scottish consumers
Graham's The Family Dairy is today celebrating their prestigious place at number ten in the top 30 most chosen brands in Scotland, jumping up 3 places from last year.  Scotland's largest independent dairy, also number one Scottish dairy and food brand*, and number 2 Scottish brand, now overtakes top global brands including Pepsi, Cadbury's, Lurpak and Kingsmill in the Scottish Brand Footprint 2019, compiled by Kantar WorldPanel.
The ranking is based on Scottish household shopping choices and reveals which brands are being bought by the most consumers the most often.
The family dairy also retains their number two Scottish food and drink brand position overall for the third year, ahead of competitor home-grown businesses, Wiseman's, Baxter's Tunnock's, Bell's and Mackie's. 
2019 has been a busy year for the company, in which Graham's announced the new Goodness range, a low-calorie ice cream and flavoured cottage cheese in an expansion of their high protein range. The deliciously indulgent ice cream developed for the UK market was in direct response to the low calorie and lower in sugar ice cream currently trending in the United States of America. The development and launch of Goodness ice cream was a rapid turnaround and the customer interest was unprecedented.
Always innovative, this year also marked the family dairy's 80th anniversary year where the inspiration was to glance backwards to look forward, with its much-anticipated milk in glass bottles.
Robert Graham, Managing Director at Graham's The Family Dairy, said:
"2019 has been an incredibly busy year for us with so much exciting new dairy product development and launches. As a family business we pride ourselves not only on working hard to produce high quality and great tasting products, but also being dynamic and innovative to meet and keep up with the fast-paced consumer trends that are very much now aligned to dairy products.
It is an amazing achievement to be both no. 2 Scottish brand as well as no. 10 global brand in Scotland. It is brilliant to know that in even in our 80th year of business, Scottish customers are still choosing to buy our locally produced products, over other international competitors. Working in partnership with over 110 farmers, we hope to continue to help the Scottish dairy industry thrive."
ENDS//
*Graham's was named number 1 Scottish dairy and food brand, and number 2 Scottish brand overall in the 2017 and 2018 Kantar WorldView Panel Research. The brand also retained its 2015 title of number 1 dairy brand in Scotland.