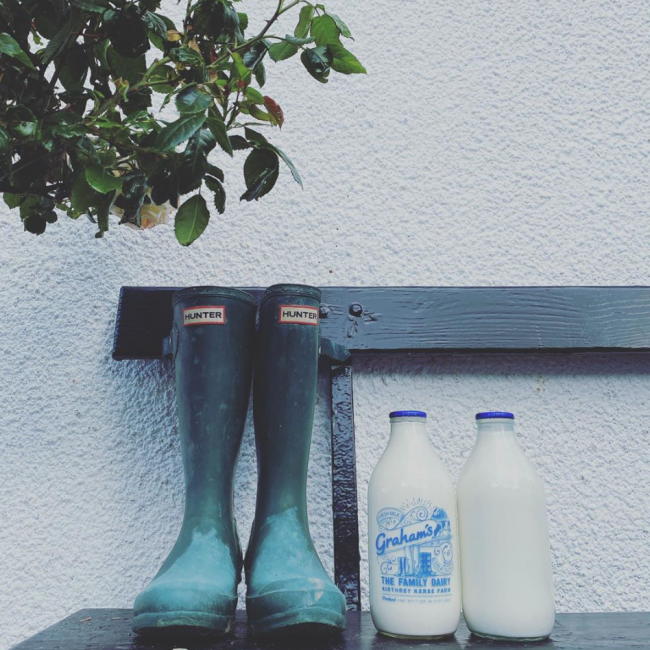 Wednesday 17 February. Today in celebration of Random Acts of Kindness Day, Graham's The Family Dairy is adding a surprise dairy product in their customers* usual order this week at no extra cost, as a thank you for their ongoing support.
Dr Robert Graham Snr, Chairman Graham's The Family Dairy said: "Our customers (and our cows!) mean the world to us. This gift is a mood boost for our doorstep customers, we well as a gesture of thanks, from our family to theirs.
Although we relaunched our doorstep delivery service with our milk in glass bottles in 2019, Grandpa Graham started the family dairy back in 1939 with 12 cows. They were all milked by hand and delivered door to door by pony and cart.
The ponies knew the round backwards, always stopping at exactly the right house. 80 years and three generations of family later, fresh milk is still collected from our farmers daily across Scotland and lovingly bottled at our dairy in Bridge of Allan, which we still call home today"!
Please also keep your eyes peeled on our website and follow our social channels on Instagram, Twitter and Facebook for any future product launches and dairy updates.
* Up to 1200 products across our delivery partner, D&D Dairies delivery route, covering Perthshire, Tayside, Fife, Glasgow, Edinburgh and Stirling areas.
ENDS