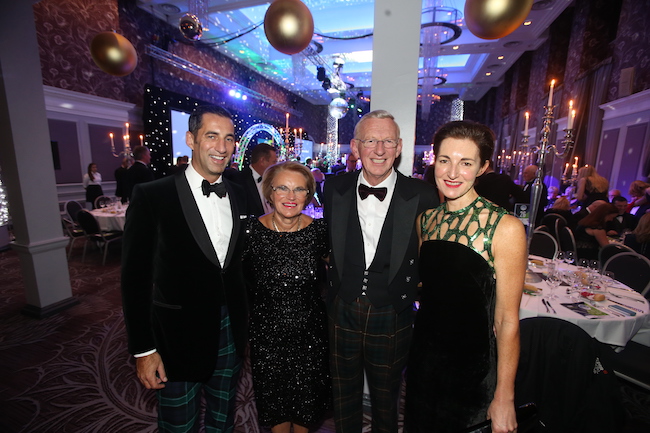 Graham's The Family Dairy last night (Wednesday 7th) added another trophy to their cabinet as their Chairman, Dr Robert Graham and his family business, were awarded the highly coveted Outstanding Contribution Award at The Herald's Scottish Family Business Awards.   
Held at Glasgow's Grand Central Hotel, the Scottish Family Business Awards celebrate the country's diverse and dynamic family business sector, while highlighting its contributions to local communities and beyond.   Dr Graham was honoured with the top prize in recognition of his dedication, hard work and success in growing the three-generation strong, Bridge of Allan-based family business to the thriving company it is today. 
Dr Robert Graham, Chairman at Graham's The Family Dairy said: "It is an incredible and unexpected honour to be recognised with the Outstanding Contribution award.  To have the opportunity to celebrate what is a wonderful career highlight with my family, who have helped shaped the business into the success it is today, is just wonderful.
"I've spent my life working on the farm, it's in my blood.  My father started us off with twelve cows and a horse and cart in 1939, and the fact that we have now grown to become Scotland's largest independent dairy means the world to me.  The Graham's values of farming, family and a commitment to delivering delicious high quality products with a strong local provenance have been paramount to us over the years, and I couldn't be prouder to pick up this award – for me and my family, and the whole team at Graham's."
Dr Graham began delivering milk for his father at the tender age of 12, before taking over the family business in 1960, aged just 19. For the last 56 years, Dr Graham has worked in every area of the farm and dairy and, to this day, continues to play a hands-on role in the family business.  His dedication has seen Graham's grow from a small farm producing just 400 pints per day, to become Scotland's largest independent dairy, producing more than 800,000 pints a day. Internationally recognised for his expertise in livestock management, Dr Graham takes the lead in driving the quality of Graham's products.  His unwavering belief that happy, healthy cows deliver steady, high quality milk has directly helped to influence the exceptional taste of the Graham's range.
Based in the heart of Scotland since 1939, Graham's was this year crowned number 1 Scottish food brand, and number 2 Scottish food and drink brand overall, whilst retaining their title as Scotland's number 1 dairy brand, in the Kantar WorldPanel Research. 2016 has been an incredibly successful year for the company, in which Graham's acquired the Glenfield dairy in Fife to support their growth strategy; became the first ever Health Sponsor of Scottish Ballet; and launched two delicious, healthy new products – quark and an organic, non-homogenised milk – to multiple listings across the UK. 
For more information, please contact Caroline Docherty at Wire Media: caroline@wire-media.co.uk  0141 648 9615/07593 247 767