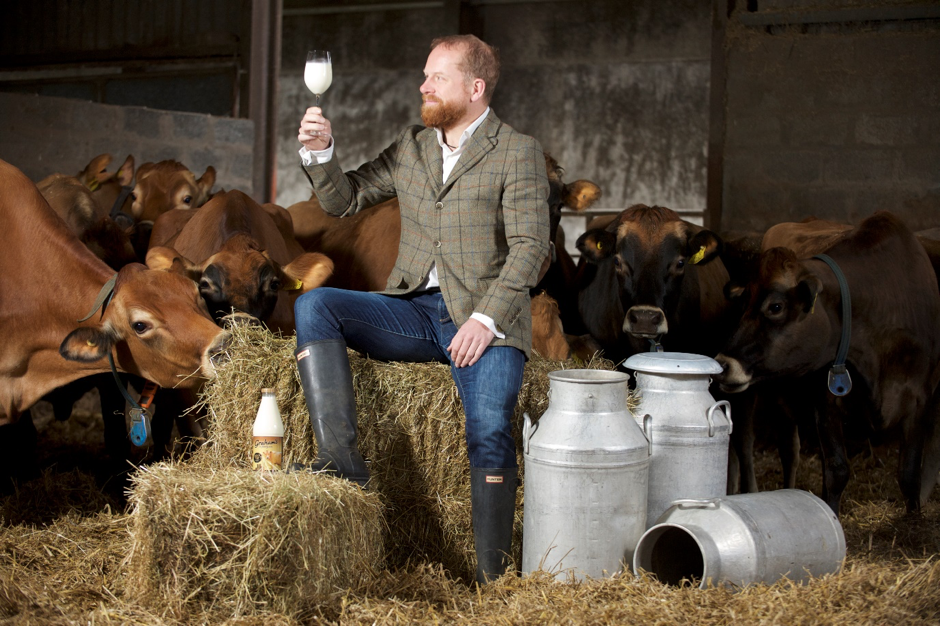 The humble glass of milk – simple, unassuming…or is it?
This month, Graham's is set to help milk-lovers discover the hidden depths of their favourite tipple as they become the first UK dairy to appoint a 'Milk Sommelier'.  Your morning coffee and cornflakes are about to become a lot more interesting.
Doug Wood has turned his expert nose to the meadows of Bridge of Allan as he identifies the notes and flavours subtly present in some of Graham's creamiest milks.  From white chocolate and vanilla to almond and grassy tones, Wood has sniffed, sipped and swirled the Graham's Organic and Gold ranges, to unlock the intricate aromas present in each product.
Sommeliers are traditionally trained to identify flavours, length of finish, acidity and sweetness in alcohol, usually wine and whisky – in which Doug is an expert – and match these to food for a perfectly paired meal.  Similarly, milk has its own distinct flavour wheel and Doug has identified some perfect food pairings.
However, Doug isn't working alone. He's been joined by pint sized 'Mini Milk Sommelier' Lily – an experienced milk connoisseur, Lily has been enjoying the white stuff for over 6 years. Lily's expert nose picked out flavours including sprinkles, doughnuts, dandelions and iced buns. Tasting notes to rival that of Doug's professional nose.
Doug's Tasting Notes and Food Pairings include:
A family favourite, Semi-Skimmed milk is a lighter milk that's full flavoured with grassy notes and a hint of sweetness. Pair with a wholesome, gravy soaked cottage pie and a side of seasonal vegetables. 
 
The 'balanced and fresh' Organic Semi-Skimmed Milk is a full palate, fragrant offering with hints of buttermilk, vanilla and a touch of almond. What better accompaniment to a chocolate cookie, soft in the middle and warm from the oven, than a chilled glass of Graham's organic milk?
 
The Organic Whole Milk with Cream at the Top is richer in flavour, with smooth, creamy notes of white chocolate and panna cotta and a hint of grass towards the end. The cooling milk will soothe the palate after a fiery, flavoursome lamb jalfrezi.
 
Gold Smooth, made from the milk of the Jersey cows, is a velvety rich milk, with bready notes and textured depths of vanilla and toasted nuts. Enjoy as an everyday indulgence, or as the perfect accompaniment to homemade apple and blackberry crumble.
 
Lush, creamy flavours define Graham's Gold Top, with fruity undertones and a great clarity of flavour.  Closer in texture to single cream than milk and naturally sweet, Gold Top is the perfect wholesome accompaniment to everyone's classic family favourite, a Sunday roast chicken dinner.
Carol Graham, Marketing Director at Graham's The Family Dairy said: "It's been exciting to discover the hidden depths of flavour and texture in our milk range.  It's just a bit of fun but it's clear that there is a Graham's milk for any palate and the food pairing options are endless.  We always knew our Gold range was fantastic in porridge but Doug – and Lily – have identified some other delicious flavours and pairings."
Doug Wood, Graham's Milk Sommelier added: "My day to day is discovering new flavours in alcohol so this is has been an unusual challenge!  But once the tastes and aromas started coming through, it really opened my eyes to how complex a humble glass of milk could be."
"As a local business rooted in quality and provenance, we are always excited to find like-minded partners who share our passion for discovering new flavours – and who better to team up with than our neighbours, who produce the highest-quality milk in Scotland."
Lily Stevenson, Graham's Mini Milk Sommelier said: "I love milk and drink a big glass every day as my mum says it's good for my bones and it will help me grow up big and strong. I tasted grass and dandelions, and cows like to eat grass and dandelions so that makes perfect sense.  I think the best thing to eat with milk is a giant chocolate chip cookie."
Tell us what you taste using the hashtag #flavourofgrahams.
For further information, please contact Wire Media:
Caron Tait caron@wearewire.co,  0141 648 9610 / 078 2434 41425
Caroline Docherty caroline@wearewire.co 07593 247767
Notes to Editors
About Graham's Family Dairy
Graham's The Family Dairy is based in the heart of Scotland, producing an award-winning, home-grown range of the highest quality food and drink, including milk, cheese, cream, butter, ice-cream, cottage cheese, quark, sour cream and yogurt. Established for more than 76 years, Graham's remains a family-run company with a focus on farming, provenance, high quality produce and a quest to promote the best of Scotland's larder throughout the country.
 
Graham's was named number 1 Scottish food brand, and number 2 Scottish brand overall in the 2016 Kantar WorldView Panel Research. The brand also retained its 2015 title of number 1 dairy brand in Scotland.
 
In May 2017 Graham's Gold Smooth won the Dairy category at the Scottish Food and Drink Excellence Awards. Feedback from the judges noted Graham's excellent marketing activity and understanding of the marketplace, with the milk being described as a 'luxury product' and 'milk like it should be'. Graham's Organic Whole Milk with Cream at the Top was also shortlisted in the Dairy category, the judges appreciated its 'fresh, clean' flavour and Graham's response to consumer demand for organic milk that is as close to natural milk as possible.
 
About Douglas Wood
Douglas Wood, a former chemical engineer, is the owner of WoodWinters, an award-winning wine and spirits merchant with outlets in Bridge of Allan, Edinburgh and Inverness and supplier to hotels and restaurants across Scotland.  He combines a passion for nature and chemistry with a strong influence towards taste and quality and currently works with some of the country's top sommeliers, bringing interest, excitement and value into their wine lists.