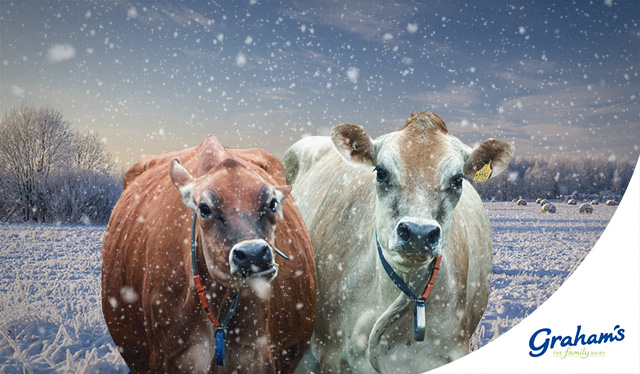 With the temperatures dropping and the days getting shorter, we're busy preparing for winter at Graham's Family Dairy farm. While our Jersey cows are built for colder weather with their thick skin and natural insulation, wet and windy weather can pose health problems such as frostbite and cold stress. 
Our dairy cows' winter home
Would you want to be left outside in the dreich Scottish weather? Our Jersey cows naturally prefer 'bedding down' in the barn during winter and we make sure that their winter home is super comfy and cosy.
Our Jersey cows are creatures of habit and each cow has their own favourite sleeping and feeding area. Most of our cows sleep on comfy rubber mats insulated with a thick layer of soft sawdust. 
How Graham's Family Dairy cows spend their winter days
One of our dairy cow's favourite winter activities is being groomed. Our barns are equipped with special brushes that switch on when the cows move against them. These brushes not only help groom their coats, but also give the cows a bit of a massage! True bliss on a cold, winter day.  
Our dairy cows' winter diet
Regardless of the weather, Graham's Family Dairy cows spend most of their day eating. On average dairy cows spend 6 hours a day eating and 8 hours a day chewing their cud. 
During the winter, we feed our dairy cows a mixture of silage (naturally fermented cut grass), barley, and wheat.
They also enjoy a daily dose of 'Draff' (a mixture of brewer's grain), which in true Scottish fashion is supplied by our local whisky distillery. Draff adds some excellent flavour to our Jersey cows' diets.
Graham's Family Dairy cows also get their required roughage by munching on hay. All of this gets washed down with A LOT of water. 
The end of a happy winter
Once the temperature starts to increase and the grass starts to grow, our Jersey cows go back out to the pasture for another summer of happy grazing.